Maris Grove Residents Soak up The Great Outdoors
Sara Martin
August 25, 2021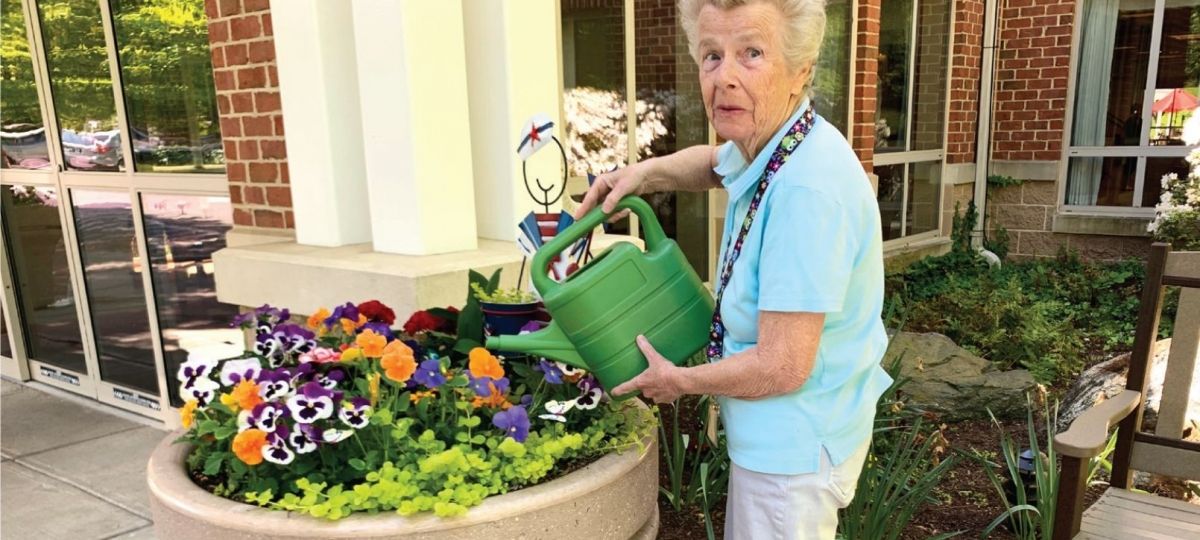 When Mary Ann Starkey and her husband Leonard started looking for a continuing care retirement community, outdoor amenities and opportunities for engagement were chief among their considerations. "Our house in Downingtown was set on a little over an acre, and we had gardens, flowers, and lots and lots of trees," says Mary Ann. "It was important to us to live in a community where we could continue to enjoy a beautiful landscape." The couple reserved their apartment while Maris Grove, the Erickson Senior Living-managed community in Glen Mills, Pa., was still under construction, and they were among the community's pioneer residents nearly 15 years ago. Mary Ann says she couldn't be more pleased with the community's natural beauty.
Outdoor opportunities
"They've really utilized the outdoor spaces and created great opportunities for residents to enjoy the outdoors," says Mary Ann, who's a member of the walking group, Landscape Advisory Group, and Adopt-a-Pot group. She also plants flowers around the perimeter of her patio, and she grows tomatoes, peppers, zucchini, jalapeños, and bell peppers in her garden patch on campus.
"At Maris Grove, residents can make the most of their retirement years while enjoying a wide variety of outdoor leisure activities, from walking paths and nature trails to bocce, gardening, and photography, as well as social events and other programs, all just steps from the door of their apartment home," says Sales Director Liz Harrington.
The Adopt-a-Pot group is one of the community's longest-running clubs. Resident volunteers "adopt" one of the large pots flanking each clubhouse entrance to plant and care for throughout the year. "Maris Grove takes us shopping for flowers twice a year, and each volunteer plants his or her own pot," says Mary Ann. "The pots are lovely, and it's fun to walk by and see 'your' pot looking beautiful."
Bill and Connie Amend also learned of Maris Grove while the community was still under construction. They joined the priority list in 2005, reserving their spot in line for an apartment home at the Brandywine Valley community when the time came for them to move. The right time came in 2015, when the couple sold their San Francisco house and moved across the country to be closer to their daughter and her family.
"We'd visited Maris Grove several times over the years when we were in the area visiting family," says Bill, a retired professor of medicine. "You really feel best in a home when you're surrounded by mature trees."
The beautiful campus
"This a beautiful, beautiful campus, and kept so," adds Connie, who retired from the travel industry. She found the community's outdoor amenities appealing, particularly the walking paths and resident garden patches. "I can't imagine living in a continuing care retirement community without gardening," says Bill, who grows tomatoes, cucumbers, and flowers in his garden patch.
 "We offer a variety of valuable opportunities to spend time outdoors as part of our distinctive lifestyle with a focus on health and well-being," says Harrington. "Community members can participate in the outdoor activities they enjoy most, independently or while socializing with other community members, all without the burdens of maintaining their own house and yard."
Nature is calling
Mej Blake moved to Maris Grove in 2007 from her house of 40 years in Springfield. She chose her fourth-floor apartment home overlooking the pond for its morning sun and view of the trees. "Maris Grove felt homey and welcoming to me, and the outdoor landscape plays a large part in that," says Mej, who co-chairs the Pond Garden group with her husband Joe. Gardening is a relatively new hobby for Mej, who began to plant in earnest when she moved to Maris Grove. "I don't profess to know what I'm doing, but I love being out in my garden," says Mej. "The gardens are gorgeous, especially this year. The roses are prettier than I've ever seen."
Mej also cochairs the Birds of a Feather club, and recently found her interests converging when an unusual species of woodpecker was sighted in the resident gardens.
"The trees, wetlands, birds, creek, pond, walking trails, and gardens make Maris Grove a wonderful place to live," says Mej. "I love it here."
Consider being part of a strong and caring senior living community like Maris Grove. Beautiful walking paths, gardens, resort-style amenities, an on-site medical center staffed by full-time medical professionals, and new friends await. Request a brochure or a visit now!
Back