Maris Grove Residents Find the Key to a Healthy, Happy Life
Jill Dutton
October 28, 2022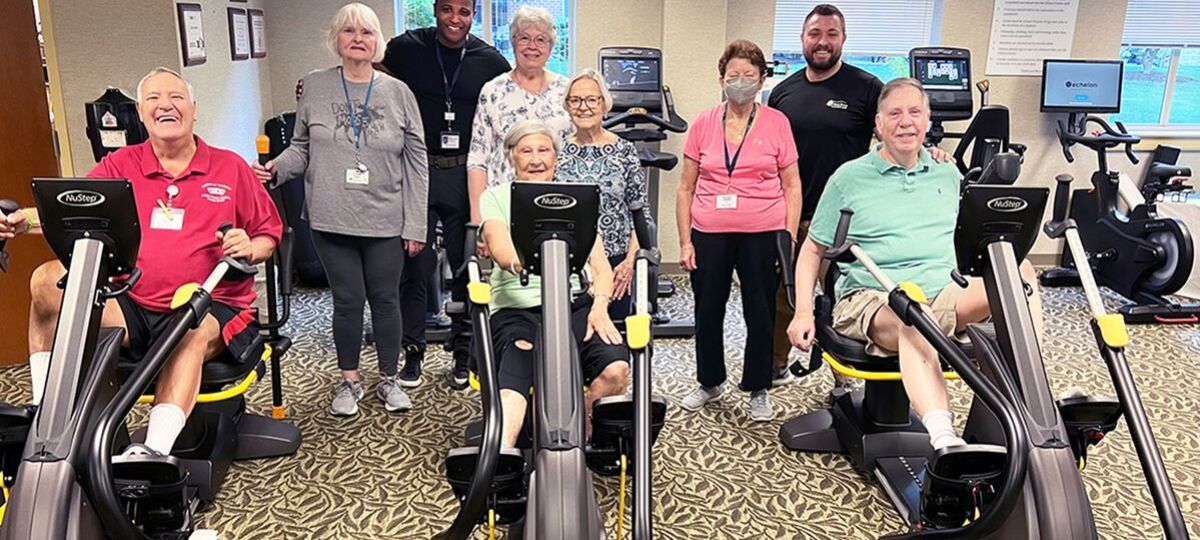 Carolyn Uhlig has a hard time believing it's already been 14 years since she moved to Maris Grove, an Erickson Senior Living community in the Brandywine Valley of Pennsylvania.
One reason time has flown by, Carolyn says, is the connections she's made. "I have so many friends here," she says. "Before I moved, I needed to be invited to do things with friends. But here, I see people in the hallway, I see people in clubs, and just walking the campus - I see my friends all the time!"
That sense of community, combined with fun ways to stay fit and active, has improved Carolyn's well-being. Three mornings a week, she joins a group of friends called The Breakfast Club at the gym.
"We just laugh and have a good time. Before you know it, the workout is finished," says Carolyn.
Range of activities
With so much going on at Maris Grove, Carolyn and her neighbors can all find a multitude of ways to care for their physical, mental, and spiritual well-being.
"There's truly something for everyone," notes Carolyn.
Kathy McCrossin, director of resident life at Maris Grove, agrees. "One thing that sets us apart from other senior living communities is all of the well-being and lifestyle options we offer. Plus, we have an indoor pool, which isn't an option at a lot of communities!" says McCrossin.
This year, Erickson Senior Living provided a multimillion-dollar investment, through its Well-Being Fund, to further enhance the health and well-being programs at its communities.
Dedicated to well-being
Incorporating findings from the company's research partnership with Harvard University and the Benson Henry Institute (BHI) for Mind Body Medicine at Massachusetts General Hospital, these additions are designed to enhance physical, emotional, and social well-being.
In 2021, nearly 100 people at four Erickson Senior Living communities participated in the Embrace Well-Being and Flourish study, which used the BHI's SMART (Stress Management and Resilience Training) curriculum to provide them with practical strategies for managing stress and improving resiliency.
Results of the study showed statistically significant changes, including increases in resilience, coping, and positive emotions, while decreases in distress and social isolation were seen.
"Through the Well-Being Fund, we are able to apply evidence-based research to further enhance the programs, amenities, and services available to better enable residents to achieve optimal health outcomes," notes Dr. Margaret Kimbell, vice president of community living for Erickson Senior Living.
Seeing the investment
People at all Erickson Senior Living communities now have greater access to tools and strategies that support resilience and overall health and well-being. Examples include Wellbeats, a new fitness app that allows participants to access on-demand and live exercise, yoga, and meditation classes from any location.
In addition, community fitness centers are being updated with NuStep and Matrix elliptical machines, recumbent bikes, and treadmills, as well as Echelon bikes, rowers, and Reflect fitness mirrors. Enhanced indoor and outdoor amenities include meditation spaces, refurbished putting greens, enlarged dog parks, and more.
"In addition to the clubs and fitness classes, some people just enjoy getting their steps in each day by walking inside the climate-controlled walkways," says Carolyn. "The accessibility makes it easy to stay active, because people get more involved when healthy lifestyle options are all in one place."
Maris Grove's on-site medical center, staffed by board-certified, full-time physicians that specialize in senior health care, complements the community's dedication to fostering well-being.
"Instead of traveling off campus for a doctor's visit, you can walk to see one of the physicians at our on-site medical center," says McCrossin. "As a result, health concerns tend to get addressed much more quickly! It's a huge benefit."
By offering made-to-order, nutritious meals, Maris Grove's restaurants further support those seeking a healthy lifestyle. "The dining options are great," Carolyn says. "From vegetarian to gluten free meals, the restaurants really accommodate everyone."
"Being able to access everything - without having to leave Maris Grove - really makes it a win-win experience for everyone," McCrossin says.
Peace of mind
Because Carolyn's apartment home is maintenance-free, her free time is spent out and about in the community, participating in clubs and meeting friends.
Inner Wisdom, a club that Carolyn has found particularly valuable, offers mindfulness techniques. "A speaker visits each month and focuses on a different avenue of wellness, whether it's meditation, holistic approaches, or other lifestyle factors," explains Carolyn.
"The variety of programs to support the body, mind, and spirit makes Maris Grove a great place to live," adds McCrossin. "People here find that they are living healthier, happier lives."
Invest in your future self at Maris Grove. From top-notch amenities to affordable, maintenance-free apartment homes, you are sure to live your retirement to the fullest. Request more information today!
Back