Living Life to the Fullest at Maris Grove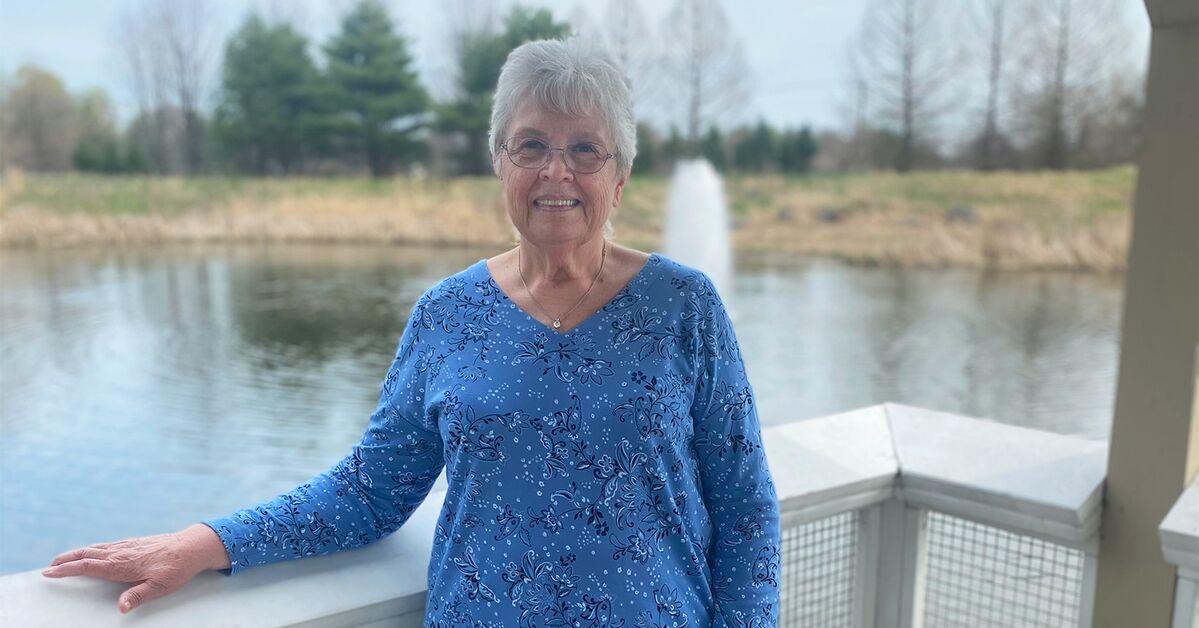 Having a sense of purpose, especially after retirement, contributes to a longer, happier, and healthier life. Studies show that purpose can be found by engaging with a community of your peers, learning new interests, pursuing physical goals, and making meaningful connections.
People living at Maris Grove, an Erickson Senior Living community in the Brandywine Valley of Pennsylvania, have found all these benefits - and more - with maintenance-free living in stylish apartment homes, amenities for every interest, volunteer opportunities, and plenty of ways to stay active. Whether you prefer working out in the fitness center, walking the landscaped grounds with a furry friend, or pursuing a new hobby, residents say that being part of a supportive community provides the ability to live their best lives.
All-weather walking
"It really worked out well for us to move here," says Sharon Buffaloe, an 11-year Maris Grove resident.
Sharon and her late husband Ted initially heard of Maris Grove when they saw the community during a TV commercial. Ted was drawn to how the buildings are connected with climate-controlled walkways, which allow everyone to get from place to place when the weather is less than perfect.
Although Ted passed away nearly two years ago, Sharon says, "I feel like it prolonged his life at least an additional five years. The move was a blessing."
This is a sentiment that Manager of Resident Services Susan Mattes, LCSW, says she hears often. "People move in and thrive thanks to the amenities, community spirit, and range of services. As time goes on, people just feel more relaxed and comfortable."
Hassle-free
Maris Grove's maintenance-free apartment homes grant residents the freedom to live out the retirement lifestyle they've always wanted. Without the hassles of homeownership, people gain the opportunity to foster meaningful connections and support their overall well-being on their own time.
The combination of resources available, says Mattes, is truly what allows everyone to thrive. "There's convenience - they don't have to drive to clubs or other activities. They can walk or take the campus shuttle since everything is right on campus. Socialization also factors in too. Joining and participating in a club or making friends at dinner is easy. And then there's the aspect of trying new things, or even renewing their interest in activities they may have stopped doing when they lived in their house."
Sharon agrees. "I'm able to spend more time doing things I enjoy since moving. If we had stayed in our house, Ted and I would have been responsible for a long list of house and yard obligations - trimming the trees, mowing the grass, and climbing ladders to clean the gutters or fix the roof."
For the Buffaloes, moving to Maris Grove cleared their calendar of upkeep and repairs, so they could take drives through Amish country to see the farms and visit farmer's markets.
Sharon appreciates the friendships she's made at Maris Grove. She's particularly close with two women from her neighborhood, and they enjoy making reservations to dine together - whether at the café or one of the clubhouses.
"We have common interests and like a lot of the same things. It's like a little community, right here in our own building," Sharon says.
Sometimes, they take turns hosting dinners in each of their apartment homes. Sharon adds that she appreciates all the dining options at Maris Grove. Bringing takeout back to one of their apartment homes, cooking a meal, or dining out together - all within the 87-acre community - provides lots of opportunities for socialization.
Quick meet-and-greets in the hallways or clubhouse areas are common, says Sharon. "It's nice to see people wherever I go - to stop and talk. It's very friendly here, and the atmosphere is so good."
Helping children
Sharon also likes that Maris Grove offers many clubs and social groups that people can join to enhance their time at the community.
The Blanket Circle - part of Project Linus, named after the Peanuts character, a non-profit organization that provides new handmade blankets to children in need - has been one of her favorite ways to get involved. She now participates in the Social Stitchery Club as well.
In her free time, Sharon enjoys taking the walking trail to the pond. "There's a picnic area with flowers; it's a nice walk out in the country. It's so peaceful, and it's nice to stop and relax for a little while."
Social connections, the opportunity to make a difference, and reaping the benefits of a worry-free lifestyle have all contributed to Sharon's increased happiness and fulfilling retirement.
Invest in your future at Maris Grove. From top-notch amenities and activities to affordable, maintenance-free apartment homes, you'll enjoy living your retirement to the fullest. Request more information today!
Back