Letting Go and Living the Dream at Maris Grove - You Earned It!
Dorrie Anshel
February 25, 2022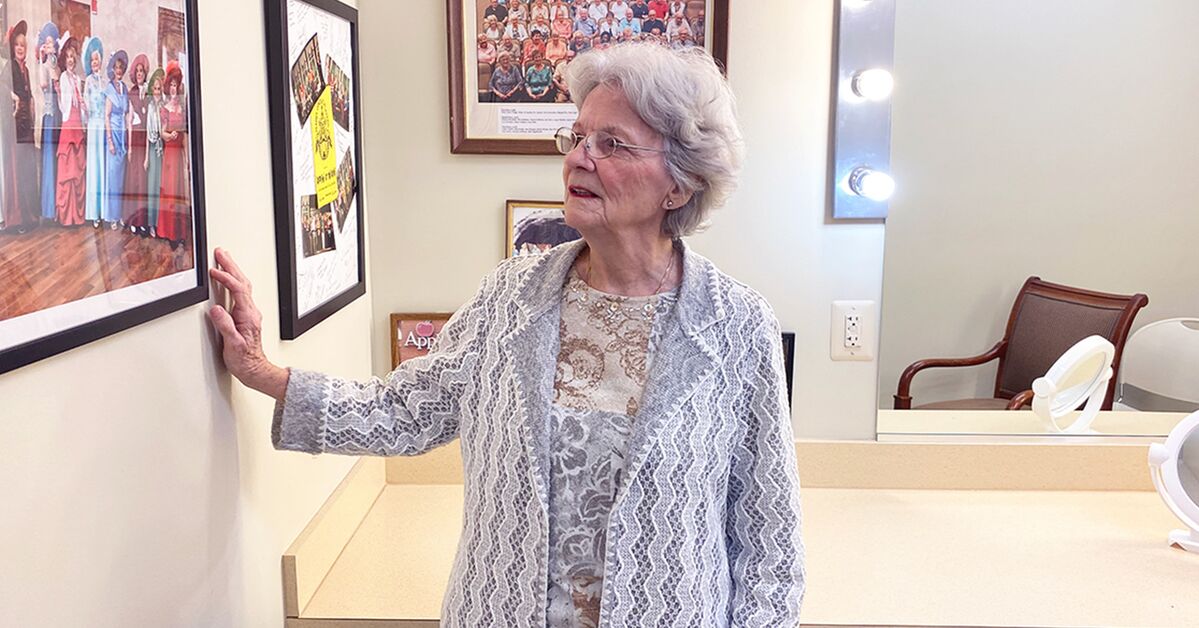 Every morning, Trudy Corma looks out the large windows of her light-filled apartment home at Maris Grove, the Erickson Senior Living community in Glen Mills, Pa. As she surveys the lovely landscaping, the same happy thought crosses her mind each time: "I don't have to lift a finger."
"My house was too big, my property was too big, and I was ready to let go," Trudy says. "Moving here was the right decision."
Just like Trudy, many seniors have found that Maris Grove is the perfect choice for those who want to enjoy a financially secure and maintenance-free lifestyle with opportunities to learn, grow, socialize, and pursue their passions.
Close to home
As the oldest of 12 children, Trudy knew - maybe a little too well - what it meant to "lift a finger."
Looking out for others was engrained in her since childhood, and she carried that same selfless quality with her through adulthood. Throughout her occupations as a flight attendant and real estate agent - and then getting her nursing degree and working for 21 more years after "retirement" - she was always responsible for others' well-being.
When her beloved husband Sal was diagnosed with leukemia, she juggled work and caregiving duties for two decades. It was her optimistic spirit, dogged determination, and abiding faith that got her through those challenging years.
After their son "Little Sal" graduated from West Point, where he trained as a paratrooper and Ranger, he left to serve with distinction in Afghanistan. Tragically, Little Sal died during his deployment, and her husband passed away just a year later.
Facing two very difficult losses, Trudy hesitated to make any life-changing decisions.
But as a priority list member since 2015, Trudy knew she'd eventually move to Maris Grove. Her sister Mary Ellen, who was already living happily at Maris Grove, encouraged her to look at an apartment home she had considered. It turned out to be the one.
A smooth transition
"As soon as I opened the door, I knew," Trudy recalls. "It was filled with lots of light, which was exactly what I needed."
Once Trudy found the perfect apartment home, was ready to begin the moving process. Jan Schechter, Maris Grove's personal moving consultant, created a map of the apartment's floor plan to help her downsize. Because Jan has a son in the military, the two immediately formed a deep bond.
"Jan is a very special person," Trudy says. "I couldn't have done this without her."
Since her move in November 2021, she has found even more to like than she originally imagined.
Staying active
Never one to sit still, Trudy participates in water aerobics, chair boxing, and The Players theater group, where she's made fast friends. She often sits with different people at dinner - another easy way to expand her social circle, which she really enjoys.
"The food and amenities are great, the staff is engaging and caring, and the community is diverse, which I love," Trudy says.
And with her sister just steps away, she enjoys ample family time.
Freedom and security
Executive Director Maureen Heckler isn't surprised by Trudy's positive experience at Maris Grove, in part because of the financial security and maintenance-free living.
"We offer a wide variety of stylish, maintenance-free floor plans, ranging from one-bedroom to spacious two-bedroom designs. Some even feature a den or outdoor living space," she says. "With so many options, it's easy to find an apartment home that matches your needs and budget. And most people know it the minute they see it."
Whether a lightbulb burns out or a faucet starts to leak, Trudy no longer has to lift a finger. With just a quick phone call to the general services staff, she can have any part of her apartment home repaired in no time.
The monthly service package bundles monthly and quarterly expenses - like electric, property taxes, water, cable, and more - into one predictable bill, allowing residents to balance their budgets with confidence.
"With zero maintenance inside or outside of your apartment home, you have the freedom to do whatever you want, whenever you choose," adds Heckler.
Community members also appreciate the financial stability and peace of mind that comes with the 90% refundable entry deposit. Knowing that 90% of their entry deposit will be returned to them or their beneficiaries, says Heckler, is reassuring.
Best of all, Trudy says, "At Maris Grove, you're free to live your best life while they handle all the details. I'm not in charge of anything, and that's just perfect."
Invest in your future self at Maris Grove. From top-notch amenities to affordable, maintenance-free apartment homes, you are sure to live your retirement to the fullest. Request more information today!
Back