Interfaith Committee Encourages Inclusion and Diversity at Maris Grove
Jill Dutton
August 5, 2022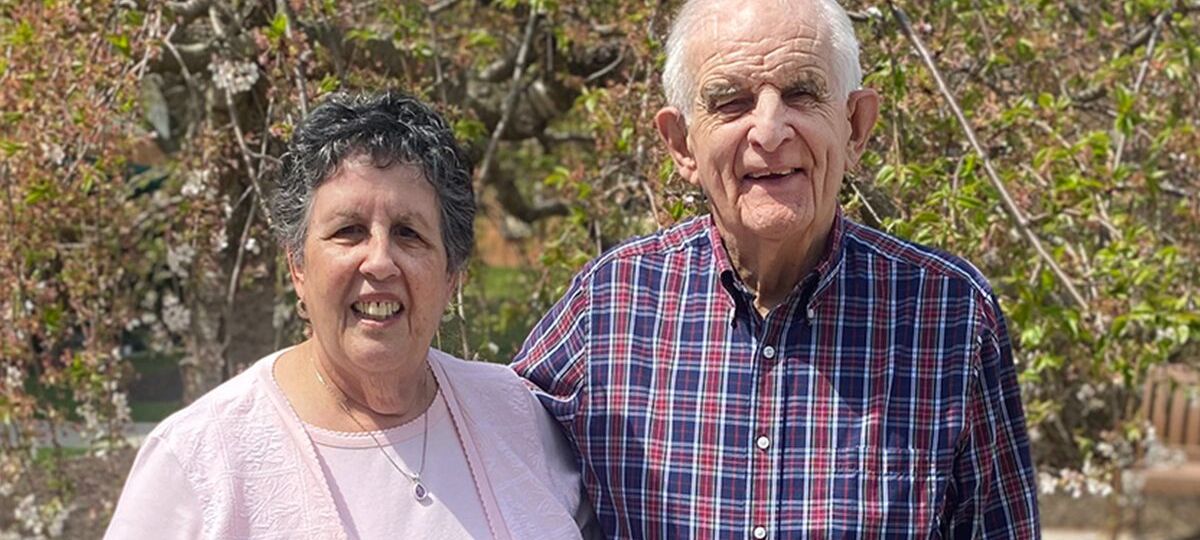 Since the start of the war in Ukraine, interested residents at Maris Grove, an Erickson Senior Living community in the Brandywine Valley of Pa., have been gathering three times a week in the chapel to hold a prayer service.
"It is hard to watch the devastation and loss of lives and not be moved to reach out and offer support to the people of Ukraine - not only individually, but also communally," says resident Arline Schoenberger.
The Ukraine prayer services consist of a group prayer, a video or music, and time for quiet, personal reflection. At the front of the chapel is a table with a map of the country and three candles, plus small stones that people can place on the map when they come to visit.
Spiritual resources
Arline and her husband John, who moved to Maris Grove nearly 13 years ago, are passionate about faith and inclusivity. Eager to find others equally as passionate, the Schoenbergers joined the community's Interfaith Committee and a variety of other faith-based groups.
"Interfaith," Arline explains, "means it's not one tradition - it's not just Christian, or Jewish, or Muslim, or Hindu. We're looking to express faith from all views."
In addition to hosting outreach programs, liturgies, and prayer services, Arline says the Interfaith Committee also aims to educate people on diverse belief systems with which they may not be familiar.
One of the aspects that attracted the couple to Maris Grove, says Arline, was the fact that there is a chapel on campus. "To us, it meant that Erickson Senior Living saw the importance of addressing and caring for the whole person. Not just the physical needs, but also the spiritual needs of the residents."
Justice for all
The couple's dedication to diversity and inclusivity is evident in the other activities they participate in as well.
"I'm involved with a group called Equity," Arline says. "This group got started right after the killing of George Floyd a couple of years ago. So many of us were shocked over what we saw, and we wanted to educate ourselves and others about systemic racism in our society. We wanted to learn how systemic racism affects the residents, the staff, and the students who work at Maris Grove."
Equity members meet twice a month to discuss topics on inequality and ways that they can lessen those injustices.
"We may discuss a book we read or a video we viewed," notes Arline. "One of the group's members, Mary Ann Biller-Fischetti, has done extensive work on providing the community with educational DVDs that cover various topics throughout history. Too often, we view a situation through our own lens - we cannot see certain injustices that have or are still occurring."
Validating other experiences
Arline adds, "We are trying to make ourselves and other people aware that everybody doesn't have the same experiences. You have to learn to validate other people's experiences - not just our own."
Currently partnering with the Diversion & Inclusion Committee, a subcommittee of the Resident Advisory Committee (RAC), the Equity group is working on a project called The People's Place. "The project provides books, DVDs, and a space for people to meet and share their stories. We're trying to make people aware of the need to be inclusive. Hopefully, this becomes more of a reality in our community and the world at large."
A love for community
"I see John and Arline as 'justice seekers,'" says Karen Bartkowski, Maris Grove's pastoral ministries coordinator. "They're always looking out for places and people in the world who are not recognized or who are not being treated fairly. And I think that they use their faith as a foundation for that."
Arline appreciates the many opportunities to give back to Maris Grove, noting that she is grateful for the people they have met and the sense of community they experience. "We have met so many wonderful people here. Everyone looks out for one another and helps one another," she says. "It is a place where we feel nurtured and nourished."
Arline adds, "The constellation in which we're held consists of distinct individuals who shape our lives not only with their actions, but with their diverse experiences, identities, and perspectives. I want there to be a place in the world where people can engage in one another's differences in a way that is redemptive, full of hope, and possibility."
She and John consider themselves blessed to have found this inclusivity at Maris Grove.
To learn more about affordable, independent senior living at Maris Grove, request your free brochure to get the scoop on amenities, floor plans, and so much more.
Back