Fostering Family Ties at Maris Grove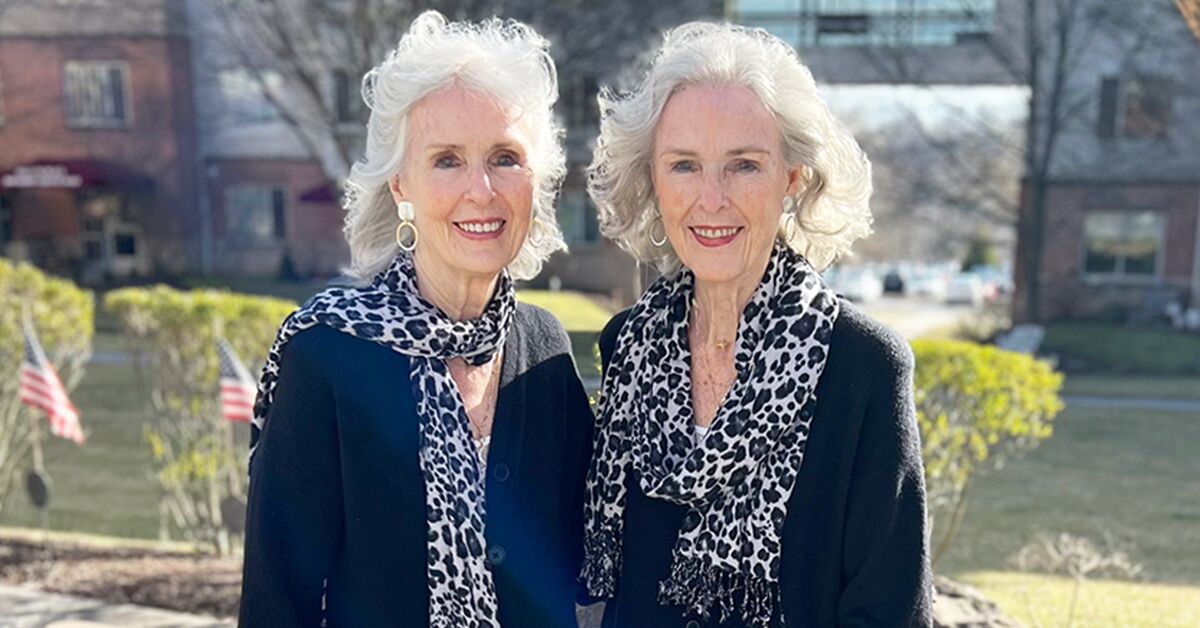 Despite being identical twins, Sloan Rogers and Raina Sloan have forged their own paths throughout much of their lives. While growing up, they recall, they were encouraged to establish their individuality.
"Because of this, we had different friends and we made our own decisions," Sloan says. "We were together very little, actually, and they separated us in school. So, we have always been independent in many ways."
However, after Raina moved to Maris Grove, an Erickson Senior Living community in Pennsylvania's Brandywine Valley, Sloan decided to look for an apartment home there as well. Now, they're reveling in their closeness - while still enjoying their own friendships and activities.
Meant to be
When she moved to Maris Grove six years ago, Raina says she received a sign confirming that she was in the right place.
"The day I moved in, I ran into a woman on the elevator, and she seemed so vibrant and happy. I asked her, 'Wow, is this what living here does for you?' And she said, 'Well, I'm really excited because my twin sister is moving in,'" recalls Raina.
Meeting another twin right away was actually the first positive sign; Raina received another one when Sloan moved in on the same date, five years later.
Hearing Raina share her love for the active community and the clubs she'd joined over the years, Sloan was inspired to explore her senior living options. One day, as she sat quietly, considering a move from her home in Washington, D.C., the words "Maris Grove" came to her.
"I said, 'That's it! I'm moving to Maris Grove,'" recalls Sloan, who had previously worked in the senior living industry. "I knew exactly what to look for, and I was impressed with how Maris Grove is designed!"
Not so identical
Reflecting on their experiences as twins, the sisters cowrote a book called Rocking to Different Drummers: Not So Identical Identical Twins.
"Even now, we always strive to be different," Raina says.
"When I moved to Maris Grove, I knew that we would maintain our separate lives," Sloan says. "It was important, since Raina was already established here, to find my own spot. Still, living close has allowed us to come together and connect more!"
As one would expect, the twins are frequently mistaken for each other, but Raina says that some of their neighbors are starting to be able to tell them apart.
"That's one reason we've always tried to have individual identities - it helps distinguish us," Raina says.
Sloan adds, "Something I love about Maris Grove is that people say hello to each other. If you pass someone in the hall, they'll stop to chat. I've had many people speak to me thinking that I was Raina, so I probably got to meet people more quickly because of that! The friendliness here gives you the opportunity to meet new neighbors and make connections."
Coming together
While Raina and Sloan have found a variety of clubs to participate in separately, they appreciate the chance to come together for some activities.
A passion project for Raina was creating the community's Inner Wisdom Sanctuary. As a Reiki master, she wanted to start a group to celebrate the "grandeur of the mind, body, and spirit connection in the fourth quarter of life."
Inner Wisdom Sanctuary, which quickly gained popularity, meets once a month in Maris Grove's chapel. The group hosts guest speakers - recently, a chaplain and a Buddhist monk - and music programs.
Sloan has presented at the gatherings as well, utilizing her background as an author and writer to speak about the power of memoir writing. She even taught attendees how to compose a six-word story.
Outside of her involvement with the Inner Wisdom Sanctuary, Sloan attends the Writer's Group to share her ideas with fellow writers. She's also joined Let's Talk as a way to get to know more residents, and she's currently considering The People's Place, a mentoring group.
"I'm excited about the chance to give back, as a mentor, to the community," says Sloan.
Creating community
While Raina and Sloan check in with each other often and share a strong bond, they enjoy their independence - and the opportunity to live separate lives and create different friendships at Maris Grove.
"I feel fulfilled at Maris Grove, having created a community of my own through Inner Wisdom. It's enhanced a lot of people's lives," Raina says. "Living here fills the part of me that longs to bring a grander experience to people. And now, having my sister close by is a true blessing!"
To learn more about affordable, independent senior living at Maris Grove, request your free brochure to get the scoop on amenities, floor plans, and so much more.
Back