Former Schoolmates Enjoy a Serendipitous Reunion at Maris Grove
Jill Dutton
September 7, 2023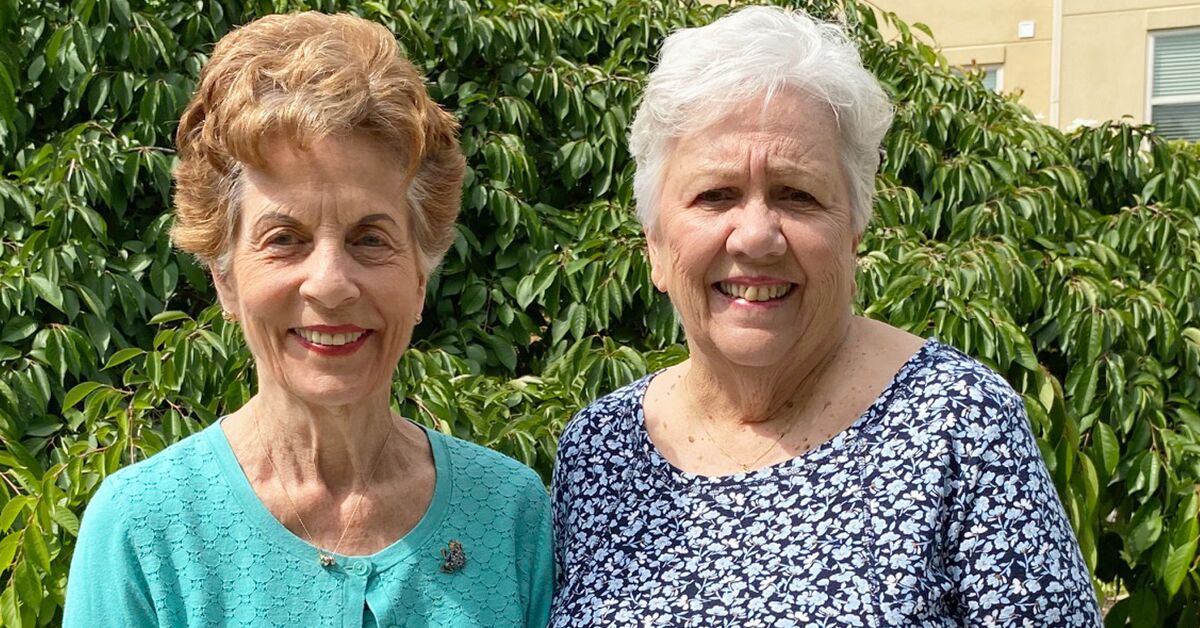 When Elizabeth Murphy needed extra material for a quilting project, she issued a request to her fellow quilters at Maris Grove, an Erickson Senior Living community in the Brandywine Valley of Pennsylvania. Madeleine Potts quickly responded, calling to say she would be happy to share some fabric.
What would normally have been a brief phone call evolved into an hour-long conversation, as they realized they had a shared past.
"I recognized her New York accent and asked where she grew up," Madeleine recalls. "It turned out that in 1957, we were at the same Catholic school, Our Lady of Mercy Academy, in Long Island [N.Y.]. This was a small school--not even 30 students between both of our classes combined--but it turns out we even rode the same school bus! We had to have met, but neither of us recalled it."
They laughed about the coincidence; onetime classmates now reunited by chance at Maris Grove.
Like minds 
In fact, they found out they had more in common than just their small grade school. 
"Once we started talking," Madeleine says, "we discovered that we'd both had our wedding receptions at the Garden City Hotel. Her birthday is on February 4, and mine is the 5th. We now live in the same neighborhood, on the same floor. The coincidences just went on and on!"
The two have enjoyed reminiscing about their youth, sharing stories, and even pulling out their yearbooks to find each other. Finding so much in common, the two have developed a deep friendship.
"You never know who you'll meet at Maris Grove!" Madeleine says.
"Even though Madeleine and I don't remember each other from school, it's still really nice to connect with someone who knew you when you were younger," adds Elizabeth. "Those common memories mean a lot, especially as you get older. I can't even begin to tell you how nice it is to meet someone who you don't have to start at the beginning with." 
Settling in
In addition to a chance to reconnect, both women have found that the community offers a wide range of opportunities to pursue their favorite activities and make new friends.
Elizabeth, who moved to Maris Grove in 2012 with her husband Hugh, is heavily involved with The Players. This popular acting group performs two shows each year, donating proceeds from ticket sales to worthwhile causes, and organizes various fundraisers. 
Elizabeth and Hugh have also worked as Connectors, helping new residents meet others and learn their way around campus. "As a Connector, you help them for a few weeks and then eventually, they don't need you anymore!" she says. "But if they do, we're always available to help them."
"It's easy to make friends at Maris Grove," she adds. "With so many clubs to join, covering nearly every interest, there's lots of opportunities to find neighbors with things in common."
Out and about
Madeleine and her husband Mike moved to Maris Grove in 2020, attracted to the community's welcoming environment that fosters unity and engagement. 
Madeleine enjoys making birthday cards for all her neighbors, printing and delivering them with help from Mike. She also participates in the Blanket Circle, a club that's associated with Project Linus, a national initiative that provides handmade blankets to children in need. The Maris Grove group has been especially productive, donating 21,000 blankets to date. 
She participates in many stitching groups, including knitting, embroidery, and cross-stitch, as well. 
"It may sound like a lot," Madeleine says, "but I like to joke that I'm more interested in the social aspect than the stitchery. There's always lots of gabbing, which is fun!"
When she's not busy with a stitching club, Madeleine spends time playing shuffleboard, at her book club, or watching one of Elizabeth's performances.
Together, Madeleine and Mike enjoy the social atmosphere of the community's restaurants, where they meet friends for dinner, greet new residents, and chat with staff members. 
"I particularly love the student servers! Maris Grove does a phenomenal job with the people they hire. They love to share their stories, and they're always fun to be around at mealtimes," Madeleine says.
Chance encounters and rediscovered connections are just two of the ways that residents form new friendships at this vibrant, active community. 
To learn more about senior living at Maris Grove, request your free brochure to get the scoop on amenities, floor plans, and so much more.
Back