Financial Security, Predictability, Peace of Mind at Maris Grove
Dorrie Anshel
February 17, 2021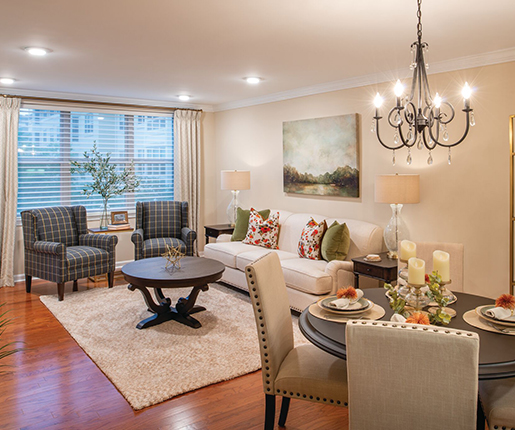 Joe Abelson knows numbers. A community member at Maris Grove, an Erickson Senior Living community in Glen Mills, Pa., Joe serves as chair of the Finance Advisory Council, attending monthly meetings with Executive Director Maureen Heckler and Finance Director Randall Cox to discuss the community's finances. When he and his wife Doris moved to Maris Grove eight years ago, they were attracted to the financial security, predictability, and peace of mind they would enjoy at the Erickson Living-managed community.
With 37 years of experience and expertise in senior living and health, Erickson Senior Living's leadership in the industry was another important factor. Above all, they wanted to ensure that they would be well cared for, regardless of what the future brings.
"Taking the burden off of our children if one of us becomes ill greatly influenced our decision to move here," he says. "We didn't want to put that responsibility on them, of having to care for us in our house. That, plus the many financial advantages, made the decision easy."
The Abelsons were impressed by Erickson Senior Living's "home for life" commitment, which enables residents who outlive their savings, through no fault of their own, to re-main in the community. The Resident Care Fund covers living expenses for those residents so they can stay at the community.
"I've come to realize that, financially, that's probably one of the most significant benefits of moving here," says Joe. "No matter how much you prepare, you don't know what will happen, so even people with significant assets can be wiped out.
"It's like having long-term insurance without the high cost," he continues. "That promise provides an invaluable measure of security."
Executive perspective
Executive Director Maureen Heckler is gratified to hear that. She notes that Erickson Senior Living's financial value enables residents to feel secure. Maris Grove offers a wide variety of floor plans, to suit every-one's budget and style.
"I often hear that our 90% refundable entry deposit was the deciding factor," she notes. "They appreciate knowing that their family members will receive that money after they no longer reside in the community." Full details are available in the Residence and Care Agreement.
Joe agrees. "Living here, you get so much more in return." He points to the amenities, activities, and rich social life he and Doris enjoy. "If we were still in our house, our social circle would have diminished greatly, no question," he notes. Joe adds that the best time to move is when you can do it at your pace and when the housing market is strong. "It's hard to sell a house under pressure," he notes. "Move when you can field the best offers and fully enjoy the Maris Grove lifestyle."
This winter looks outstanding for home sellers. Historically low inventory paired with low interest rates means buyers are motivated. Sellers are sure to get the best prices for their homes. Heckler says that residents also appreciate the predictability of a single monthly fee that covers virtually all of their expenses, including utilities, meals, amenities, 24-hour security, and more. "Having every-thing accounted for on one statement is so easy," she says. "You don't have to write a dozen checks, and there are never any surprises. The monthly service package remains the same price for the whole year."
Joe cites a recent issue with his freezer as an example of the ease and convenience of life at Maris Grove. "We made one call, and a new refrigerator was installed in 24 hours," he recalls. "We had no replacement costs, and they took care of it immediately."
To learn more about Maris Grove, request a brochure today. 
Back