Design Your Dream Dwelling at Maris Grove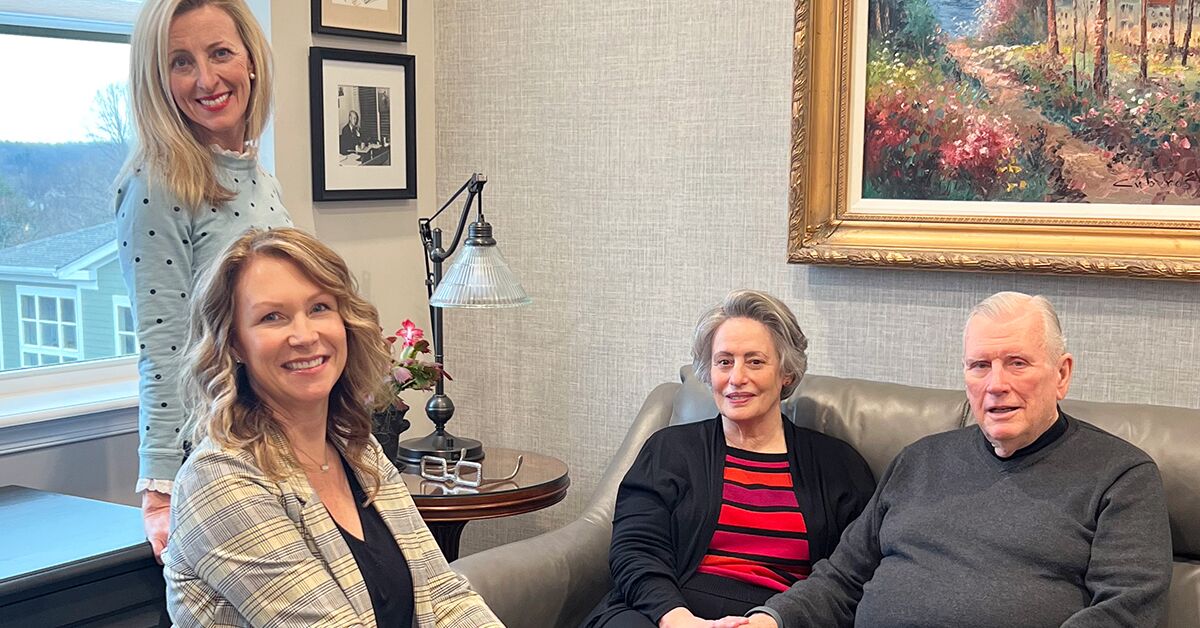 As Bill and Kathryn Sowden prepared for their move to Maris Grove, an Erickson Senior Living community in the Brandywine Valley of Pennsylvania, they were brimming with ideas on how to personalize their one-bedroom, one-and-a-half bath apartment home. 
But, like many of us, they didn't know how to make their design dreams a reality. 
The Sowdens were gratified to learn about the community's Custom Interiors services, coheaded by Custom Interiors Coordinator Kelly Frich. With Frich's help, the couple created a thoughtful design that reflects their current wants and needs.
To their benefit, they were even able to schedule custom innovations before they moved in.
Stow it away
Organization and storage were a priority for the Sowdens, so they had the closets in their apartment home customized by mounting sturdy shelves and cubbies and expanding space for hanging clothes.
 "They did a fabulous job on all of the closets!" Kathryn says.
Inspired by recent design trends, the couple requested an upgrade to the laundry room, adding convenient shelving to store cleaning products and other supplies. 
To free up valuable floor space for furniture in the bedroom, the closet's double doors were removed. 
Throughout their home, crown molding was installed to create an elegant, classic look. Dimmers were added to all lights, allowing Bill and Kathryn to quickly change their atmosphere - for cozy nights in to hosting lively get-togethers. 
An upgraded refrigerator, wood-like plank flooring, and a grout-less backsplash in the kitchen maintain the elevated, high-end feel.
"The best part about working with Kelly was that everything was handled by a professional," Kathryn notes. "We had so many ideas, so we had put our heads together. She found a way to make everything work in our home. It was a great partnership!"
Customize your space
Frich, who holds a degree in interior design, explains that many people moving to Maris Grove are looking to create an environment that echoes their new lifestyle. 
"After years of maintaining rarely used rooms, they look forward to the opportunity to reimagine how they want to use their apartment home's living space," she says. 
Changes large and small
Once someone has reserved an apartment home, they are more than welcome to visit Frich or Becky Bondi, another Custom Interiors coordinator, at the Custom Interiors Design Center. 
"The Design Center is a one-stop shop," Frich says. "You can peruse and decide on what modifications you'd like, and then we work together to formulate a plan. Our goal is to get everything done before you move in!" 
Although most residents request simpler changes, such as new window treatments or a new paint color, Frich is willing to accommodate any modification, large or small. 
"We've removed walls, built walls and archways, and made tub-to-shower conversions," she explains. "There are certain limitations to be mindful of, such as load bearing walls, but basically, our residents can make any change they'd like - and we're here to guide them through it."
Maris Grove even has a showroom, filled with different finishes and furnishings, to help people envision ways that they can make an apartment home their own. 
Making it work
To freshen up their living space, the Sowdens requested some changes after settling into their apartment home. 
They extended a wall to create a foyer and added a decorative arch between the dining and living room to define the spaces. New window treatments, wainscoting in the kitchen, upgraded light fixtures, and new flooring in the bathroom now contribute to the modern look they were aiming for. 
Because the archway was the first of its kind to be installed at Maris Grove, the preferred contractor that Bill and Kathryn worked with made a template based on the arch in their hutch.
"It was sort of an experiment," Bill says, "but it turned out perfectly!"
Because Kathryn still works as a consultant for clinical research, she requested a custom built-in desk, as well as shelving for electronics. 
The Sowdens were very pleased with the guidance they received from Frich, as well as the help from their preferred vendors and contractors. 
"If you can imagine it, they'll find a way to make it work!" she says.
At Erickson Senior Living communities, many people appreciate the opportunity for a fresh start - and the ability to create a beautiful apartment home where they can live the carefree retirement they've always imagined.
Invest in your future self at Maris Grove. From top-notch amenities to affordable, maintenance-free apartment homes, you are sure to live your retirement to the fullest. Request more information today!
Back