Seth and Jean Lampe Make the Most of Their Retirement at Fox Run
Michele Wojciechowski
January 10, 2023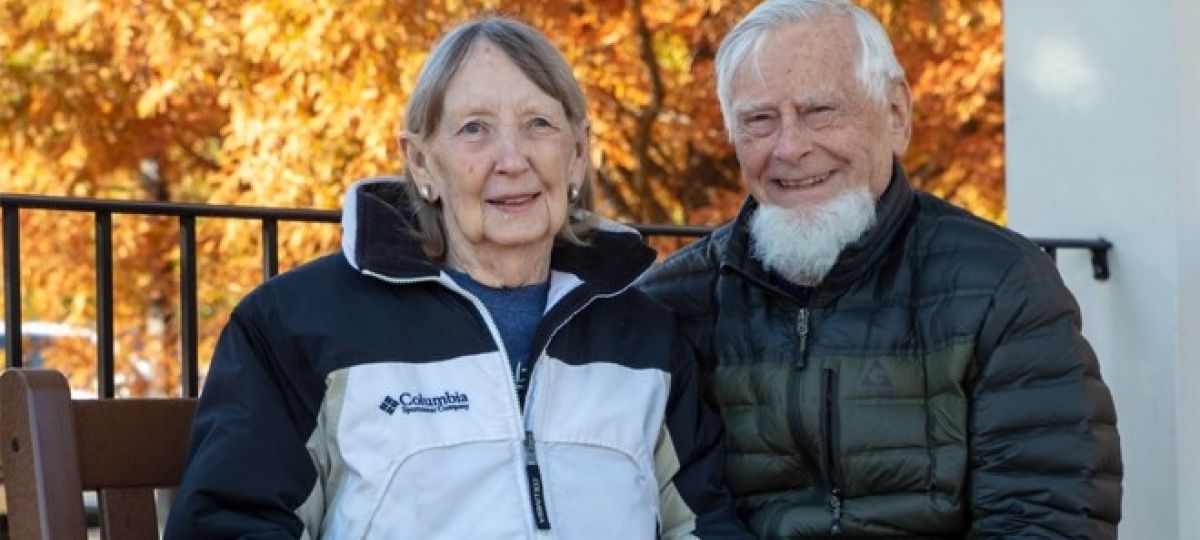 Sometimes, life is about second chances. Take Seth and Jean Lampe, for instance.
While Seth and Jean met in 1954, they didn't start seeing each other until later in life and only married eight years ago - their second chance at love.
And now, by living at Fox Run, the Erickson Senior Living community in Novi, Mich., they got a second chance at making the most of their retirement.
Reunited
After their double date in 1954, Jean and Seth went their separate ways, raising families of their own. Jean married and raised two children, spending most of her life in Farmington Hills. Sadly, a few months before celebrating their 50th wedding anniversary, her husband passed away.
Seth attended Penn State, then lived in New York City, went into the army, and even "bounced around several cities in Michigan," he says. He also got married and had kids. When his wife passed, they had been married for 47 years.
In 2012, while Seth was a docent at a railroad museum, a friend thought that he would benefit from meeting another companion. So, that friend introduced Seth to his sister, Jean.
"After only a few sentences, we discovered that we had both been to the Alpha Omega 'Boat Dance' on the Boblo Boat," recalls Seth. "That led to the realization that we had been on a double date - paired with other people - back in 1954."
Cupid's arrow
Seth was immediately smitten and wanted to see more of Jean. But, at that time, it wasn't meant to be. Within a day of their meeting, Jean headed to St. Augustine, Fla., for the winter.
"I promised to call her when she got back to town, but I lost her phone number," says Seth, with a laugh. "I eventually found it and called. I asked if she remembered me, and she responded, 'Yes, you are the guy who was supposed to call me a month ago.'"
Even though he was late in getting in touch, Jean agreed to go on a date with him. Within an hour, Seth picked her up in his convertible, and they headed out to get ice cream.
"I brought her back home about eight hours later without an ice cream cone," quips Seth. "She returned with a rat's nest in her hair instead - from the convertible's top being down. We spent hours talking about how much we had in common. Even after we had disappeared from each other's lives, we did a lot of the same kinds of things."
He asked her out again the following week, but she was spending the weekend in her family's cottage in Caseville, Mich. So, Seth wrote her a long love letter for her to open when she returned.
What was her response? "Well, she liked it, and she's still got it," says Seth.
Worry-free living
In 2015, Jean and Seth tied the knot at the Log Cabin Museum in Bad Axe, Mich. The two lovebirds were enjoying their lives together, with one significant exception - the stress and expense of home maintenance.  
"We were running a pretty good-sized lakefront home, but it was just a little too much," says Seth, who was overwhelmed by the increasing number of repairs. "We were hit with three large bills - a new roof, furnace, and hot water heater. We decided it was time to move!"
Before beginning research on their senior living options, they made a list of their wants and needs - a maintenance-free lifestyle was ranked number one. Once they found Fox Run, they were sold. These days, when something goes up in their two-bedroom, two-bath apartment home, all Seth has to do is make a phone call.
"Recently, something broke in our garbage disposal," says Seth. "Ten minutes later, a guy walked in with a brand-new disposal in his hand. He put it right in."
Predictable costs
Since moving to the continuing care retirement community, seasonal expenses have become a thing of the past, as well.
"We had to pay someone to cut our lawn each week, a company to apply chemical lawn treatments every other week, and a gardener to come in monthly," explains Seth. "In the winter, we had to pay for snow removal."
Thanks to Fox Run's monthly service package, all services the Lampes might need are covered under one predictable bill each month.
"The costs never ended," says Seth, "until we came to Fox Run, that is! My monthly Visa bill is down to half of what it once was. It's so nice."
Still lovebirds
Now that the Lampes have settled into their worry-free lifestyle at Fox Run, they spend their free time perusing the monthly calendar of activities and circling what they'd like to try.
"I'm so thankful for these second chances in my life," says Seth.
To learn more about affordable, independent senior living at Fox Run, request your free brochure to get the scoop on amenities, floor plans, and so much more.
Back