Retire Your Worries at Fox Run
By Michele Wojciechowski
August 29, 2023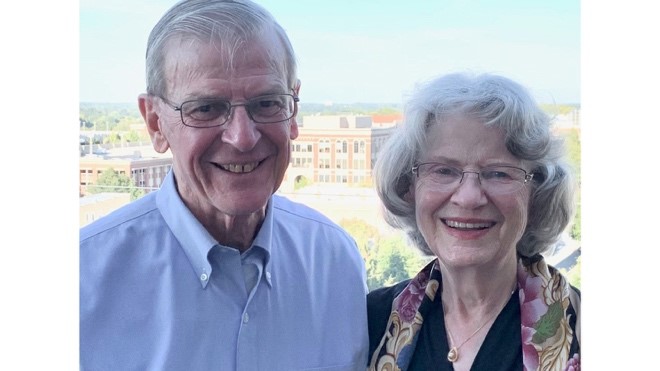 Before moving to be closer to family in Michigan, Cindy and Jerry Larson researched a number of continuing care retirement communities in the area, comparing the cost, lifestyle, and other factors that were high on their list of priorities.
The couple found that Fox Run, the Erickson Senior Living community in Novi, Mich., offered much more for their money - maintenance-free apartment homes, state-of-the-art amenities, high quality restaurants, and more.
"It is financially beneficial to be here!" says Cindy.
Predictable costs
The Larsons were impressed by Fox Run's monthly service package, which bundles multiple costs into a single predictable, affordable payment.
The package includes heating and air conditioning; all utilities, except phone and Wi-Fi; a chosen meal plan at on-site restaurants; maintenance, including repair and replacement of appliances; regularly scheduled transportation; and 24-hour security and emergency response.
Furthermore, Fox Run operates on a fee-for-service model that helps residents cut costs.
"You pay for the services that you use. We don't use housekeeping at this point, so we don't pay for it. There are other places where it's a blanket charge," says Jerry. "Fox Run was less costly than a lot of the communities we looked at - by a significant amount, as much as 25-30%."
"It's not a reduction in the way you live either," says Cindy. "It's very nice here."
Director of Finance Greg Meehan notes that many residents agree with the Larsons.
"When I ask people if they believe they are getting good value for the price they pay, they nod and say, 'Yes!' It's incredible," says Meehan. "It's the best deal in town."
Peace of mind
At the heart of Fox Run's financial model is the 90% refundable entrance deposit,* which guarantees that, if or when you leave the community, your investment will be returned to you or your beneficiaries.
And the community's Home for Life promise - sustained through the Benevolent Care Fund that assists eligible community members who, through no fault of their own, outlive their resources - provides peace of mind.
"The Home for Life guarantee is near and dear to my heart," says Meehan. "To me, the greatest gift that we give residents and their adult children is peace of mind. They know that their parents are taken care of and that there's a whole team of people in place to help them, no matter what happens."
Access to health care
For Cindy and Jerry, peace of mind stemmed from the community's on-site medical center and access to continuing care.
"Moving to a new state and not having to beat the bushes for a primary care physician was a blessing," says Cindy. "The medical staff here is very supportive. It's nice to know that there's a team who has your back."
She continues, "And, if we ever need advanced care in the future, it's nice to know that there is similarity in the lifestyle. Areas are all connected to one another," encouraging the same level of vibrant engagement and activity that Erickson Senior Living communities are known for.
Since moving to Fox Run, Cindy and Jerry are making the most of their investment by utilizing the community's amenities, which are continuing to evolve and grow.
With a current $4 billion expansion plan and $450 million investment to update and enhance existing communities, Erickson Senior Living strives to increase value for all residents.
"In the last eight years, nearly the entire campus has been renovated," says Meehan. "I was recently giving a tour to someone who couldn't believe that we're 20 years old, because everything looks so fresh and new."
Outside of their beautiful two-bedroom, two-bathroom apartment home is an array of amenities, clubs, and activities - all of which are included in their monthly service package.
"Wellness and fitness are really important to both of us," says Cindy, who participates in exercise classes at the fitness center at no additional cost.
Cindy is also part of the Genealogical Society and a steering committee for a new Women's Discussion Group. Together, they attend history club, birders' club, and astronomy club meetings.
Worry-free living
Like the Larsons, you've worked hard to save and plan for a financially stable retirement. Fox Run makes it easier to enjoy this next exciting chapter.
Invest in your future self at Fox Run. From top-notch amenities to affordable, maintenance-free apartment homes, you are sure to live your retirement to the fullest. Request more information today!
*As per the Residence and Care Agreement.
Back