Naval Ship Named After Fox Run Resident
By Michele Wojciechowski
June 22, 2021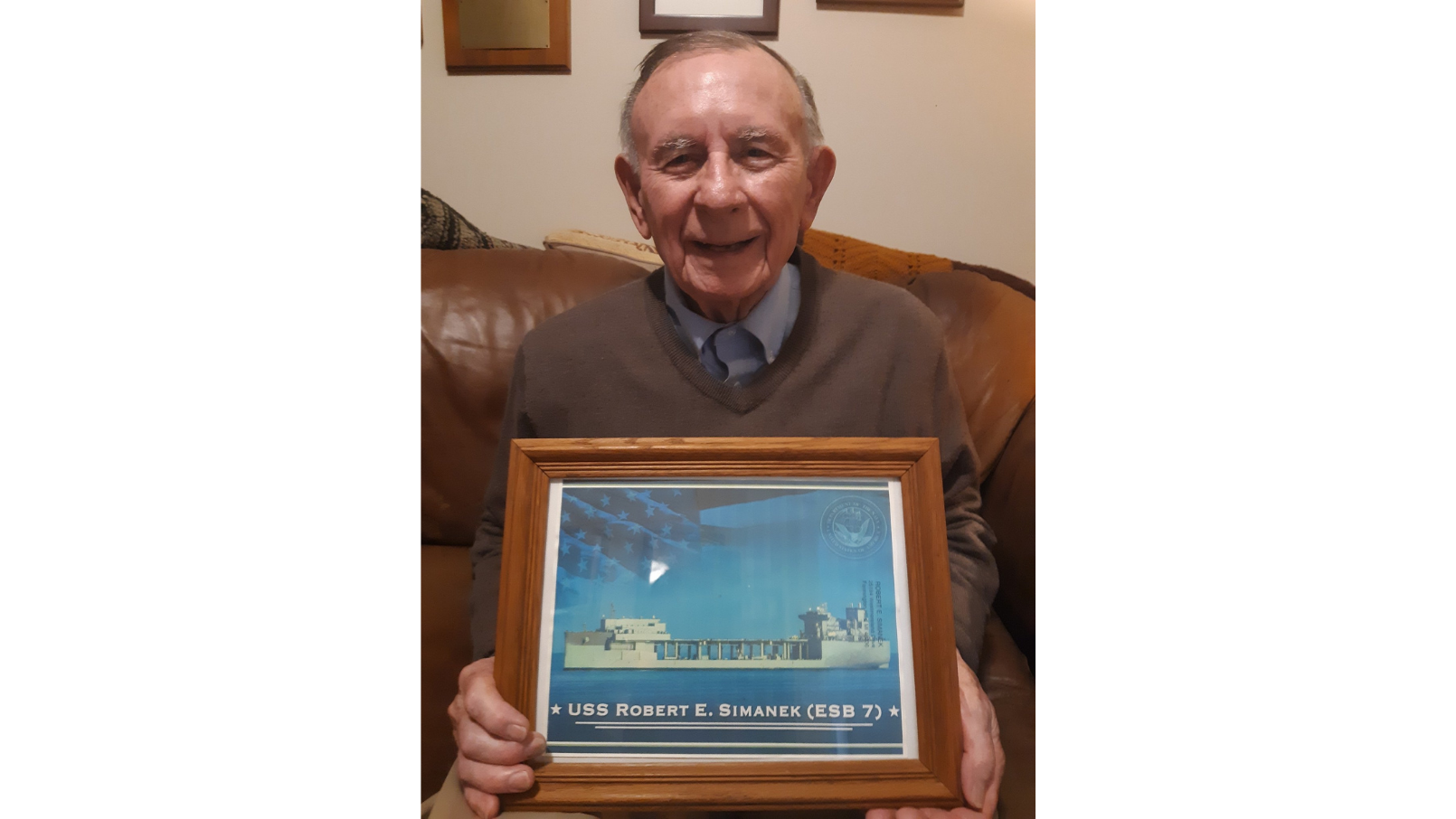 Back in 1952, Robert Simanek was a 22-year-old private first class fighting in the Korean War. When Robert's squad was ambushed by Chinese troops, although already injured by shrapnel, he threw himself on a grenade that came at him and his fellow soldiers. In doing so, he absorbed the blast and ended up saving the other soldiers from injury and death. Miraculously, Robert survived, although he did have serious leg wounds and took a year to recover. Now, the Navy is naming a ship after him.
"It is fantastic. I just can't believe it! I don't know why they've picked me," says Robert, a resident of Fox Run, the Erickson Senior Living community in Novi, Mich.
The U.S. Navy ship, to be called the Expeditionary Sea Base USS Robert E. Simanek, is scheduled to be finished in 2024. When fully loaded, the ship will weigh 100,000 tons, and it will perform various missions including launching helicopters, small boats, and unmanned surface vehicles.
Multiple honors
Having a ship named after him isn't the only honor that Robert received for his bravery during the war. After he recovered from his injuries, then-President Dwight D. Eisenhower awarded him the Medal of Honor. He also received the Purple Heart and the Korean Service Medal with two bronze stars.
A surprising phone call
Robert remembers the day two years ago when he received a phone call that stunned him. "I was sitting in my chair, and a lady called and said, 'The Commandant of the Marine Corps is going to call you.' She wouldn't say what for," recalls Robert. "He did call, with another general. I said, 'Let me stand.' The Commandant said, 'No, you stay sitting.' But what a nice man. The way he talked to me—I was so pleased."
Back to the beginning
In 1951, Robert enlisted in the Marines after being drafted. In 1952, he joined Company F, 2nd Battalion, 5th Marines, as both a rifleman and radioman when needed. After recovering from the injuries he sustained in the war, Robert began attending classes at Michigan State. At the time, he was 24 years old, and he says that dating 18-year-old freshman girls wasn't his thing. His roommate said he had a friend who would like Robert. He remembers going to the ladies' dormitories to pick up Nancy, who was a senior. They went canoeing in the river around Michigan State. After seeing each other for some time, Robert recalls. "We started liking each other quite a bit."
After Nancy graduated, she began teaching school around Detroit. Robert stayed at Michigan State for three years. But when Nancy began to stay in the small area where she taught, Robert decided that he'd better join her. He finished college at Wayne State, and after, worked as an accountant. He and Nancy got married and enjoyed 64 years together.
Praise for a hero
Robert is overwhelmed that the Navy is naming a ship after him. He's still surprised that he received a call from the commandant.
"The commandant of the Marine Corps is definitely 'god' when you're in the Marine Corps. That's the way it was," he says. Although Robert spoke with the commandant two years ago, then-Secretary of the Navy Kenneth J. Braithwaite only made the announcement this past January that the ship had been ordered and would be named in Robert's honor. He said in a statement that "It will carry on the Navy's sacred mission to secure the seas lanes, stand by our allies, and protect the United States against all adversaries."
In addition, Oakland County (Michigan) Executive David Coulter said in a statement: "Mr. Simanek, a longtime Oakland County resident, is the epitome of an American hero. I'm in awe of his selfless act of bravery nearly 70 years ago and so happy for him and his family."
If you'd like to learn more about the residents who live at Fox Run, request more information today.
Back