Fox Run's Staff Members Share a Commitment to Care
By Michele Wojciechowski
February 23, 2023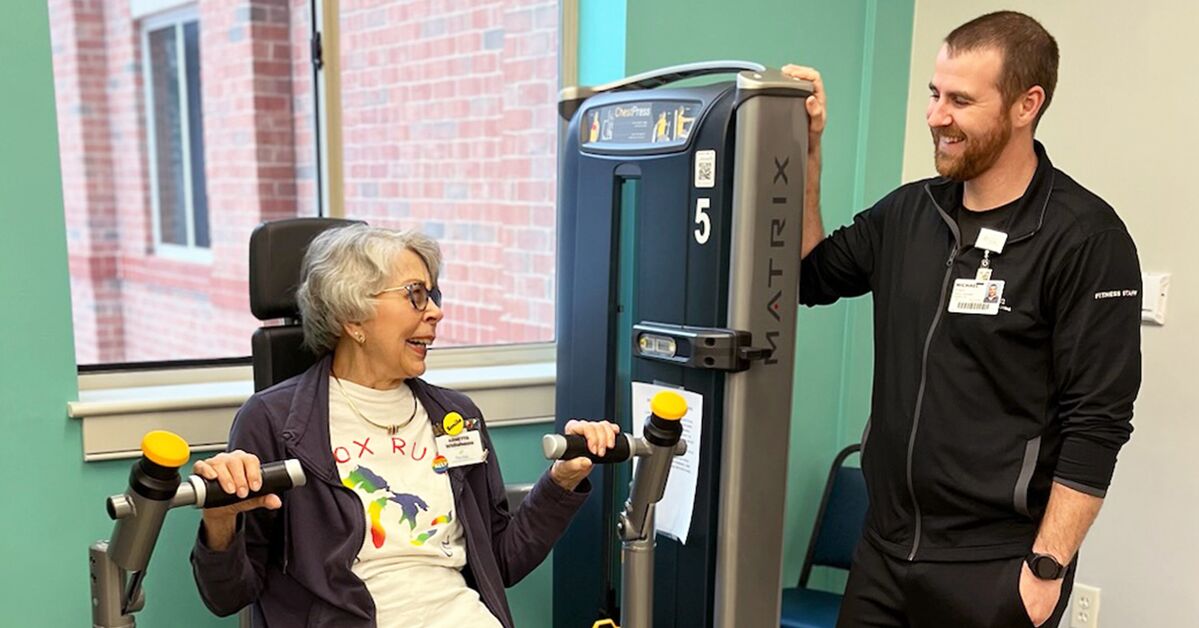 People who choose Fox Run, the Erickson Senior Living community located in Novi, Mich., are attracted by the wealth of amenities - maintenance-free apartment homes, on-site restaurants, fitness centers, and access to continuing care, as well as tons of clubs, activities, and events.
But many residents note that what they appreciate most is the support of dedicated, caring staff members who are the heart and soul of the community.
"The relationships we create with community members are what set us apart," agrees Katy Yermak, Fox Run's human resources director. "Our employees truly love working with our residents. It's what makes Erickson Senior Living's culture so unique!"
Fitness and friendship
In the 12 years that Arnetta Mae Whitehouse has called Fox Run home, she has developed close friendships with many employees, but one in particular stands above the rest.
"I started working with Michael Knight, a fitness specialist here, just a year after I moved in," says Arnetta Mae. "I really value our friendship. Michael is like a son to me! We talk about everything from healthy habits to life's most complex issues."
Arnetta Mae finds that the warm and supportive relationships create a positive environment for everyone. "Residents and employees really care for one another."
A great place to work
Amy Brennan, who serves as the sales manager for Fox Run, gained an appreciation for the community's positive environment early in her life.
"My grandparents lived in an Erickson Senior Living community, so I became familiar with the culture - how staff and residents interact in a genuine, heartfelt way," explains Brennan. "I was only 19 years old at the time, but I knew that I wanted to steer my career toward Erickson."
When Fox Run was getting ready to open, Brennan was offered a sales associate position.
"My background was in health care, so the role was out of my comfort zone," recalls Brennan. "Nonetheless, it was an exciting opportunity that followed my intended path!" She took the job and never looked back.
Over the past 26 years, Brennan has worked in several different roles with the company, including some in continuing care that applied her health care experience. However, the sales office was always calling her back.
"I realized I had missed the excitement of people coming to campus and informing them about all of the awesome things that are happening here," she says.
A supportive environment
Brennan notes that the career growth she has experienced over the years contributes significantly to her job satisfaction.
"I truly believe that Erickson Senior Living offers something that most companies do not. You can make a path for yourself," she notes. "Whether you decide to work with a mentor or establish your own individual development plan, Erickson will help you grow, professionally and personally."
Employee benefits, such as tuition reimbursement and flexible schedules, enabled Brennan to attend evening classes that furthered her career.
Coming together
Staff and residents work together throughout the year to create and host events. The Diversity and Inclusion Committee's Cultural Fair, the Benevolent Care Fund Gala, and the Student Scholarship program - just to name a few - are always a hit.
Last year's Halloween Spooktacular, a standing-room only event, earned rave reviews from Arnetta Mae.
"A lot of employees come up with skits to be in it. They get costumes, make props, and find a song they want to perform to," she says. "This year, one department did the 'Monster Mash.' It's a lot of fun, and the staff gets really involved!"
This sense of fun and spirit of collaboration ensure that everyone feels engaged and involved.
"Our employees want to get to know community members for who they are and building lasting relationships," says Yermak. "And even the simplest things can make a difference! Remembering how a resident likes their coffee or knowing who their friends are and intentionally seating them together at dinner means so much to them."
Invest in your future self at Fox Run. From top-notch amenities to affordable, maintenance-free apartment homes, you are sure to live your retirement to the fullest. Request more information today!
Back