Fox Run's Annual Pinewood Derby Is a Resident Favorite
Michele Wojciechowski
November 17, 2022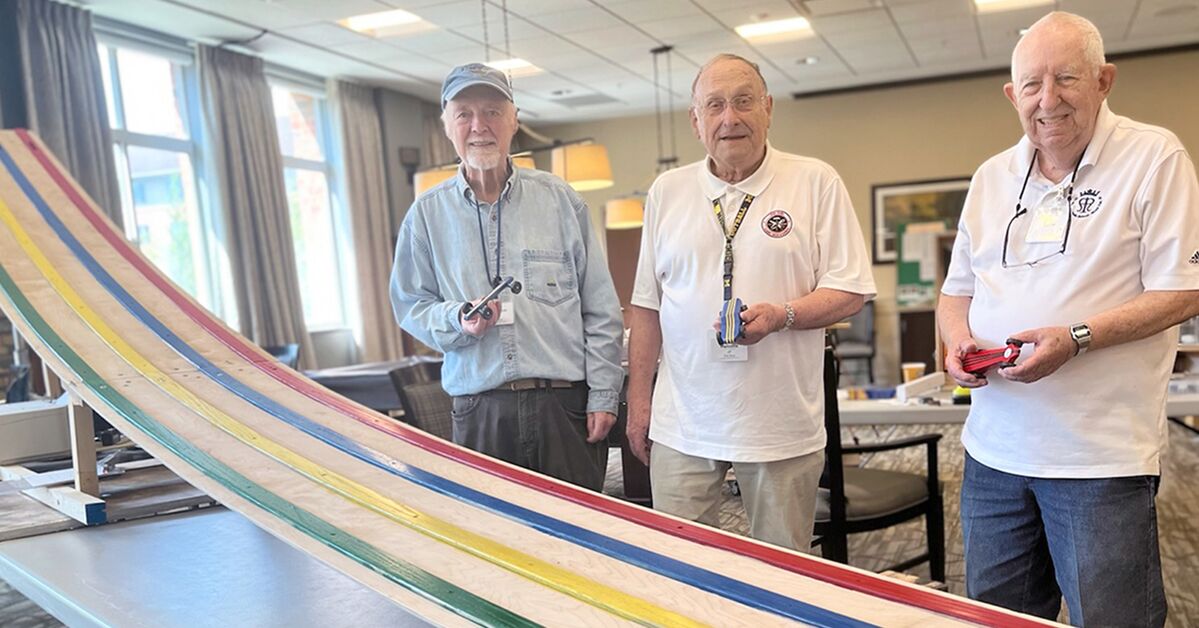 Each year, Bill Gayde leads a holiday project at Fox Run, an Erickson Senior Living community located in Novi, Mich.
As chairman of the community's Hobby Shop, Bill works with his neighbors to construct between 300 and 400 little wooden toy trucks and cars. "We give them away to the local children's hospital around the holidays," he says.
Then one year, during a planning meeting about the annual project, someone made a proposal. "They said, 'You know what we ought to do? We ought to race these things.' Everyone agreed that it was a good idea," recalls Bill.
And with that, Fox Run's annual Pinewood Derby was born.
Creative license
The Hobby Shop quickly got to work constructing a 30-foot-long track with four lanes.
"We decided to use the concept and rules of the Cub Scouts' Pinewood Derby, because it has everything organized nicely," says resident and fellow Hobby Shop member Ollie Marcotte. "That first race, we had 50 or so cars entered! People built and customized them."
One artist turned her car into a fox, while many others chose to decorate with all kinds of feathers and beads. The Biking Club added a small bicycle to theirs. Resident Craig Rockafellow, who was working with the community's TV studio at the time, even put a TV camera on his.
"It never worked," says Craig, with a laugh.
"But it didn't have to! It looked good," responds Ollie.
Now, participants have three options when selecting a car to race: they can bring a car that they've raced before, they can buy a Cub Scout Pinewood Derby car kit to assemble themselves (which the Hobby Shop sells for $5), or they can buy a prebuilt car from the Hobby Shop for $8.
Upping the ante
In 2019, many residents and staff members gathered to witness Fox Run's inaugural Pinewood Derby. Participants were grouped together based on residence buildings, with winners receiving first- and second-place trophies. Then, all of the first-place winners competed in one last race for the title of grand champion.
According to the Cub Scouts' rules, each Pinewood Derby car can weigh up to five ounces. But for this inaugural race, Hobby Shop members added a special category to up the ante. Residents could create a car weighing up to one pound, and Bill was one of them.
"I have a friend who's into hunting, and he makes his own bullets out of lead," says Bill. "So, I said, 'Give me a pound of lead!'"
But even with the extra weight, Bill's car didn't win - it was beaten by a car with an electric motor on it. "That one actually beat everybody, so we decided to drop that category in recent years," says Ollie.
Check your engines
On the night before a Pinewood Derby, Ollie says that every car entered must be certified to race.
"We check the size and weight of each car," he explains. "Then, we photograph the cars and sequester them overnight."
"And to eliminate any kind of bias," Craig adds, "the cars have to race in each of the four lanes. Then, the average speed for each car, from all the heats, is calculated by a computer."
"In fact, the computer program is used at thousands of races across the country. It calculates the lanes, when they race, and what order they race," says Ollie.
On the day of, there is much pomp and circumstance. The event starts with a procession led by flag bearers. Then, a model plane does a "fly over" while the mistress of ceremonies, Fox Run's Community Resources Coordinator Megan Smith, puts her smartphone up to a microphone to project the sound of a jet engine.
Everyone wins
While the races run, standings and times - updated regularly - are displayed on two large TVs.
In the event a participant's car doesn't place, they still have the opportunity to win in several categories: most creative car, best decorated car, car with the least amount of wood, and more.
The Hobby Shop builds trophies for the occasion - walnut stands with brass placards stating the residence building and first- or second-place. Adhesive on the top of each trophy allows winners to attach their cars for display. And, the best part of it all, any profits remaining after the expenses of trophies and equipment are donated to the Benevolent Care Fund.
"It's just a lot of fun!" says Bill. "It's like going back to our childhood. Most of us were either a Cub Scout or had our kids in it, and they raced in the Pinewood Derby."
To learn more about affordable, independent senior living at Fox Run, request your free brochure to get the scoop on amenities, floor plans, and so much more.
Back