Fox Run: A Wise Financial Decision - And Lots of Fun Too!
By Michele Wojciechowski
April 20, 2022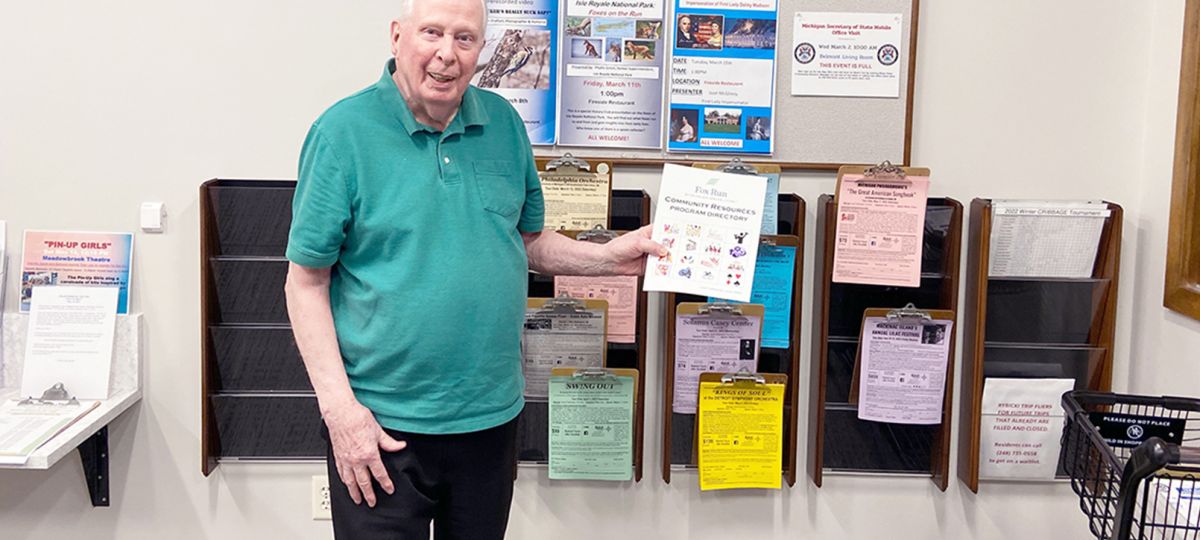 When you ask Chuck Dause why he moved to Fox Run, the Erickson Senior Living community in Novi, Mich., he points to the value and the community's endless list of benefits.
He was impressed with Fox Run immediately, Chuck notes. Before he began a tour of the community, a sales associate asked if he wanted to see the list of on-campus activities for that month.
"I thought she was going to hand me a few sheets of paper," he recalls. "But she handed me a 50-page book! I said, 'Wow! This is an interesting community!'" He was sold.
A little over three years ago, Chuck moved into his one-bedroom, one-bath apartment home with a den, and loves it.
Free from worry
His decision was even more satisfying once he realized his granddaughter and her husband wanted to buy the four-bedroom Colonial that he and his late wife Marilyn lived in for many years.
As a housewarming gift, Chuck purchased a warranty in case anything "went up" in the house after they moved in. That warranty was a great purchase.
"In two years," he says, "the furnace went. The central air went. The chimney needed major repairs. The patio needed releveling. We had to bring some electrical work up-to-code…big-time maintenance stuff."
All these repairs were a great reminder of what he was happy to leave behind when he moved to Fox Run, where he's embraced the joys of maintenance-free living - and living in a space that's more appropriately sized for his needs.
"I'm not a 'stuff' person," he says. "Plus, now I've got a beautiful view of the wetlands area out my window!"
All of Chuck's maintenance is taken care of through the monthly service package. "If my refrigerator dies, they fix or replace it. It really is less expensive, on a monthly basis, to live here than if I would have stayed in my house," he says.
The monthly service package also includes flexible meal plan options at the community's on-site restaurants, which offer fresh, flavorful dishes that make it easy to eat healthy, or satisfy a craving for something sweet or savory. Fox Run prides itself on providing an exceptional dining experience with a wide variety of delicious options.
'Value for price paid'
In addition to gaining a stylish, maintenance-free apartment home, residents at Fox Run gain a community filled with amenities, activities, and services.
"They are gaining an incredible value for price paid," says Sales Director Allison Murphy. "A group of residents on our finance committee did their own independent study - they shopped our competitors, compared to both Fox Run and their former homes. They reported that not only are people getting 10 times more services and amenities at Fox Run compared to anywhere else, but that it costs dramatically less than everywhere too."
Range of amenities
Fourteen-year resident Jerry Basista knows firsthand what a great value he gets at Fox Run. Jerry participates in a number of activities on campus. So much so that when he says, "I'm very involved," it's a bit of an understatement.
In addition to playing in a couple of bridge groups, Jerry works out five days a week for two-to-three hours each day. He also enjoys participating in exercise classes, such as tai chi, yoga, meditation, and Stretch-and-Tone.
And the list keeps going. Jerry worked as an engineer before retirement, but his hobby was following the stock market and investments. He also worked part-time for the IRS and says, "I'm very familiar with taxes." In an effort to bring his talents and knowledge to other residents at Fox Run, he teaches a class on investments and finance.
Why move now?
"Our new residents are selling high and buying low while gaining the carefree lifestyle they're looking for," says Murphy. Right now, the housing market is so strong - it's a great time to get more money for your home in such a rapidly moving seller's market, she explains.
"I have worked in retirement communities my entire professional career, and I have never seen the combination of such an incredible housing market - where sellers are getting top dollar - combined with the savings opportunities that Fox Run is offering for new reservations."
Moving to Fox Run can also be a priceless gift to family members. "You relieve the burden of worry from loved ones when you move to Fox Run," says Murphy. "Even if your health care needs change, they know you have the needed services and care right here."
Residents and their beneficiaries gain financial security as well, knowing that the entrance deposit is 90% refundable, per the Fox Run Residence and Care Agreement.
Lastly, Fox Run makes a "home for life" promise through the Benevolent Care Fund. "No one ever has to worry about the 'what if' of running out of financial resources," says Murphy. "What a gift! This is truly one of the smartest financial decisions anyone could make for their future."
To learn more about affordable, independent senior living at Fox Run, request your free brochure to get the scoop on amenities, floor plans, and so much more.
Back