Fox Run Residents Enjoy Exceptional Culinary Experiences at the Community's Restaurants
By Michele Wojciechowski
August 26, 2022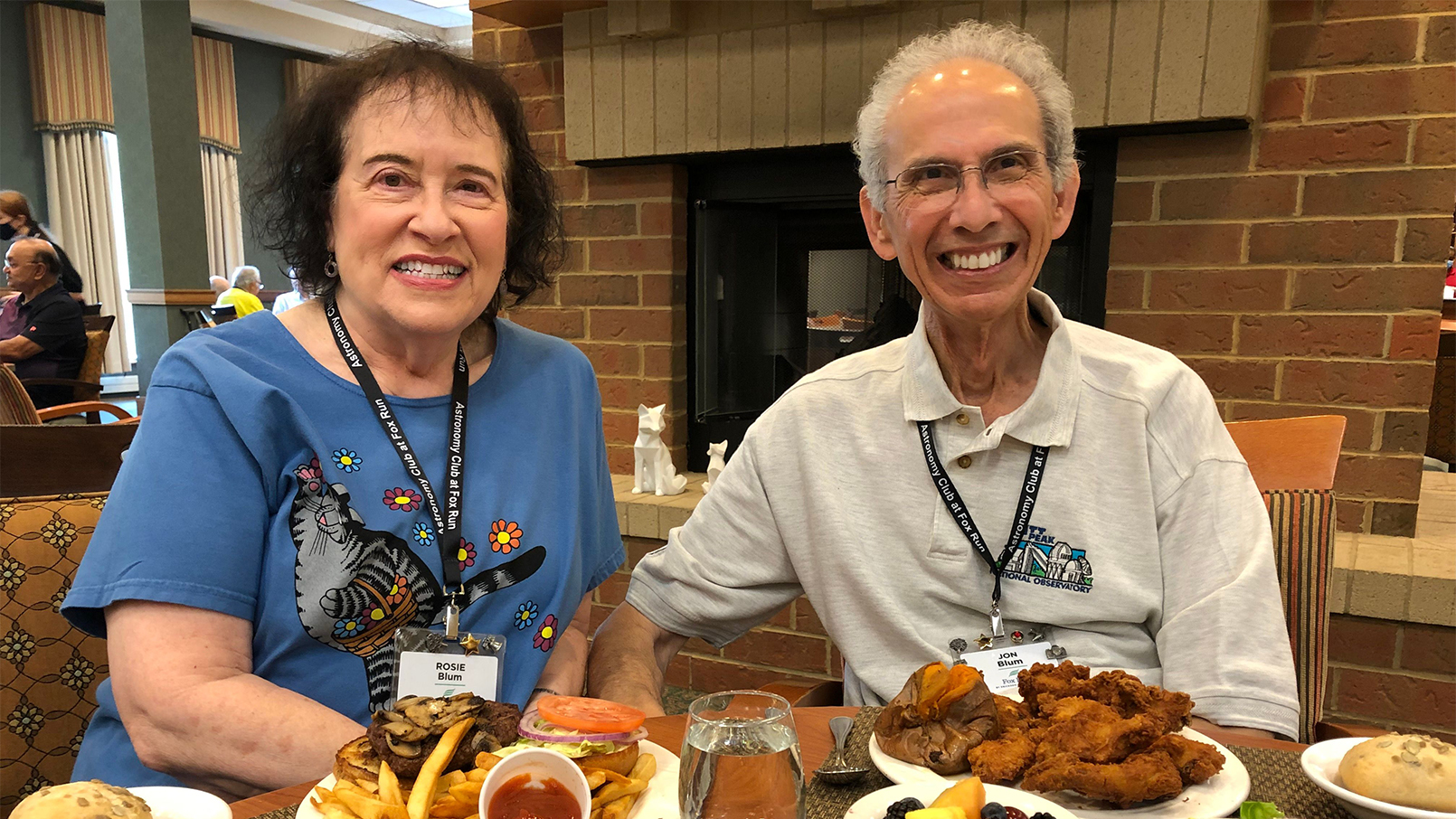 What if you could eat some of the best-tasting, healthiest meals you've ever had - while enjoying the company of newfound friends - whenever you wanted? At Fox Run, the Erickson Senior Living community located in Novi, Mich., residents have all that and more.
"I love the fact that I don't have to cook," says Rosie Blum, who has lived at Fox Run with her husband Jon for two years. "I love meeting people in the dining room. When we walk in a restaurant now, it's like walking into a wedding dinner - you recognize all these people at various tables!"
Jon, who serves as the dining liaison for the Resident Advisory Council, agrees. "When we're sitting down having our dinner, we see other people, and they stop by and say hi to us. If you went to a restaurant [off campus], you wouldn't talk to anybody except the people you came with," he says. "Here, you know half the people around, and you want to get to know the other half. It's like being with a bunch of friends instead of just dining in a restaurant."
Endless options
Fox Run has five restaurants - one small plates venue, two for casual, and two for upscale dining. But, don't feel like you have to dress up.
"I hesitate to use the word 'formal' because it isn't that upscale, which is another great thing," says Jon. "I haven't put on a jacket and tie for a couple of years now." With the smaller, more casual restaurants, Jon says you can eat there, get carry out, or have your meal delivered to your apartment home.
The Belmont Clubhouse contains three restaurants and the Ascot Clubhouse has two. While residents can go to whatever clubhouse they choose for dinner, Rosie explains that it's good to have them spaced apart. "If people have mobility issues, they can go to the restaurant closest to them," she says.
The Blums also love that while each restaurant has classic dishes that are available all year round, a portion of the menu changes each week to feature new items. "Rosie finds something good she likes and keeps ordering it, but I - no matter how much I liked a dish - want something different tomorrow than I had today," says Jon. "They keep both of us happy!"
Signature Dining
Thanks to Fox Run's Signature Dining program, which emphasizes preparing high-quality, cooked-to-order dishes, community members enjoy delicious meals made with fresh ingredients and extraordinary service each time they dine.
Chef Michael Bootz says that he checks in with residents regularly to see what they want more or less of. "We get ideas by listening to what people feel like they haven't had in a while," he notes. "Before you know it, I have a menu building in my head, and they'll see it the following week."
When residents informed him that they'd rather have iceberg lettuce or romaine instead of a spring mix, he was quick to accommodate them. "Getting feedback is used to better the dining experience for everyone," says Bootz.
Dining Director Angelo Nardoni, who noticed people asking for comfort food on a regular basis, ensures that staples like mac and cheese or meatloaf are always on the menu. A lot of residents also love beef filets, he notes. "It's all about establishing comfort as they're coming into the dining room."
Enjoying regional favorites
Nardoni says that residents also love desserts - especially a Michigan favorite called bumpy cake, which is chocolate cake covered with buttercream and chocolate fudge. The indulgent fudge topping is from Sanders and Morley Candy Makers, a Michigan institution. Bootz explains that each Fat Tuesday, Fox Run celebrates by hosting a Paczki Day - a paczki is a huge, stuffed and fried donut, which is offered to all community members.
And because Michiganders love fish, Bootz also has local seafood favorites on hand: walleye, lake trout, whitefish, and perch. If you want a Michigan salad tossed with dried cherries, feta cheese, and toasted almonds, he has that too.
For Passover, dining services offers a Seder meal. For Thanksgiving and Christmas Eve, residents can attend an over-the-top brunch with appetizers (everything from cheese and crackers to shrimp cocktails), an array of salads, whole roasted turkeys, prime rib, ham, and at least five other entrées. On Christmas Day, more glamorous options are offered, such as beef tenderloin.
Residents can check the calories and nutritional information of all their meals on the My Erickson® app, accessible to all community members via a smart device. "You can also look at the menus for any restaurant for the week, and make reservations on the app as well," says Jon. "I use it every day, and I love it."
Invest in your future self at Fox Run. From top-notch amenities to affordable, maintenance-free apartment homes, you are sure to live your retirement to the fullest. Request more information today!
Back