Fox Run Residents Celebrate Diverse Cultures
By Michele Wojciechowski
September 14, 2023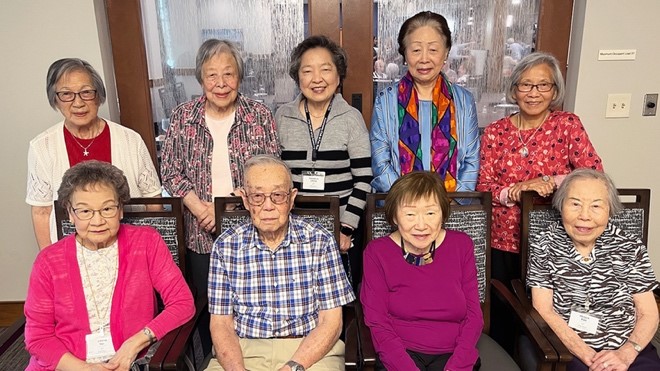 The welcoming environment at Fox Run, an Erickson Senior Living community in Novi, Mich., attracts retirees from many backgrounds. The religions, races, and cultures represented by residents create a diverse community that celebrates everyone's differences.
For Theresa Leung, Fox Run's diverse population really stood out.
"I'm from China. I belong to the first generation of my family to live in America," she notes.
Since moving into her two-bedroom, two-bath apartment home with a den nearly six years ago, Theresa has hosted numerous group dinners to connect with her Chinese neighbors and honor their culture.
Monthly dinners
These group dinners were started by resident George Moy back in 2017.
"He decided to put together a monthly dinner," explains Theresa. "Although George has since passed away, the group has continued just as strong. I picked up where he left off."
After talking with staff members, Theresa reserved a private dining room for the first Tuesday of every month. "Currently, 12 people attend the dinners. We are all of Chinese descent, so we have similar backgrounds," she says. "We talk about everything! We like to get to know each other and help each other."
A number of attendees were born and lived in mainland China, some are from Hong Kong, and others were born in the United States. Some attendees' families have been in America for many generations - and may not even speak Chinese. But some residents do, and that makes the dinners even more interesting.
"Some people have the same dialect and others can converse in the same home language," she says. "One resident loves that we can speak Mandarin with her! Being able to practice and speak their native language is just one reason why folks attend the dinners."
Sharing stories
Like Theresa, Cynthia Chow was drawn to Fox Run's supportive environment. Soon after moving into her two-bedroom, two-bath apartment home with a sunroom, she joined the monthly dinners, excited to hear from people who lived in China.
"I grew up in the U.S., so I only heard a limited amount about what it's like to live in China," says Cynthia. "I love hearing others' stories - everything from what it was like when they were children, where they lived, what they did, and the like. For those of us who were raised in America, we grew up in communities where we may have been the only Chinese people. It's great to connect."
Through these dinners, Cynthia has reconnected with familiar faces from the past.
"A resident and I discovered that we were in the same dorm for a year at the University of Michigan. We're both an only child, and we both have a son named David," she says. "And, we lived only a couple of miles from one another before moving to Fox Run!"
Some residents have formed such tight friendships that they meet outside of the monthly dinners to attend activities at the community.
Celebrating Jewish holidays
The resident-run Shalom Group also organizes special meals for people who want to celebrate Jewish holidays.
"For major holidays like Rosh Hashanah and Passover, we use the main dining room at the Fireside Restaurant. For Hanukkah, we use the Derby Room," says Beverly Stein, president of the 140-member group. "We do it in coordination with the chefs at Fox Run, although a handful of residents choose to do some of the cooking as well."
The Shalom Group is open to everyone and has many non-Jewish members who want to learn more about the faith and culture.
Events throughout the year
Fox Run's Diversity & Inclusion Committee plans several educational events throughout the year, notes Beverly, who also serves as cochair for the committee.
"We're having Holidays Around the World in December, where residents bring food from their cultures to share. At the same time, we're going to do a panel of five different religious leaders from the Protestant, Catholic, Jewish, Islamic, and Bahá'í faiths," she says.
The committee previously hosted a speaker from General Motors, who detailed the company's efforts to make cars more accessible for people with disabilities.
Various clubs also work with the Diversity & Inclusion Committee to coordinate events.
"For example, when we had an anti-Semitism program, we invited speakers from the Zekelman Holocaust Center. In coordination, the Center for Continued Learning brought in a representative from the Detroit Institute of Arts, who spoke about Jewish artists," says Beverly. "We got a much bigger audience, and we're trying to collaborate more and more."
A warm welcome
Creating a diverse environment is a community effort at Fox Run. When new people of Chinese descent move in, Theresa, Cynthia, and their neighbors make sure to offer a warm introduction.
"They're always welcome to join us!" says Theresa.
To learn more about affordable, independent senior living at Fox Run, request your free brochure to get the scoop on amenities, floor plans, and so much more.
 
Back