Fox Run Celebrates 20 Years!
By Michele Wojciechowski
August 8, 2023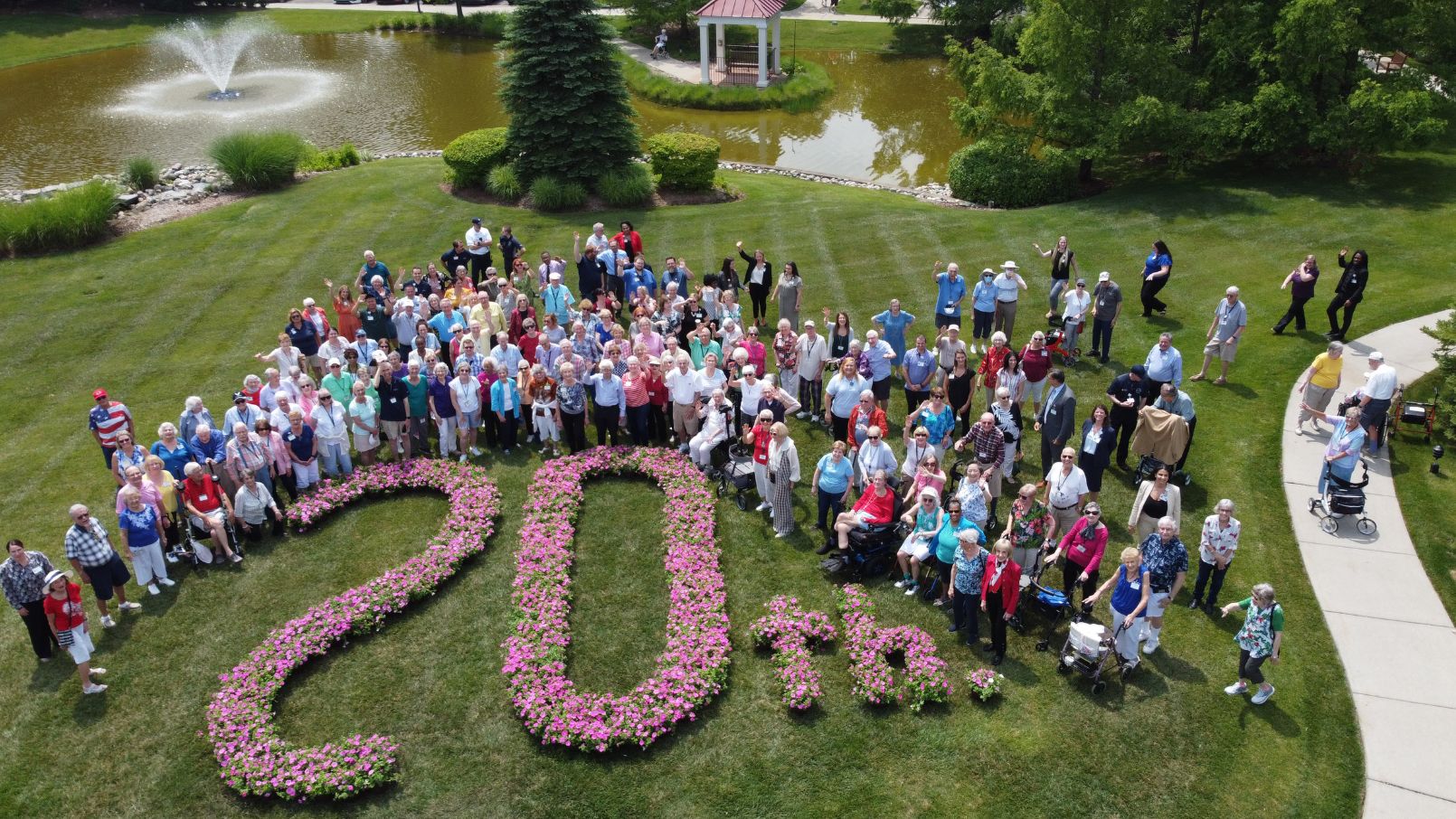 Roy and Barb Birmingham remember their first dinner as residents at Fox Run, the Erickson Senior Living community in Novi, Mich., like it was yesterday.
"The tables were decorated with big bouquets of roses. There was a strolling violinist, and the meal was wonderful," says Roy. "When we lifted our napkins, there was a silver charger on the table. It had our names and the date engraved on it. We didn't expect it at all!"
Barb adds, "We still have the charger. Every year, on June 30, we put it out on the shelf beside our door so that everyone can see it."
As "pioneer" residents, Roy and Barb are among the few who have watched Fox Run flourish into a vibrant, engaging community over the past 20 years.
"Since that day back in 2003, Fox Run has continued to make seniors feel special and well-cared for," notes Sales Director Allison Murphy.
Two decades of joy
The day Fox Run opened its doors, five retirees moved in. Today, nearly 1,300 residents are proud to call the community home.
"Watching the community grow and thrive has been amazing," says Murphy, one of Fox Run's pioneer staff members. "We've helped thousands of seniors reap the benefits of an engaged, activity-filled lifestyle - that's really remarkable!"
As the population grew, so did the list of resident-led clubs, activities, and events. Whether you're interested in joining a yoga class or trying a new hobby, you're sure to find something you'll enjoy.
"Many retirees find that, while building a career and taking care of a family, their pastimes had fallen by the wayside," notes Murphy. "Now, thanks to our maintenance-free apartment homes, they can do all the things they didn't have time to do in the past."
"The opportunities are really endless here," she says. "People find additional meaning and purpose in their lives because being a part of a community brings joy and happiness. As I like to say, people move to Fox Run to 'un-retire!'"
Fresh updates
Erickson Senior Living is committed to meeting the needs of both current and prospective residents, conducting focus groups and studies to determine what retirees are looking for in continuing care retirement communities.
"We want to set ourselves up for success for the next 20 years," explains Murphy. "We know that today's retirees are really committed to health and wellness. So, not only did we expand our existing fitness center, but we added a satellite fitness center and a fitness area where classes are already being held."
Studies also show that people are seeking more ways to enjoy the outdoors.
"We're renovating our pickleball court and updating our dog park, and we're looking to add fire pits. Fox Run's campus is already stunning, though! Wooded wetlands provide a scenic backdrop for our walking trails," she adds.
'Forward-thinking'
Indoor spaces are receiving enhancements as well. Campus Coffee, a new on-site café, is the perfect spot for residents to grab a coffee; snack on a muffin, cookie, or panini; and plug in their laptops or read the newspaper.
Apartment homes are being upgraded with granite countertops, stainless steel appliances, and vinyl plank flooring.
"White and navy is a popular colorway right now, so we're creating apartment homes with white cabinets and navy blue islands. Everything is cutting edge, regarding design and style," says Murphy. "Erickson Senior Living is forward-thinking. At Fox Run, we don't get behind, we lead the way."
Celebrating life
Like many of their neighbors, Roy and Barb are thrilled with the updates happening around campus.
"I feel very fortunate to be here," says Roy. "I never dreamed I would live in a place as nice as this!"
"It's one of the best places you could be. It sure beats being in a house where you have to clean the gutters and mow the lawn," agrees Barb, with a laugh.
Fox Run's mission statement, which has resonated with many over two decades, is what first attracted the couple.
"The statement, 'We share our gifts to create a community that celebrates life,' is exactly what we wanted," says Barb. "There's a community feeling here - like you belong. People are encouraged to take part, and it doesn't make any difference whether you play bridge, pool, or quilt."
To learn more about affordable, independent senior living at Fox Run, request your free brochure to get the scoop on amenities, floor plans, and so much more.

Back