Fox Run Becomes Home to 'Motor City' Car Lovers
By Michele Wojciechowski
March 15, 2022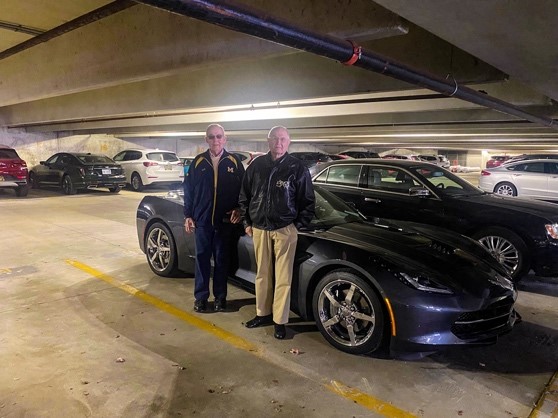 Fox Run, the Erickson Senior Living community located in Novi, Mich., is a mere 30 minutes away from Detroit - also known as "Motor City."
It's not surprising, then, that a number of Fox Run community members either once worked for the Big Three - General Motors (GM), Ford, or Chrysler - or are simply enthralled by cars of all kinds.
A legacy continues
Paul Vachon, author of Becoming the Motor City: A Timeline of Detroit's Auto Industry, has an explanation as to why there are so many enthusiastic car owners in the area.
"Because the auto industry has been established in southeast Michigan for so long, there are many families who have had several generations work for one of the local automakers. All that history results in strong allegiances to one of the Big Three," he notes.
The result of those strong allegiances? Generation after generation of car enthusiasts.
And Ernie Hawley, a Fox Run community member, is proud to be one of them.
Dedication and memories
Ernie Hawley says his love for GM cars goes back decades. After working for nearly 40 years at GM as a product evaluation driver, he couldn't help but love their cars.
"I probably drove 100 Corvettes during that time," says Ernie. "I've driven them a lot."
During his lifetime, he's owned 10 different Corvettes. But the one he owns now - a 2014 Corvette convertible - means the most to him for a number of reasons. He says he loves the smoothness of the ride, its overall performance, how quiet it is, the interior's design - everything about it.
"It's cyber gray with black stripes," he says. "It's probably the prettiest one I've owned."
Ernie moved to Fox Run with his wife Carol a number of years ago. After she passed away, he decided to move to a two-bedroom, two-bath apartment home at Fox Run that came with access to the underground parking lot. Keeping his car protected from the elements meant protecting memories of him and Carol, he says.
"This one's special because she helped pick out some of the colors," recalls Ernie. "She didn't drive it, but she sure loved to ride in it!"
Growing up with cars
But Ernie isn't the only person at Fox Run who is fascinated by the automotive industry.
Since he was a young boy, Fox Run community member Peter Meier has loved cars as well.
When he was 14 years old, Peter and his family came to the United States from Germany. Out of the 15 days they spent traveling across the ocean in an Army transport ship, Peter says that they dealt with dangerous storms on 14 of them. His cousin Ted, who worked for the Ford Motor Company in Flint, Mich., picked them up at Ellis Island.
Growing up in Germany, he collected pictures of cars and pasted them in a booklet he made.
"I had Fords and others, but the Studebaker model was my favorite," Peter recalls.
Also while in Germany, Peter decided to drop out of school and work as a baker. But after his family made it to the U.S., he returned to school - even though he couldn't speak English at the time - and eventually attended junior college. During the summers, he worked in road construction to earn money.
"This is when I bought my first car," Peter says. It was an old Buick two-door hardtop. He kept working, to save up enough money for a black MGB convertible, which Peter bought near his college graduation.
Peter continued his education, earned a Ph.D., and worked for 32 years as a professor at the University of Michigan. He owned many cars over these years, including a couple of Volkswagens, a Rabbit convertible, and his present ride: a 2000 CKL 430 Mercedes red convertible with a black top and black interior.
Traditions matter
And while Peter doesn't park his latest ride in the campus garage like Ernie and other car aficionados do, he takes great care of it by storing it off-campus during the winter - and treats it to a glass of wine once in a while.
When his Mercedes turned 21, Peter decided to participate in a college tradition. Whenever students turned 21 at the University of Michigan, they would go celebrate with a drink at a pub called Pretzel Bell.
"I knew the car couldn't go into the Pretzel Bell," says Peter. So he drove the car there, sat outside in it, drank a glass of wine, and sang a German birthday song.
Peter points out that his car isn't just red, it's "lava red." He adds, "You need that if the car's going to go fast!"
When asked how fast the car has gone, he says that when he let one of his daughters drive it - with him as the passenger - they went 120 mph. But that wasn't the fastest.
"I had it up to 130-something," says Peter, laughing. "How would you like to have your daughter drive faster than you?"
To learn more about affordable, independent senior living at Fox Run, request your free brochure to get the scoop on amenities, floor plans, and so much more.
Back