Following in Parents' Footsteps at Fox Run
By Michele Wojciechowski
May 3, 2023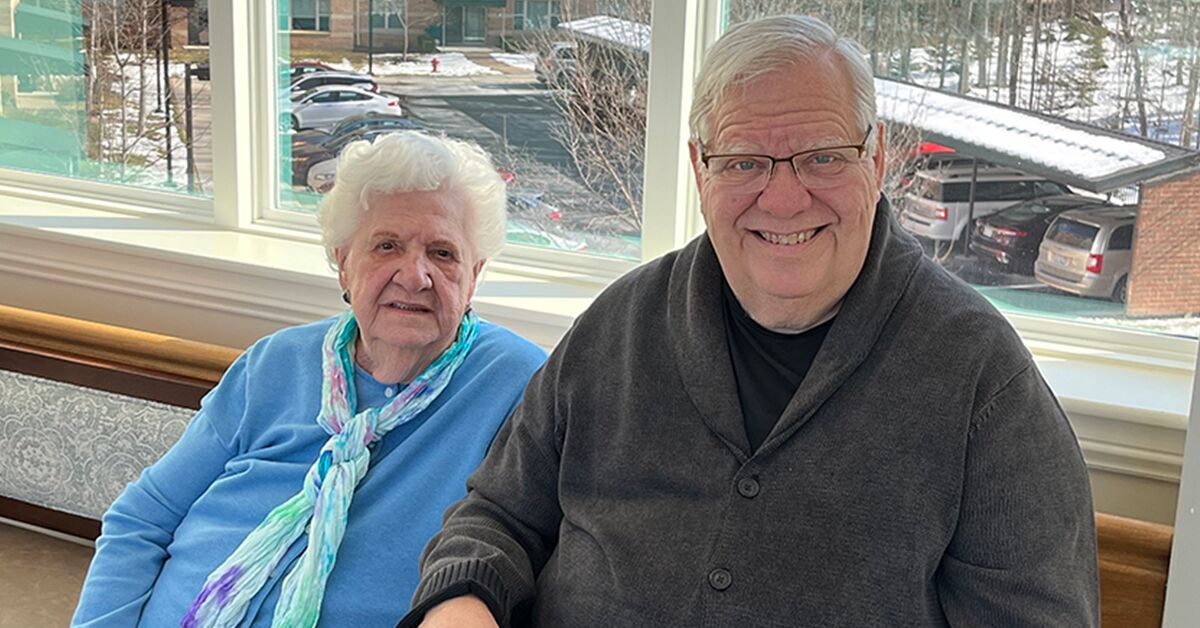 Neil and Ingrid Sendelbach didn't need to look at any other continuing care retirement communities before they moved to Fox Run, the Erickson Senior Living community in Novi, Mich.
That's because Neil's mom, Betty Sendelbach, has been living at Fox Run for the last 11 years.
Since their 2022 move, Neil and Ingrid have been following in Betty's footsteps, making the most of the same active, carefree lifestyle that she's been enjoying for over a decade. 
Everything added up
Back when Neil was taking Betty to visit different retirement communities, they were both drawn to the welcoming environment at Fox Run. 
"Right away, we both noticed how friendly everyone was. There was a totally different atmosphere, compared to the other communities we had visited," recalls Neil. "Everyone seemed to be really comfortable living and working at Fox Run."
During their tour, Neil and his mother were also impressed with the community's array of apartment home floor plans, the beautifully landscaped grounds, and the variety of amenities - not to mention the many clubs and activities to get involved in.
"Plus, I was raised six miles from the community," Neil notes, "so my mom was familiar with the area. Everything just added up!"
Although Betty has recently moved to Windsor Terrace, the new assisted living neighborhood at Fox Run, she remains engaged in the community.
"She's joined several group activities, plays cards with friends, and participates in a sewing and quilting group," says Neil. "Her life here really inspired us."
Worry-free living
When Neil and Ingrid decided that they were ready to move themselves, they contacted the Fox Run sales team, who offered them the same warm welcome and support that Betty received years ago. 
"They offered us the complete package," notes Neil. "We didn't have to worry about anything! Fox Run was wonderful in helping us choose a real estate agent, determining what furniture to bring, and planning the move-in process."
Since settling into their two-bedroom, two-bath apartment home last November, the Sendelbachs have joined groups, pursued hobbies, and dined with new friends. 
Ingrid has been practicing with multiple choir groups, while Neil is getting involved at the community's woodshop. Together, they enjoy attending continuing education lectures.
"Because we would visit my mom here, we had been to all of the restaurants already," Neil says, with a laugh. "But the food is just as good, if not better, than what I remember! Good food is a priority for people here. They offer a wonderful variety of menu options at the restaurants, and everything is high-quality."
What ties everything together, literally, are the climate-controlled walkways. 
"We really appreciate the fact that all of the buildings are connected. We don't have to go outside at all, if we don't want to," says Neil. "In January, in Michigan, that's a real important factor!"
Good enough for mom
Like Neil and Ingrid, Nancy and Karl Drayton found that moving to Fox Run was an easy decision to make.
When Fox Run opened in 2003, Nancy's mother, Leona Hart, was a "pioneer" - one of the first people to move in. 
Nancy notes that Leona was ready to move to another retirement community, but when she found out that Erickson Senior Living was building a new community in Novi, she changed her mind. 
"That was all her decision!" says Nancy, with a laugh. "To me, that said a lot about what Erickson had to offer. My mom lived 16 long, fruitful years at Fox Run."
Love for community
Inspired by Leona's love for Fox Run, Nancy and Karl moved into a two-bedroom, two-bath apartment home at the community six years ago.
"Mom was right! All of the amenities here are amazing," she says. "Having the medical center on site is a game changer, and the transportation services are even better, in my opinion." 
When Karl became ill, the couple was making regular trips to the hospital for appointments, so the shuttle was a huge help.
"Karl passed away in October of last year," says Nancy. "I'm so glad that I had plenty of friends in the community to surround and support me during that time. They encouraged me to try new clubs and activities, and for that, I'm thankful!"
Now, Nancy's involved in the Birder's Club, plays scrabble and euchre with neighbors, and attends the monthly concerts held on campus. 
"There's always something to do," she says. To learn more about affordable, independent senior living at Fox Run, request your free brochure to get the scoop on amenities, floor plans, and so much more.  
Back