Enjoying the Great Outdoors at Fox Run
By Michele Wojciechowski
July 6, 2023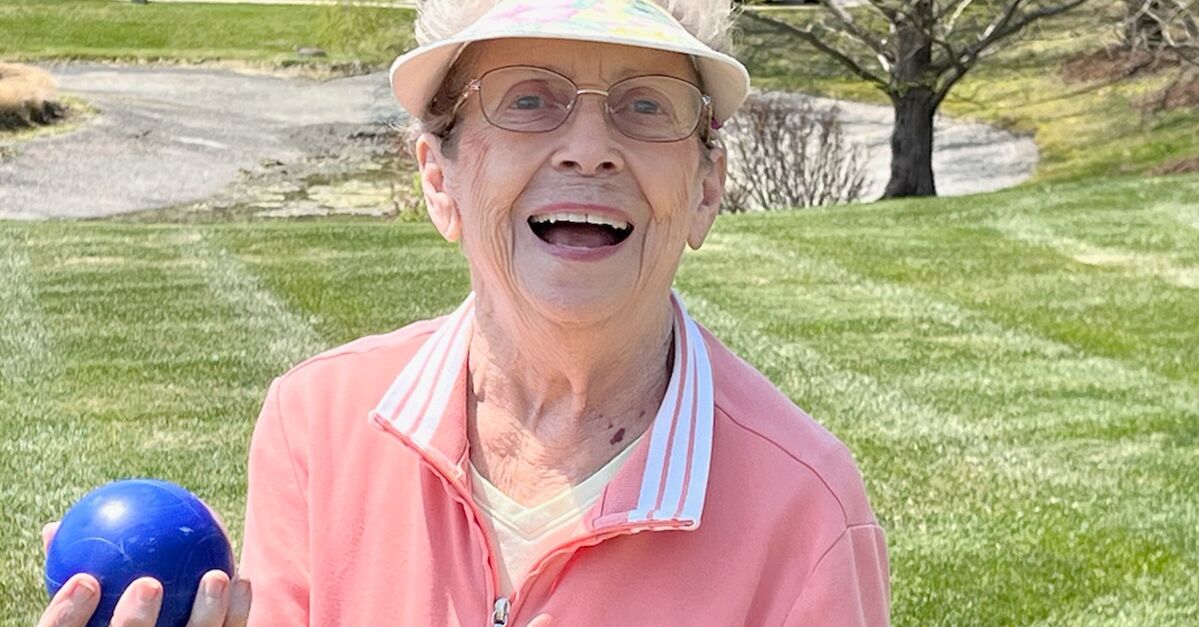 Every Friday morning, June through September, you'll find Alice Lyons playing at one of the bocce ball courts at Fox Run, the Erickson Senior Living community in Novi, Mich.
"I love being active outside, soaking up the fresh air and sunshine," says Alice. "Bocce is easy to play, and our group is always sociable and pleasant, so there's always a chance for companionship and conversation. Plus, you can meet new people!"
At Erickson Senior Living communities, it's easy to enjoy exercise and social activities in the great outdoors, thanks to beautiful spaces that are woven throughout each campus.  
Big on bocce
When Alice was researching her senior living options, she was drawn to Fox Run's engaging, worry-free lifestyle. She moved to the community 17 years ago, ready to make the most of her retirement and eager to get involved.  
So, in 2016, Alice and a friend volunteered to start the bocce club - despite never stepping foot on a bocce court in her life.  
"I haven't looked back since," she says, "and I absolutely love it."
When she's not organizing friendly competition for bocce, you'll find Alice mingling and playing at the croquet court - another one of Fox Run's impressive outdoor amenities.
Erickson Senior Living prides itself on offering safe, accessible outdoor environments that encourage residents to get active and socialize, enhancing their overall well-being. By taking advantage of these amenities, people feel more energized and have greater focus and stamina.
"Getting in some vitamin D is essential," says Community Resources Manager Misty Dixon. "Being able to come outside and get a breath of fresh air can make a big difference."
"Spending time outside makes me feel great!" agrees Alice.
Investing in well-being
Recently, Erickson Senior Living provided a multimillion-dollar investment, through its Well-Being Fund, to support the addition of enhanced health and well-being amenities and services to residents in its communities across the country.
Using these funds, Fox Run has made a number of upgrades to existing outdoor amenities and plans to add new ones throughout the community.
"New bocce and pickleball courts are on the way! They will also feature a covered seating area for spectators," notes Dixon. "The residents can't wait. The games are fun as is, but knowing these improvements are coming really gets people's competitive spirits up."
"It's good exercise, definitely!" agrees JoAnn Kieller, an avid pickleball player who had little experience before moving to Fox Run four years ago. "At times, we laugh because we get so intense in the game."
A meditation garden, filled with plenty of seating, will be added outside the Belmont Clubhouse.
"It'll be great for everyone to sit and enjoy nature," Dixon says. "We hope to plant lavender too. Lavender aromas are shown to trigger a relaxation response."
Portable disc golf equipment, which can be set up in open grassy areas, was purchased as well. Fox Run's fitness staff have been hosting seminars, showing residents how and where to play.
For those interested, Wellbeats - an exercise program purchased last year that all Fox Run residents can access via a smartphone or tablet - is transitioning to the great outdoors. Fitness Specialist Shanna Kozub is leading the way by incorporating more outdoor activities with Wellbeats programming.
So much to do
From outdoor active spaces to lush, scenic views, the opportunities to immerse yourself in nature are everywhere at Fox Run!
Interested in taking your canine companion for a walk after a play date at the dog park? Head to the well-landscaped walking paths that weave throughout the 108-acre campus.
Love seeing native wildlife? Join the Birders Club to spot new winged beauties or check out the Ecology Club to report on the inhabitants of the community's little ponds.
"They explain what it means if they're seeing more or less algae, and they assess the animals that come and visit," says Dixon. "They keep our community informed - it's really neat!"
Get outside!
Thanks to resident-led efforts and investments in outdoor spaces, an increasing number of Fox Run people are finding ways to spend time outside, which is proving to be an integral part of their active, worry-free lifestyles.
"It's good for us all to stay social and physical. Exercise that helps the mind and body is important," says JoAnn, who is thankful to be surrounded by good friends and an even better environment. "It's quite lovely!"
Invest in your future self at Fox Run. From top-notch amenities to affordable, maintenance-free apartment homes, you are sure to live your retirement to the fullest. Request more information today!
 
Back