Enjoying the Great Outdoors at Fox Run
By Michele Wojciechowski
August 25, 2021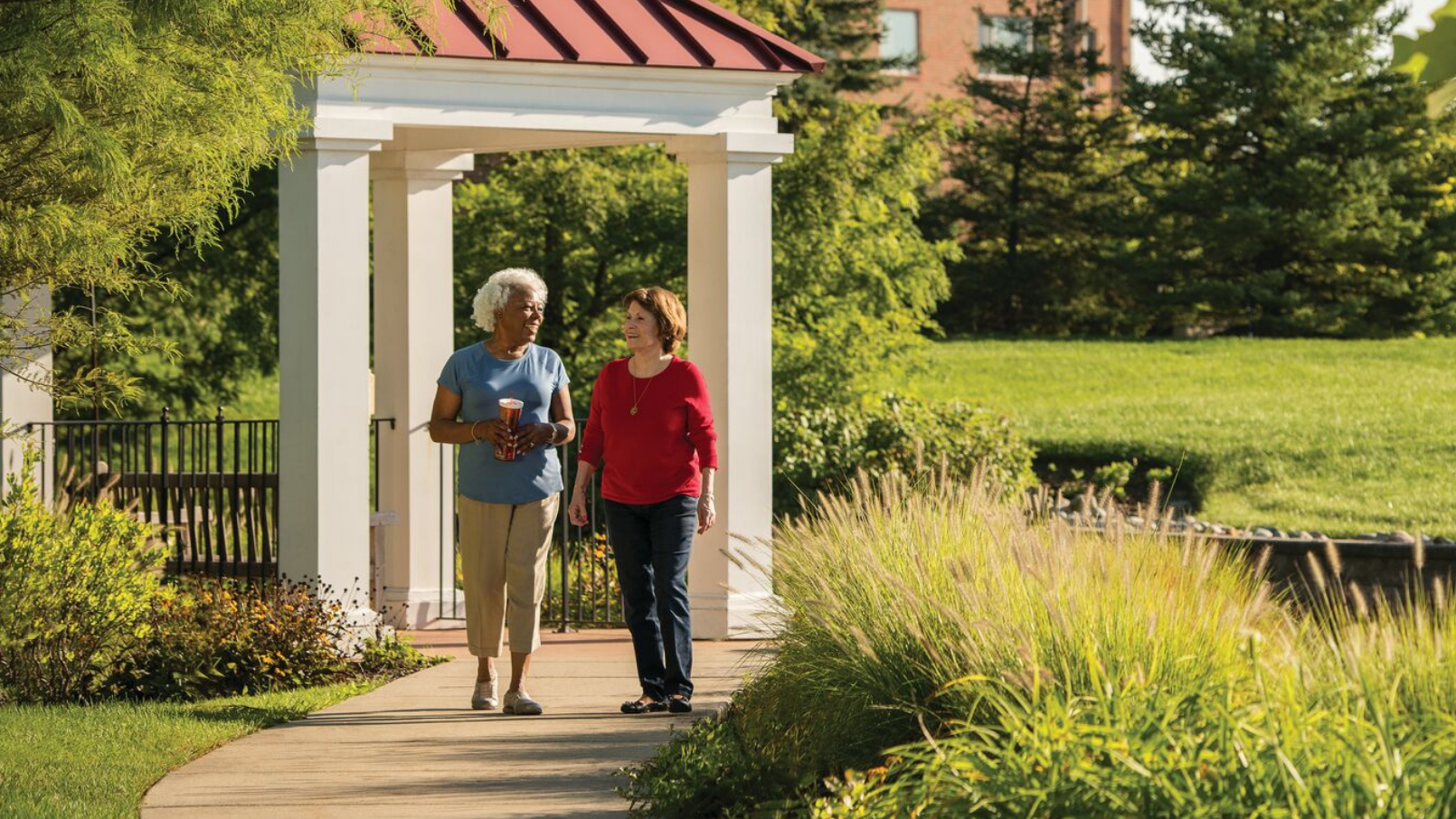 Although Marj Taylor says that she always had a birdfeeder in her backyard, she didn't really get into birdwatching until her children were older, and she was looking for an activity to do. After joining her local Audubon Club, Marj began learning about birds that weren't just in her backyard. Eventually, she began traveling and has now seen birds on all seven continents. Since moving to Fox Run, the Erickson Senior Living community in Novi, Mich. more than five years ago, Marj has now spotted 77 species of birds on the campus.
"My favorite place to birdwatch is the pond behind our Belmont Clubhouse. It is a natural pond, part of a wetlands area, and we get all kinds of bird life there," Marj says. "This is where we see most of them, but you can see them just about any place on our campus. We have a large campus, and it's very nicely landscaped. We have a couple of wooded areas where we can see a lot of birds around there."
Busy with birding
For the second year, Marj is leading the Fox Run Birders, one of dozens of resident-run clubs on campus, which was started by fellow Fox Run resident Jim Harnden. There are about 50 members of the club, and Marj says that they've even set up a birding station for watching their fine feathered friends. Marj says that seeing different kinds of birds at Fox Run isn't unusual, but she has seen migratory birds stop by on their route.
"We had a pair of bufflehead ducks that I was kind of surprised to see on our pond. They were here just a few days and then flew to wherever they were going. We've gotten quite a few sandhill cranes settling down. The other thing that people were amazed to see is the bald eagles that fly over," says Marj.
Besides meeting monthly with the Fox Run Birders, Marj also does a weekly segment on Fox Run's own in-house TV channel, on the program The New Day. During her five-minute spot, called "Birdland," she talks about everything from a bird she's seen at Fox Run to birds that are found elsewhere in the world. What excites her most about birdwatching is noticing how some birds play or look. "Not all birds look the same," says Marj. "I think that's the fun of watching them—just enjoying them as individual creatures."
Take a walk
Among the other outdoor enthusiasts at Fox Run is resident Arlene Bordman. Having been raised in New York City, she says that she's always been a walker. "Easterners walk because they either don't want to give up their parking spot or they don't drive and take subways, so they walk to the subways," she says. So, it's not surprising that she kept it up when she moved to Fox Run, after being a Michigan resident since she traveled there for college.
"When I came to Fox Run, I started to walk regularly," says Arlene. She now has a route around campus that she travels six days a week, totaling just under four miles. But she makes sure she gets it up to four miles a day when possible.
"I love walking outside. It's very invigorating," says Arlene. "My goal is to finish in under 90 minutes. I've done 83 minutes, and 81 minutes was the fastest. Sometimes, I've gone over 90, but usually it's because I've stopped and seen someone I liked, and we wanted to talk for a minute."
Thanks to the enclosed walkways that connect Fox Run residents' maintenance-free apartment homes to the clubhouses and other amenities, Arlene walks all year round. But she prefers walking outside.
"It's beautiful. It's just like, in my mind, a magic kingdom. Here, you are isolated with beautiful flowers, and even when the leaves change and drop, it's beautiful and very therapeutic," says Arlene. She walks for her physical health as well. "My father was walking until he was 96. I think it's very rejuvenating!"
Being outdoors in Michigan is a way of life, says Fox Run Sales Director Allison Murphy. "We continue to invest in outdoor spaces for community members because we know how much it enhances people's lives. You'll find some simple things such as outdoor tables with chairs or park benches for folks who just want to get out and sit outside. But we also offer more active outdoor spaces too such as a pickleball court, a putting green, a bocce ball court, garden areas, and even a dog run."
Would you enjoy Fox Run's active, engaged retirement lifestyle, with convenient access to abundant outdoor amenities? Request more information today.
Back