The Astronomy Club at Fox Run Skyrockets to Success
By Michele Wojciechowski
May 18, 2022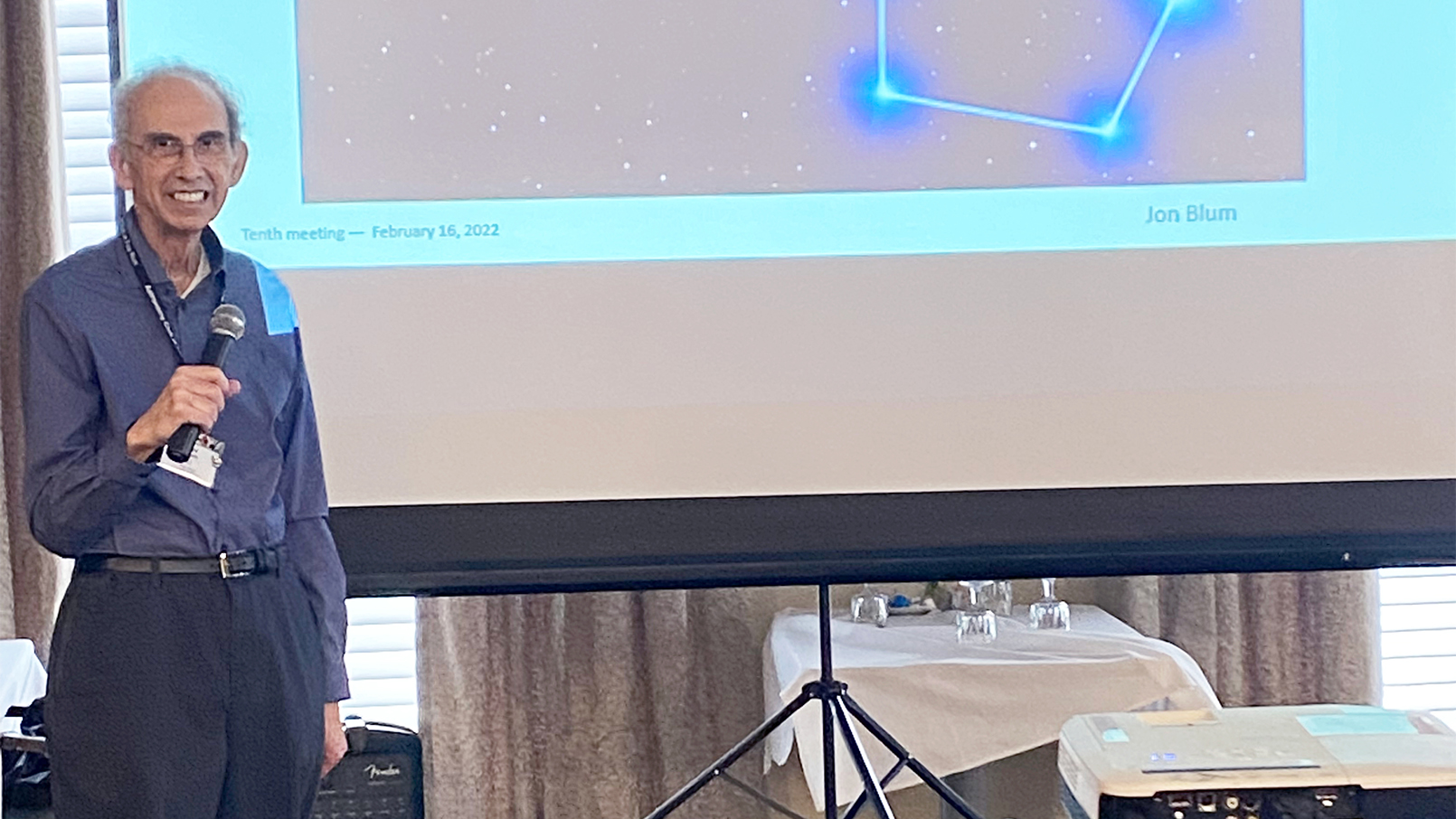 When Jon and Rosie Blum moved to Fox Run, an Erickson Senior Living community in Novi, Mich., more than two years ago, Jon wanted to join the astronomy club.
However, the community didn't have one … yet.
Jon happily took the initiative to get the club up and running himself, with great success. Just a few years later, the astronomy club is one of the most popular activities on campus.
"When I talked about starting the club, many residents told me that they were interested in astronomy, but they were afraid that it would be too complex," recalls Jon. "So, I've made sure that we make everything easy to understand for beginners."
At the first club meeting he held, Jon hoped that 10 or 20 residents would join him. He was pleasantly surprised when 63 people arrived with enthusiasm.
Exploring a new hobby
Jon says that he got interested in astronomy when his children bought him a telescope as a retirement gift 20 years ago.
"They thought I'd need something to do," Jon says, with a grin.
When he first tried using the telescope on his own, he recalls, he couldn't see anything. He began reading books and magazines about astronomy, but what helped him the most was attending astronomy club meetings, where more experienced stargazers in his local community shared what they knew firsthand.
"A couple of people showed me how to find things with my telescope. I was very happy about that," says Jon. "Then, during the following month, the stars they had taught me to find moved someplace else. Nobody told me these things were going to be in different places every month!" he jokes.
He's continued to add to his knowledge over the years. "The best thing I learned is that the atoms in our body are made of what's inside of stars - the oxygen you breathe, the carbon in your DNA, the iron in your blood. So, we're made out of star stuff. How interesting is that?"
Passionate leader
When Jon came to Fox Run, he decided to bring his newfound passion for astronomy with him - and share it with others.
During each meeting Jon leads, he first provides a review of the previous month's topic as a "refresher."
Next, he gives a 20-25-minute talk about the main topic of the month. He's covered galaxies, stars, the Milky Way, constellations, meteorites, telescopes, and more. Jon often pairs his talks with images to help attendees get a better picture. He then addresses interesting news in the world of astronomy - something new that's been discovered, when a space telescope launched, or the like.
And attendees appreciate the sweet, astronomy-related treats that Jon offers at the end of each meeting.
"When we talked about galaxies, I gave away a Milky Way bar. When we talked about the formation of stars, I gave away Starburst candies. And when we talked about black holes, I gave away doughnut holes."
Jon also takes some time to answer questions at the end of each meeting. If he doesn't know the answer, he conducts some research and reports his findings during the next meeting.
Each club member gets a gold star to wear on their Fox Run nametag. Beverly Stein, one of the many astronomy club members at Fox Run, wears her gold star with pride.
Beverly says she attends Jon's outdoor meetings as often as she can.
"I'm not an early person. But late at night - regardless of what the temperature is - I'm there," Beverly says. "It's fascinating to see all those things through a large telescope. I've seen them at the planetarium, but it's just different seeing them 'live.'"
She's always had an interest in astronomy, and between club meetings, she enjoys tracking the beauty of the night sky by using the NASA app on her phone.
Down to earth talk
"What I like most about the club is that Jon really puts it in ordinary people's language, so that it's easy to understand and follow," Beverly says, showing that Jon's mission to pass along his knowledge and inspire a new group of space enthusiasts has become a true success.
Invest in your future self at Fox Run. From top-notch amenities to affordable, maintenance-free apartment homes, you are sure to live your retirement to the fullest. Request more information today!
Back