Fox Run offers exceptional value in retirement living
by Meghan Streit
March 2, 2021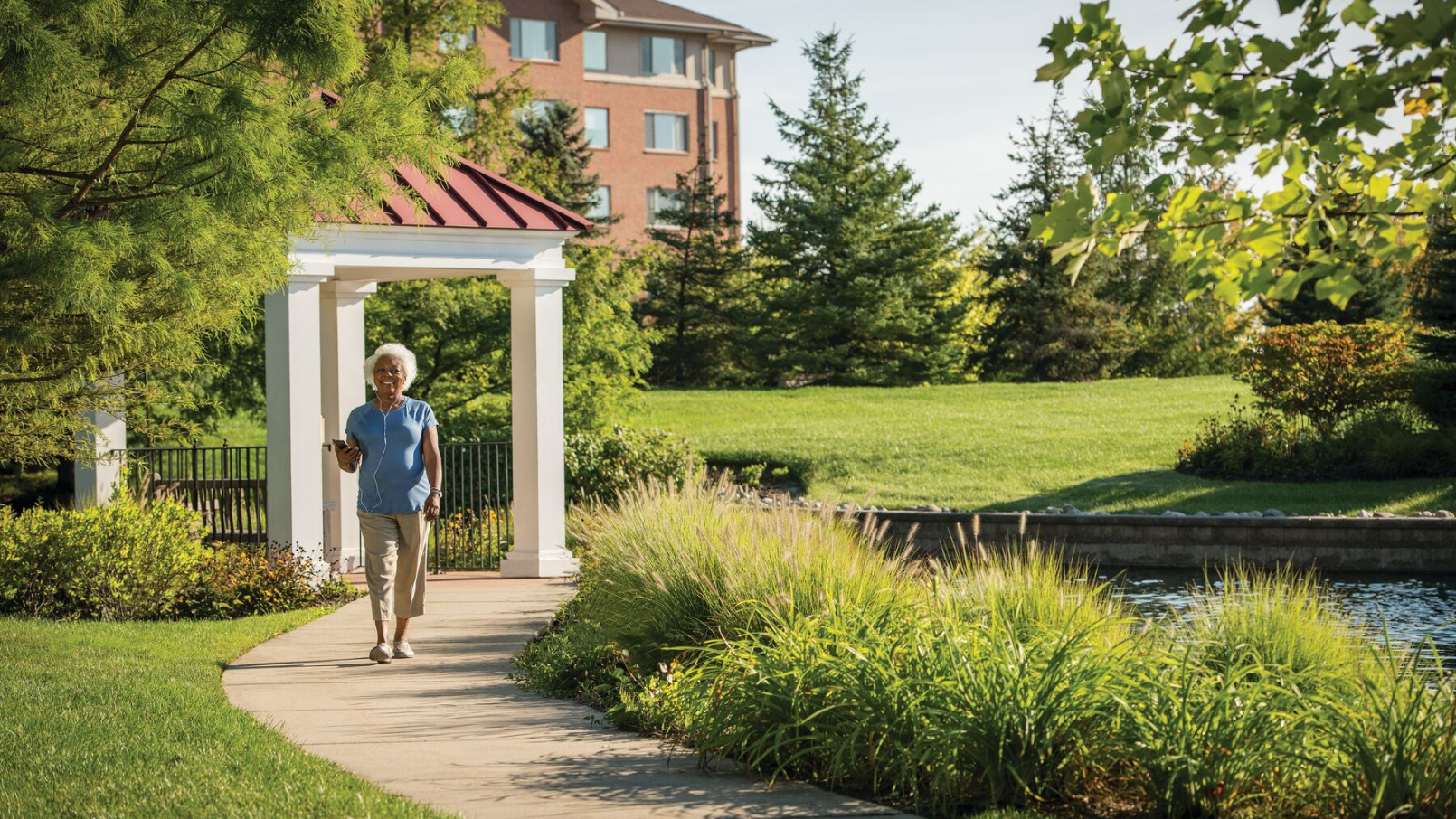 Financial security is one of the cornerstones of a fulfilling retirement. That's why the management team at Fox Run, an Erickson Living-managed community in Novi, Mich., works so hard to provide strong financial value to residents and help them to protect the investments they've built over their lifetimes.
Allison Murphy, Fox Run's director of sales, explains that there are several elements that make the community attractive from a financial perspective. One of those is the predictable monthly service package, which includes a flexible dining plan with access to five on-site restaurants; utilities; cable TV; all home maintenance, including appliances; and more services and amenities you gain in a house or condo. As a result, the people who live at Fox Run have the peace of mind of knowing what their out-of-pocket expenses will be each month.
"There is lot of fluctuation for people in their homes from season to season. That can be difficult for people on a fixed income," Murphy says. "At Fox Run, you know exactly what your monthly fee will be. It's predictable and steady all year, making it easy to plan."
Predictable expenses and no more maintenance
Murphy says she and her team have some helpful tools to help prospective residents compare their current housing expenses to the cost of living at Fox Run. After they do that analysis, most people conclude that Fox Run is very affordable and, in many cases, less than what they are spending to live in their current home. 
"Plus, living at Fox Run is maintenance-free," Murphy says. "So, if anything breaks, there is no need to spend time and energy looking for a reputable handyman; one phone call to the Fox Run maintenance department will take care of it."
That was a big part of the appeal of Fox Run for Bob Chvala and his wife, Eileen, who moved to the community last October. Bob says taking care of his former house in Howell, Mich., was a hassle and a health hazard because he suffers from allergies and migraines that flare up from physical labor as well as grass and trees. Since moving to Fox Run, he says his headaches have decreased—literally and figuratively!
"The snow blowing, mowing the grass, all of that, I don't have to do that anymore, so there is a benefit of living at Fox Run," Bob says. "We had a snowstorm and my brother sent me a text and said, 'Do you miss snow blowing?' and I said, 'No I am watching maintenance plow right now.'"
Estate planning made easy
Another thing that Bob values about Fox Run is the 90% refundable entrance deposit. This one-time fee is held for residents and returned either to them or, if they live at Fox Run for the rest of their lives, to their beneficiaries. Knowing that a fixed entrance deposit amount will be returned to them or their heirs provides an added layer of financial security for residents.
"We know what our heirs will receive if we don't have long-term health issues," Bob says. "If we pass and [the entrance deposit] hasn't been touched, we know 90% of our investment goes to our heirs, and that is comforting. You don't have to worry about the bank selling and getting full value for your house." The details are fully explained in the Residence and Care Agreement.
Plus, Fox Run houses all kinds of amenities under one roof. You can hit the gym or get your hair done at the salon, pick up milk at the convenience store or stop for a cup of coffee—all without leaving campus. The medical center is also on site as well as a 24/7 security team.
"We're anticipating we will get more for our monthly investment here at Fox Run," Bob says.
Another aspect of Fox Run's value proposition is access to the vibrant social life on campus—something that is difficult to put a price tag on. Whether you're into politics or photography, woodworking or Wii bowling, there's probably a club you'll want to join at Fox Run. Making friends is another great benefit about life at Fox Run.
Not only is a Fox Run lifestyle affordable, but it provides greater safety, security, and peace of mind than a house or condo," Murphy says. "The word 'value' means a lot at Fox Run. Here, you'll have an array of services, activities, and amenities at your fingertips. Worry and boredom are a thing of the past."
A true 'home for life'
Perhaps the most unique aspect of the financial value at Fox Run is the "home for life" commitment. The community maintains a Benevolent Care Fund to assist residents who, despite careful planning, outlive their financial assets. Some people liken the Benevolent Care Fund to a long-term care insurance policy—but without the high premiums.
"From a financial standpoint, the home for life program interested my wife and I," Bob says. "We are both 76, and nobody knows what their health is going to be as they age. This was like a bonus in addition to all of the amenities and facilities at Fox Run."
Murphy says management is committed to keeping Fox Run affordable for retirees. They keep costs down through strong relationships with service providers, while operating and maintaining the community to the highest standards. Residents' monthly service packages are the same amount every month and only incur a small cost of living increase once per year.
When Erickson Living was founded, it was created on the foundation that we could bring an exceptional lifestyle and experience at an affordable price," Murphy says. "This is where the size of Fox Run creates better opportunities for everyone who lives here."
To find out more about the financial benefits of moving to Fox Run, visit FoxRunNovi.com/Pricing or call 1-800-262-7315.