Your Dream Retirement Awaits at Eagle's Trace
By Jill Dutton
February 25, 2022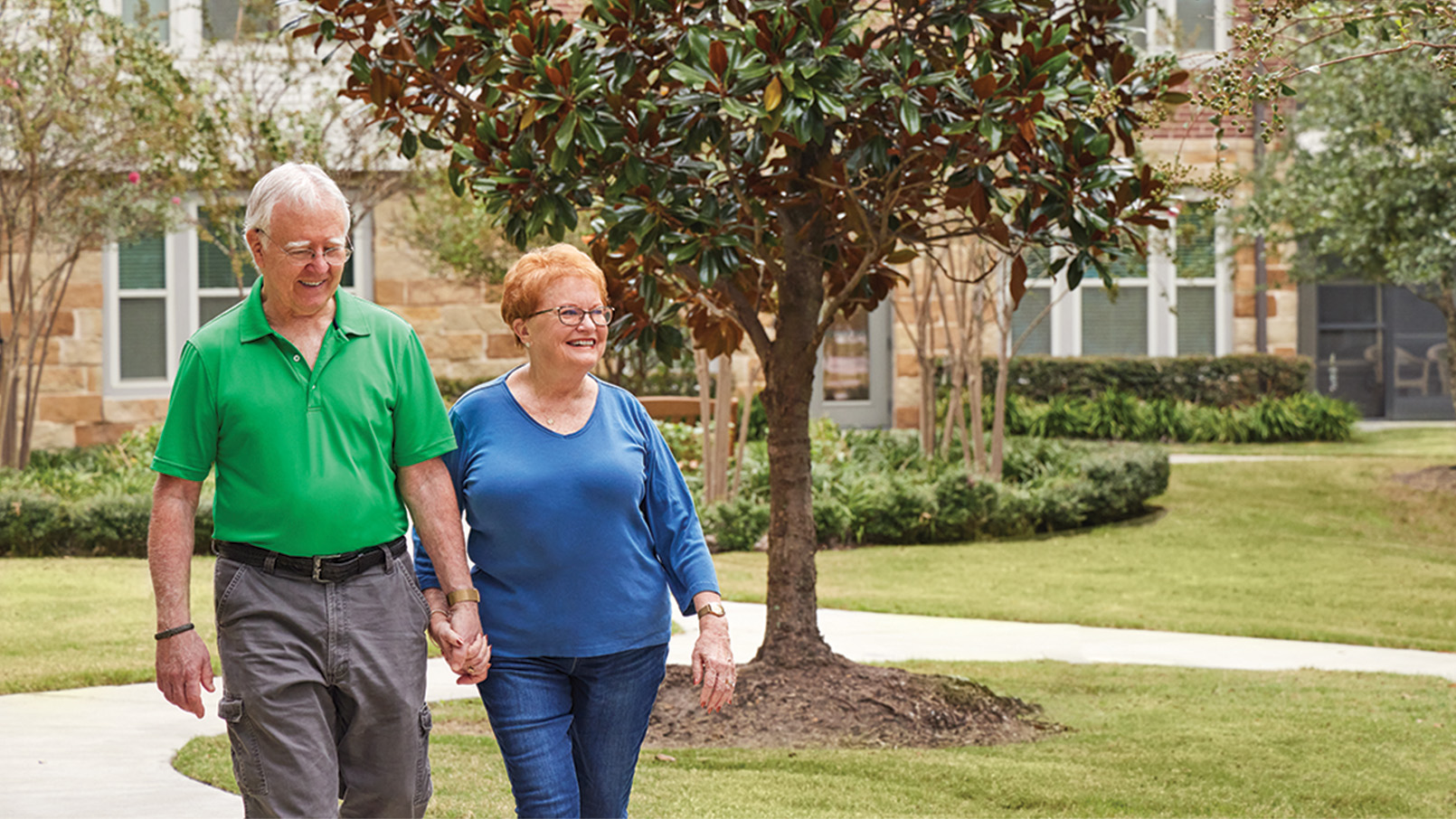 Retirement is a time most of us look forward to. It's an opportunity to slow down, connect with friends and family more deeply, and pursue hobbies and passions.
At Eagle's Trace, an Erickson Senior Living community in Houston, Tex., residents are loving the freedom they have earned and are enthusiastically living life to the fullest during their retirement.
Have it your way
Pamela Grant and her husband Dick moved to Eagle's Trace in August 2019. 
"We knew we wanted to come to a place like this. We looked at several places, but none of them fit until we came here. We wanted to move early enough so that we could make our own decision, and not our kids," Pamela says.
The couple had differing criteria, but both agreed that Eagle's Trace truly had it all. While Dick wanted an array of dining options on campus, Pamela was seeking a sense of community among residents.
"My husband was adamant that he would not move if he only had one seat at the same dining room every day," explains Pamela. "He wanted variety. When we found out there were five or six different places to eat, he was sold! For me, I was observing the decor and the mood of the people. Everyone we meet is happy."
She adds, "The number one reason we moved here is the people, both the staff and the residents. I'm a management consultant and do customer service training for companies - this is some of the best customer service I've ever encountered."
Peace of mind
Moving to a maintenance-free environment is especially appealing to many residents who no longer want to worry about house repairs, landscaping, or appliance upkeep. Whether a faucet starts to leak or a lightbulb burns out, the general services staff is just a phone call away.
Frankie Ann Holmes and her husband Clint Davis moved to Eagle's Trace in August 2021. Frankie says that moving to the community freed them from most responsibilities.
"I thought that when I retired, I would have time to meet friends and go to museums - do all the things I had been missing by working so much," says Frankie. "Instead, I found much of my time spent taking care of our property. After a friend moved to Eagle's Trace and compared it to being on a cruise ship, I knew I had to look into it."
Frankie, who took pride in maintaining her flower beds and shrubbery, is impressed with the community's landscaping. "The grounds here have the most-beautiful flowers. I have dogs, so instead of working on my garden, I can walk outside and make friends around the campus," she says.
Whether it's hurricane or snowstorm season, the couple doesn't have to worry about flooding, damages, or other weather-related situations: "Last February, we had a tremendous freeze. Clint and I were sitting on the couch here when we saw the weather report. We looked at each other and both said, 'We don't have to worry about it.' That is peace of mind."
Financial security
Some residents also credit their peace of mind to the financial stability that comes from the monthly service package. The package bundles expenses - like electric, water, and cable - into one bill, allowing residents to balance their budgets with confidence.
"The financial structure at Eagle's Trace is meant to help residents preserve their capital, savings, and their nest egg. With predictable monthly expenses that include everything they would need, there's no reason to worry," says Pamela Burgeson, sales director at Eagle's Trace.
She continues, "The community's financial structure gives the gift of knowing that not only are residents going to live a very enjoyable life here, but that whatever may happen in the future, their families will not be burdened by any kind of unexpected circumstances."
Freedom to enjoy free time
With all the free time that residents gain from the community's maintenance-free lifestyle, there's no shortage of ways to stay active and involved.
There are nearly 150 different clubs and organizations to join, so there's something for everyone - guaranteed. Consider joining a spiritual or Bible study group; try physical activities such as yoga, water aerobics, pickleball, and line dancing; attend a lecture series, educational group, and continuing education classes; explore your creative side with craft clubs, games, and language groups.
And in the off-chance that you can't find something you're interested in, the resident life department helps facilitate interest groups to initiate a new group or club of your choosing.
Frankie says that because of all these social opportunities, it's easy to meet people at Eagle's Trace. One way she meets other residents is through her daily walks. The other is to join plenty of clubs.
"There's a sense of excitement when you move into a new place that's filled with lots of other people who are, by and large, just like you," Frankie says. "Fostering a sense of community and connection is a key part of your happiness, your joy, your mental cognition. It comes from being around other people."
Invest in your future self at Eagle's Trace. From top-notch amenities to affordable, maintenance-free apartment homes, you are sure to live your retirement to the fullest. Request more information today!
Back