Three Eagle's Trace Residents Adventure to Southeast Asia, Worry-Free
By Jill Dutton
September 14, 2023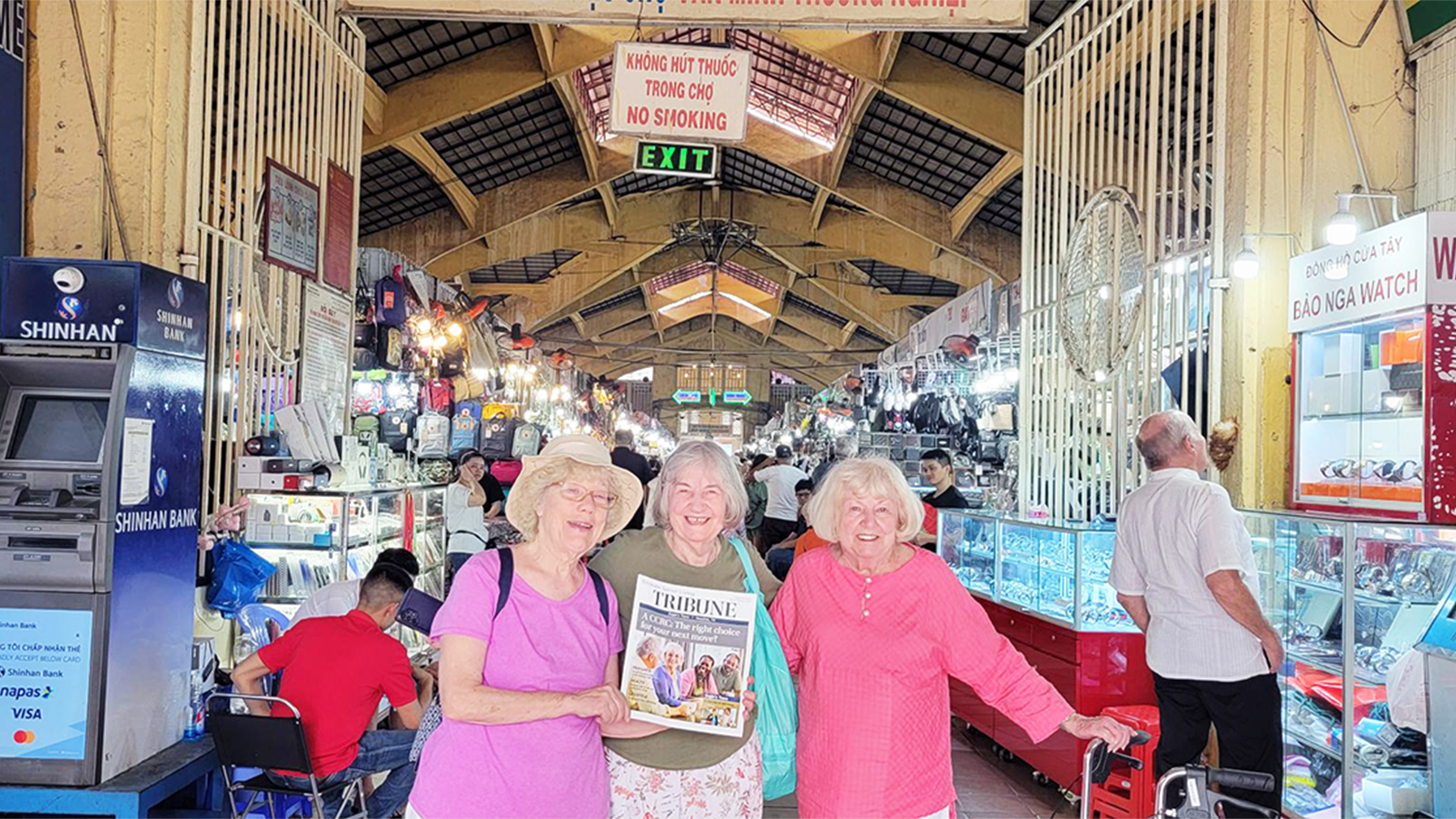 Imagine jetting off for a three-week trip to Qatar, Cambodia, Vietnam, and Thailand - without an ounce of worry about your home.
Pat Peshoff, Marilyn DeCell, and Linda Tallant have their apartment homes at Eagle's Trace, an Erickson Senior Living community in West Houston, Tex., to thank for their worry-free trip.
Worry-free travel
While sailing on a river cruise of the Mekong River Delta, their homes - nestled safely in a gated community - were looked after by caring staff and neighbors.
"I have a lot of plants," says Marilyn, "so one of my neighbors came in to care for the plants while I was gone. I didn't have to worry about my mail either! Staff members take care of it while you're gone."
"Our homes are safe and secure while we travel," adds Linda. "One couple across the hall from me spends six months of the year in Oregon. It's not uncommon for people to travel and leave their homes for long periods of time. It's very reassuring."
Whether you prefer long road trips or weekend getaways, any traveler is sure to appreciate the peace of mind that comes with moving to a maintenance-free apartment home at Eagle's Trace. And with more free time, residents gain the opportunity to travel more, explore new interests, and nurture relationships.
Pat, Marilyn, and Linda embraced all three when they set out to discover mainland Southeast Asia. United by a shared thirst for adventure and a desire to immerse themselves in other cultures, the trio curated an unforgettable journey that left them with lifelong memories.
Making connections
Marilyn first met Linda on a bus ride to a group destination.
"Linda mentioned an upcoming trip to France and asked if anyone would like to go. I raised my hand immediately," Marilyn recalls. "We went to France that year, and the next year we took a cruise."
Pat quickly joined the other two, since she shares the same wanderlust. During dinner one night in an on-campus restaurant, the travelers began planning their next trip.
"Pat said that she wanted to go somewhere exotic," Linda says.
Marilyn adds, "And exotic it was! It was breathtaking, too."
Immersive experiences
Their itinerary started in Qatar, where they immersed themselves in the local culture for a few days.
"My son and his family live there, so it was a great opportunity to visit family living so far away," says Linda. "We were there during Ramadan. We had fun looking for a lunch spot after shopping at the Souq Market."
Prior to their river cruise, the trio went on an excursion in Slem Reap, Cambodia, where they visited the famous Angkor Wat Temple.
"It was a magnificent experience to visit the temple at sunrise," Linda says.
The group then boarded the ship for a cruise along the Mekong River Delta, where they visited small cities in Cambodia, crossed into Vietnam, and ended in Ho Chi Minh City (formerly Saigon).
Their excursion in Ho Chi Minh City included visiting the Viet Cong tunnels. From there, they flew to Bangkok and stayed for a few days before coming home.
To commemorate the trip, they took a photo together in Cambodia holding a copy of the Tribune - a fun ritual they created to feel as though they were bringing a piece of home with them on their travels.
Well cared for
Upon their return, Pat, Marilyn, and Linda were greeted by smiling faces - and their apartment homes looking better than ever.
"A neighbor had placed fresh oranges and plants outside my door!" says Pat. "It was such a treat to come home to."
The trio agrees that knowing their homes were secure and cared for in their absence made for a worry-free journey.
"When you mention that you're going out of town, people offer to get your mail, look after your home; you don't even have to ask," she adds.  
'Icing on the cake'
Pat, who moved to Eagle's Trace six years ago, notes that the opportunities for socialization at the community are what stand out to her the most.
"I started thinking about my future and what it would look like," she explains. "One of the most interesting things here is the people, and that's why I chose Eagle's Trace. There are so many interesting residents who've done lots of traveling and had wonderful careers. To have found travel companions is just the icing on the cake of a life well lived at Eagle's Trace!"
To learn more about affordable, independent senior living at Eagle's Trace, request your free brochure to get the scoop on amenities, floor plans, and so much more.
Back