Thanks To Resident-Led Initiatives, Nurses Are Celebrated Year-Round at Eagle's Trace
By Jill Dutton
May 2, 2023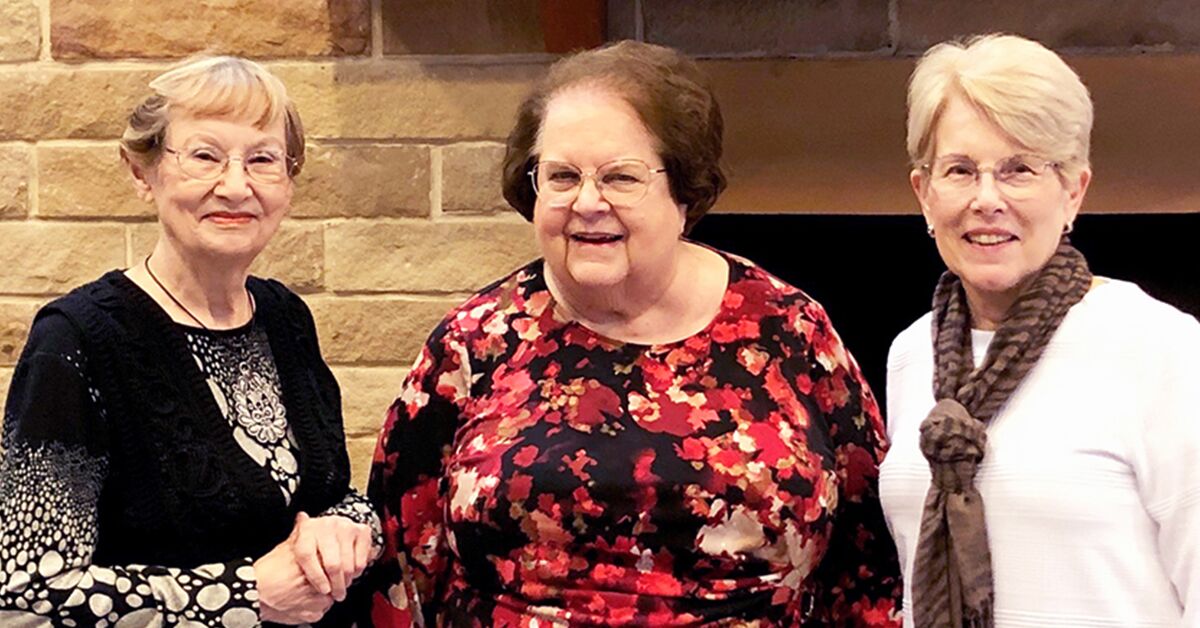 Now more than ever before, nurses are on the front lines of health care. Each May, these caregivers receive well-deserved recognition through National Nurses Month. 
National Nurses Month strives to "recognize the vast contributions and positive impact of America's 4 million registered nurses," according to the American Nurses Association, which first instated a National Nurses Week in 1993.
But thanks to a number of retired and working nurses who reside at Eagle's Trace, an Erickson Senior Living community in West Houston, Tex., nurses are recognized year-round.
A proactive move
Retired nurse Beth Gaecke, who moved to Eagle's Trace in 2018 with her husband Gordon, says they were initially drawn to Eagle's Trace because of the award-winning continuing care services offered on campus.
As a continuing care retirement community (CCRC), residents at Eagle's Trace benefit from on-site access to additional levels of care, should they ever need it.
"Gordon and I wanted to be proactive in moving to a CCRC - before it became a necessary move," says Beth. "I requested a tour of Bayou Vista, the continuing care neighborhood, and I was very pleased with what I saw! Knowing that on-site care was available helped us finalize our decision to move here."
Learning that there was a large community of nurses was an added perk for Beth.
"There are approximately 50 nurses at Eagle's Trace - some former, some current. They all have fabulous work histories," she notes.
Beth and her neighbor Nancy Fountain, also a retired nurse, plan regular luncheons for fellow nurses to encourage companionship. Menus, decorations, and guest speakers for each luncheon are carefully planned weeks in advance.
Learning from others
While the luncheons were initially held for current and retired nurses to connect, they've grown into opportunities in which attendees share experiences, learn from professionals in the nursing community, and discuss ways they can support other programs at Eagle's Trace.
"We've worked in an array of different health care settings," explains Beth. "Some of these nurses have had some remarkable experiences."
She notes one resident in particular who was a nurse during World War II.
"Her stories are fascinating! We enjoy sharing our stories with each other. Plus, many of us hope to use our experiences to benefit other residents here," she says.
Supporting neighbors
Beth also leads the Health and Wellness Committee, which created Caring for Caregivers, a program designed to support those who are caring for a family member who lives at Eagle's Trace.
"A volunteer experience with The Gathering really sparked my interest in Caring for Caregivers," says Beth.
The Gathering, which offers a social experience for people with dementia and respite time for their caregivers, is what led her to develop Caring Friends, a sister program of Caring for Caregivers.
"We train people to focus on being empathic listeners," she explains. "Being a friend to a caregiver means actively listening and validating what they're feeling. We've trained about 20 people so far!"
Quality care
Like Beth, Denise Medina was impressed by the continuing care services offered at Eagle's Trace.
"Bayou Vista has repeatedly won a 5-star Medicare rating. That's impressive!" says Denise. "That told me that unbeatable quality care is offered at Eagle's Trace. It's such an added value, having additional care available when needed."
Denise notes that multiple factors contributed to the start of their CCRC research.
"My husband Dan is retired, so he was spending a lot of time in the house alone," she says. "And, maintaining a large house was becoming too burdensome. By moving to Eagle's Trace, we would solve both obstacles! Dan would have the opportunity to interact with others, and we could forget about home maintenance and repairs."
Making connections
Denise continues to work part-time as a registered nurse.
"I have an extensive background in emergency room nursing, but I've worked in occupational health nursing, as well," she says. "I also enjoy my volunteer work with pediatric patients and their families."
As a Health and Wellness Committee member for the past year, Denise believes the committee is very fortunate to have many qualified members.
"We have a lot of members with a great deal of expertise, and we all work together very well," says Denise. "Connecting with fellow nurses, current and retired, has added to my quality of life at Eagle's Trace. There's always so much for us to talk about!"
To learn more about affordable, independent senior living at Eagle's Trace, request your free brochure to get the scoop on amenities, floor plans, and so much more.
Back