Soaking Up the Great Outdoors at Eagle's Trace
By Mary Bush
August 24, 2021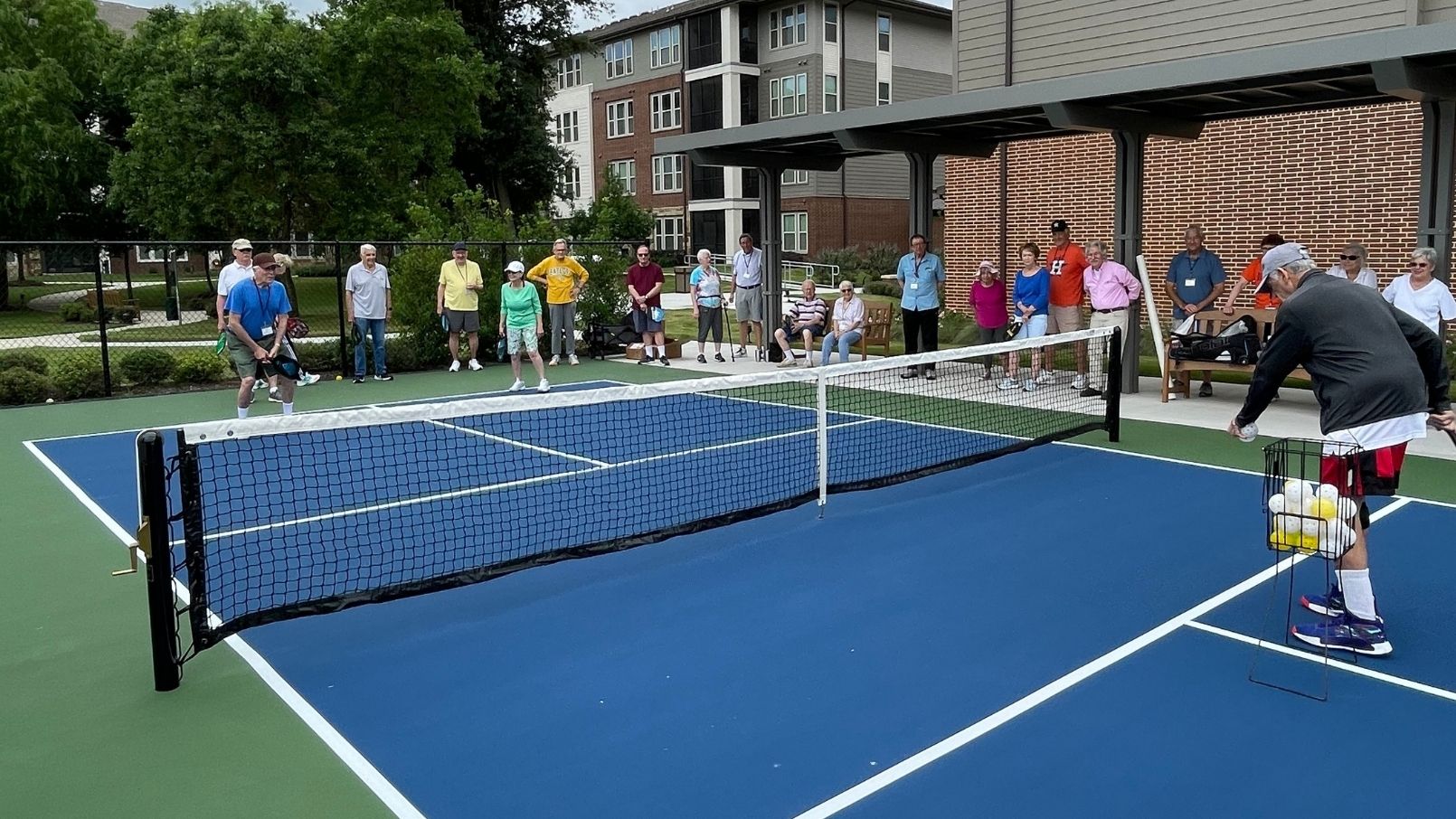 There may not be a surefire way to lift your spirits, boost your health, or give your energy a jolt, but one remedy comes close - spending time outdoors. A study conducted by graduate students at the University of Minnesota looked at the ways "green space," such as parks and gardens, and "blue space," like lakes, streams, and fountains, promote the physical, mental, and social health of older adults.
"We zoomed in to everyday life for seniors between the ages of 65 and 85," said Jessica Finley, the study's lead author. "We discovered how a relatively mundane experience, such as hearing the sound of water or a bee buzzing among flowers, can have a tremendous impact on overall health." 
You'll find plenty of both green and blue spaces at Eagle's Trace, the community in West Houston, Tex. developed and managed by Erickson Senior Living, where residents enjoy 71 acres of walking paths, gardens, courtyards, gazebos, and outdoor dining patios. The campus also features amenities such as a putting green, shuffleboard, dog park, the new pickleball court, and the stunning Lake Aquila. 
"We offer valuable opportunities to spend time outdoors as part of our distinctive lifestyle with a focus on health and well-being," says Director of Sales Pamela Burgeson. "Residents can participate in the outdoor activities they enjoy most, independently or while socializing with other community members, all without the burdens of maintaining their own house and yard."
Outdoor areas for relaxation
Marilyn Black, who moved to Eagle's Trace in 2010, says the outdoor gardens and amenities provide a welcome extension of the community's living space.
"The meditation garden near the lake is especially relaxing," says Marilyn. "There's a fountain next to the chairs and the trees provide shade, so it's wonderful to sit and listen to the water." 
Marilyn says outdoor spaces like the meditation garden are another avenue for socialization. "People will be out walking around the lake, and they'll sit down and talk for a few minutes," she says. "It just happens naturally." 
Plenty of things to do 
Many outdoor amenities at Eagle's Trace encourage physical activity and engagement. Looking for a place to shoot the breeze and sink a few putts? You'll find it on the putting green in the courtyard outside the Audubon Clubhouse, where the putting club meets twice weekly for friendly competition and fresh air. Or check out the innovative community gardens, where rows of galvanized steel troughs house flowers, fruits, and vegetables grown by residents with an interest in gardening.
"The steel troughs are eight feet long by three feet wide by two and a half feet tall, giving each gardener significant space for gardening," says Judy Doba, who moved to Eagle's Trace with her husband Ray in 2014. 
"The fact that they're raised is an added bonus. We don't have to bend over or kneel to work in our gardens. People appreciate the opportunity to exercise their green thumbs." 
For many residents, the outdoor spaces provide an opportunity to continue or expand interests they've had throughout their lives. Joan Maresca, a former science teacher, has been coordinating larvae adoption and butterfly releases at Eagle's Trace for many years. 
This year, Joan and her team of volunteers released dozens of butterflies on the Eagle's Trace campus in early June. "It's wonderful to see the Painted Lady Butterflies flying around," says Joan. "Residents take quite an interest in it because they've watched the butterflies move through all the phases of their life cycle." 
An inherited green thumb 
Joe Teas is another Eagle's Trace resident lending his time and talents to the outdoor spaces at the community. Joe's great-great-grandfather founded the storied Teas Nursery in Houston's Bellaire neighborhood [now closed], so his gardening pedigree extends back several generations. Joe earned a degree in landscape architecture from Texas A&M University and now uses his expertise as the founder and leader of the Best Buds club at Eagle's Trace. 
"At last count, there were 437 rose bushes on campus, including those in the rose garden near the front entrance," says Joe. "There's an old wives' tale that you're supposed to fertilize roses on Valentine's Day, February 14, and again on September 14. Roses go into a summer dormancy in late August, so you want to fertilize them in September to get a fall bloom. It's different in other climates, but that schedule works well in Houston."
Joe and his team of Best Buds volunteers also prune the roses at those same intervals. "We try to trim about a third of the plant back and open it up, so sunlight gets down into the foliage to dry it out and make it not as susceptible to insects or diseases," says Joe, whose expertise and diligence is rewarded with stunning displays across campus. "It's beautiful when the roses are blooming."
See the beautiful Eagle's Trace campus for yourself! Click here to schedule a visit or request a free brochure.
 
Back