Second Time Around Is Just as Sweet for New Eagle's Trace Residents
By Sara Martin
October 21, 2021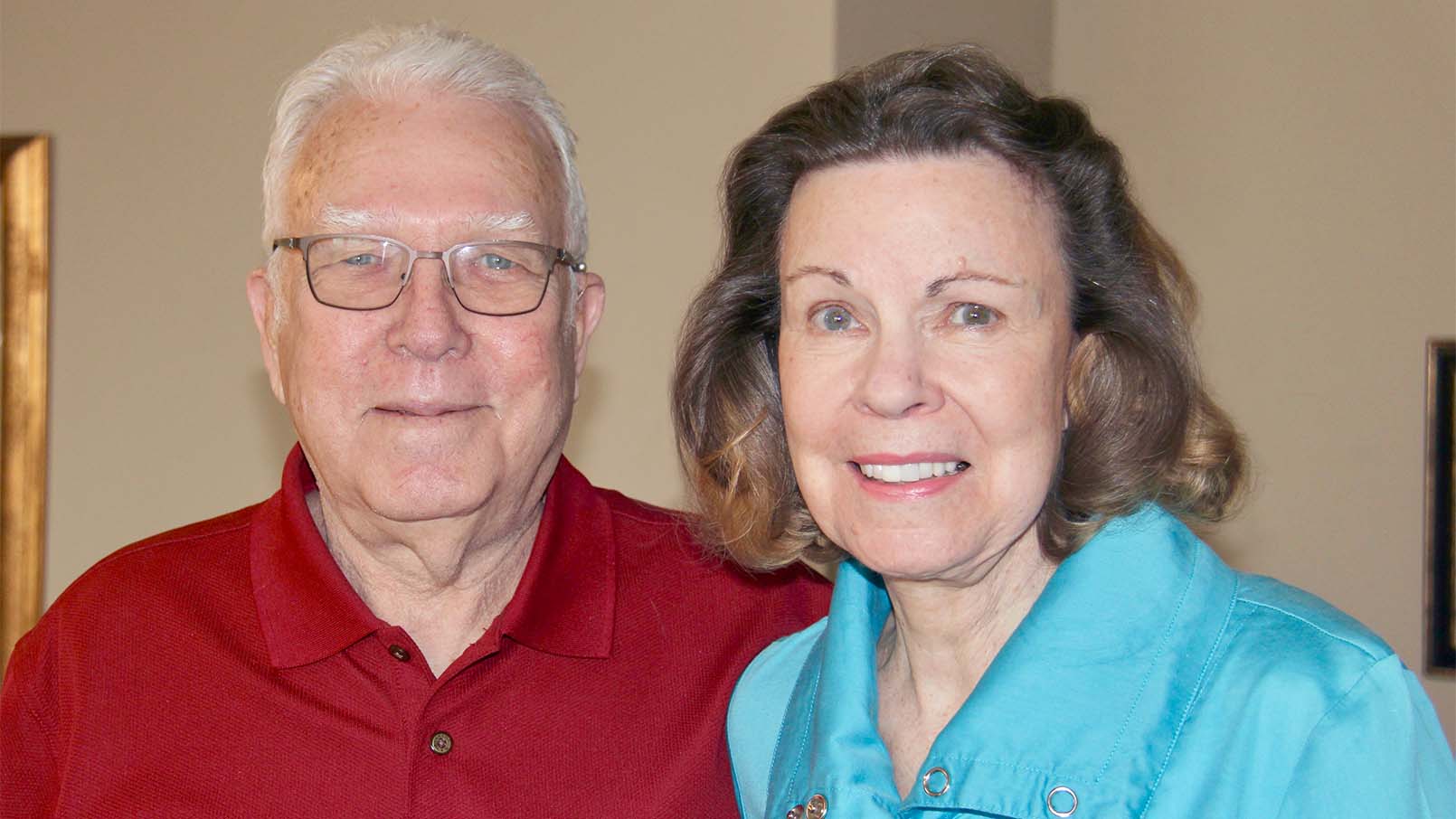 Jack and Marion Wilson may be new residents of Eagle's Trace, an Erickson Senior Living community located in West Houston, Tex., but this is not their first introduction to the community's vibrant lifestyle.
Marion eagerly joined the priority list at Eagle's Trace in 2004 while the community was still under construction. She attended the grand opening in 2005 and remembers details vividly from the celebration, including longhorns grazing on the front lawn, elaborate ice sculptures, and the arrival of then-Texas governor Rick Perry.
"It was quite a party," says Marion, who was living in the Copperfield area at the time.
First move to Eagle's Trace
Independently of Marion's experience, Jack was also living in Copperfield when he decided to move to Eagle's Trace in January 2007. He chose an apartment home on the first floor of the Redbud Crossing residence building.
"I made some good friends during that time," says Jack. "I'd go for bike rides with Jim and Mary Gillespie, and I got to know Carl Shannon."
Jack also made one other significant connection eight months after he moved to Eagle's Trace. 
"I attended several programs through the Lone Star College's Academy for Lifelong Learning at the CyFair campus," says Jack. "I signed up for a day trip to Caldwell, Tex., to attend the Kolache Festival."
Marion, who also attended programs though the Academy for Lifelong Learning, was on the trip.
Marion said that Jack was with two ladies from his church when they sat down for lunch together. "I knew of him through others in the Lifelong Learning group, but that was the first time we met."
The next time Jack ran into Marion at an Academy for Lifelong Learning event, he asked her out for coffee.
"One thing led to another," says Jack. "I had a group of friends at Eagle's Trace who would regularly meet for a glass of wine before dinner in each other's apartments. On the evening Marion and I got engaged, our wine group celebrated with an impromptu party."
The couple was married on Nov. 30, 2007. Jack then left his apartment at Eagle's Trace, and they settled in Marion's house.
To everything a season
"It was a fairly easy decision, in some ways, deciding what we should do," says Marion. "Jack's daughter and grandchildren lived in the Copperfield-Cypress area, as did my daughter, grandchildren, and my mother. Three generations got to share birthdays, holidays, weekends, and other special times. My circle felt like it had come together."
When a new 55-plus neighborhood, Heritage at Towne Lake, opened near the Lone Star College CyFair campus, the couple was among the first to buy a house in the new neighborhood.
"We lived there for 13 years," says Marion. "My mother passed away in 2019, our grandchildren grew up and moved off, and my daughter and son-in-law moved away too. By 2020, we were ready for a new chapter."
The couple's timing coincided with the construction of a new residence building at Eagle's Trace called Austin Square.
"The idea of moving into a new residence building was appealing for the same reason we liked moving to Heritage at Towne Lake during its early phases," says Marion. "When you come in at the beginning of something, it's easy to integrate and become friends with other newcomers and to establish community."
The couple explored other senior living communities but kept coming back to Eagle's Trace.
"The people I'd met when I lived at Eagle's Trace the first time were happy, and the staff was friendly and really helpful," says Jack. "There was a sense of ease coming back to Eagle's Trace."
Home at last
The couple moved into their two-bedroom, two-and-a-half bath Sweetwater-style apartment home in Austin Square in April 2021. 
Jack's reconnected with long-standing friends, including the Gillespies and the Shannons, and he's enjoying the short walk down to the fitness center.
"Jack and Marion's experience is unique," says Sales Counselor Jodie Schroeder, who worked with the couple to find the perfect apartment home. "It's a wonderful story of coming full circle."
Now settled in their new apartment home, Jack and Marion are enjoying all the perks of the Eagle's Trace lifestyle. "I don't miss yardwork, cleaning out gutters, and all the other chores," says Marion. "It's a vast improvement from having to maintain a home."
Consider Eagle's Trace if you're interested in living in a connected and engaged senior independent living community. Take the first step on the journey to maintenance-free living by requesting a brochure today!
Back