Resident Dr. Barry Thompson Saves the Pollinators at Eagle's Trace
By Jill Dutton
July 6, 2022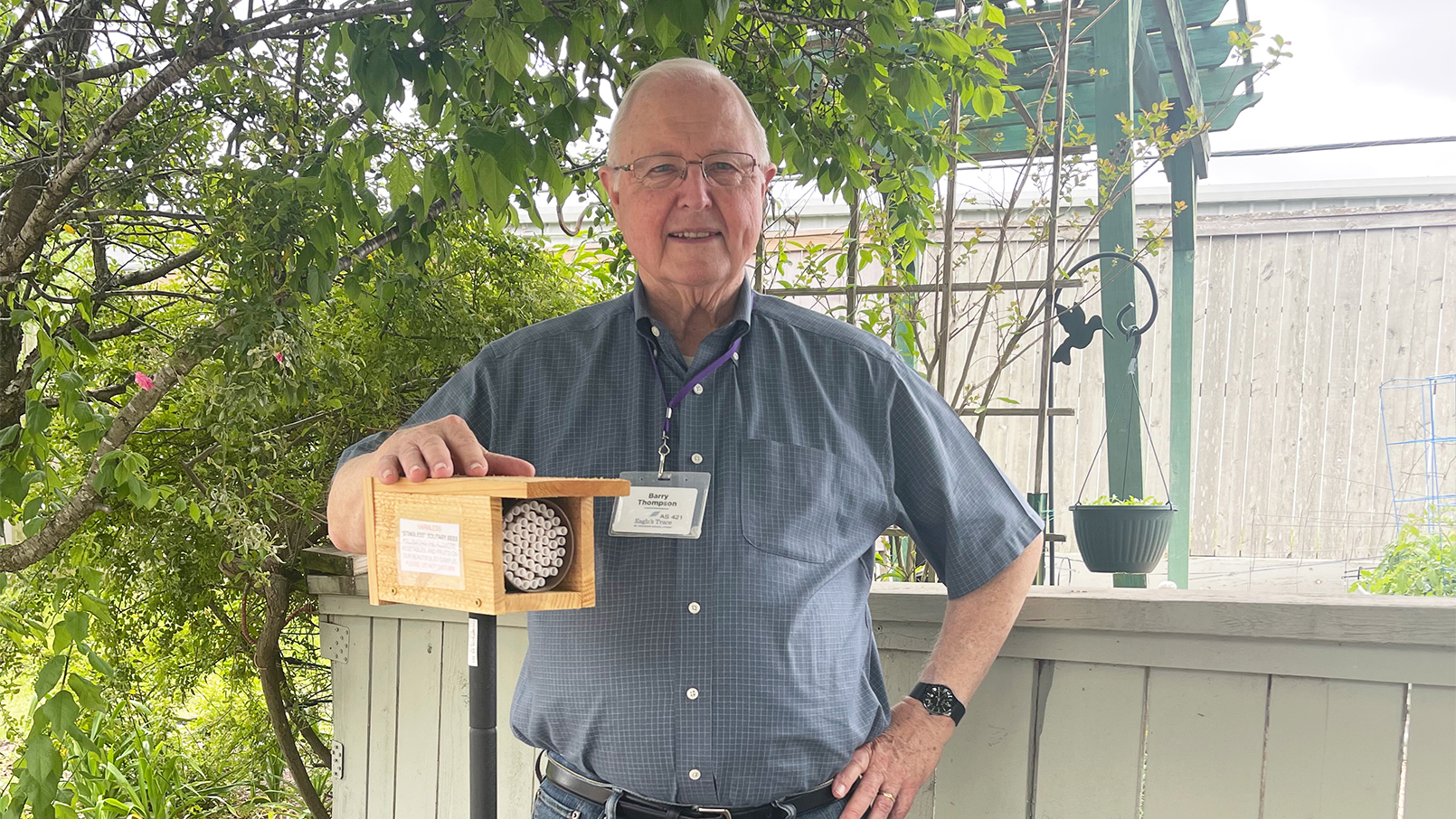 When Dr. Barry Thompson and his wife Jo Ann moved to Eagle's Trace, an Erickson Senior Living community in Houston, Tex., a year ago, he brought his passion for pollinators.
A beekeeper since 1954, Barry says he's tended to orchard bees for over a decade. When several fruiting plants and trees bloomed on his former Potomac, Md., property, he became interested in orchard bees - in addition to his hives of honeybees - because of their underappreciated role as pollinators.
After the Thompsons' move, Barry was eager to spread his wings - and those of his orchard bee buddies - at his new home.
To strengthen the community as a supportive, natural environment for the bees, Barry began installing nesting boxes for them near plants, trees, and residents' gardening areas on campus. This opportunity to pursue his passion is just one of the many reasons why he loves living at Eagle's Trace.
The perfect match
When Barry and Jo Ann recognized it was time to downsize to a smaller living arrangement that better fit their needs, the couple started researching retirement communities across the country. They prioritized communities located near any of their four children.
"Our daughter and her family live in the nearby Cinco Ranch-area," notes Barry. "Plus, Eagle's Trace provided our desired continuing care format and an abundance of activities in a highly attractive setting."
Jo Ann, who has a B.S.N. from Vanderbilt and retired from a decades-long career in perinatal education and community health, was especially drawn to the quality health care that Eagle's Trace provides.
Spreading his wings
Barry says that the social, welcoming nature of the community has enriched their lives. "We enjoy meeting new friends and discovering shared interests. We are pleased to have such a broad spectrum of activities to choose from - including some activities that have been added by the residents themselves."
Seeing his neighbors' success in launching new groups and activities, Barry took matters into his own hands.
Surveys of insect populations have documented significant declines - all around the country - due to pesticides, loss of habitat, and change in climate. Because bees of all kinds are vital to maintaining food supply and plant growth, Barry notes, increasing the bee population at Eagle's Trace would consequently increase the number of flowering trees and plants. "I'm attempting to enhance pollination and restore, to a small extent, the pollinator presence at our lush campus," he says.
"It's a pleasure to be able to stroll the areas among the buildings and observe flora and fauna," says Barry. "With the bee boxes, we are supporting efforts to expand environmental awareness and responsibility at Eagle's Trace."
'Stingless' bees
Barry wants to emphasize that the orchard bees he is housing around campus are "stingless," meaning that they are not defensive, as they have no colony to defend. In contrast to honeybees - which band together for honey production and follow instruction from a queen bee - orchard bees are considered solitary.
"The bee boxes are positioned, intentionally, in areas that do not interfere with the yard crews and their work," adds Barry.
Kristin Malejan, resident life director at Eagle's Trace, says that Barry's bee boxes have been welcomed and even encouraged by community members. "It's very exciting to have a new group, The Pollinators, formed at Eagle's Trace. Residents are elated about having the bee boxes on campus and are eager to learn more about the pollination process. We are looking forward to the growth of this group - and maybe one day even having honeybees!"
Environmental advocate
Barry has been involved with environmental issues through his participation in local, state, and national beekeeping organizations, Rotary International's environmental sustainability efforts, and the North American Pollinator Protection Campaign.
He says that he is excited to continue to share his mission of protecting the pollinators with his fellow residents.
"There's pleasure involved in supporting other people's activities," notes Barry. "In trying to bring people to nature, I'm making them aware of what goes on around them. Quite frankly, in the hurried lifestyle that our society promotes, many of us don't pay much attention to the marvelous things around us."
Barry says that whenever he and Jo Ann start to miss their former house in Maryland, they reflect on the wonderful, well-manicured landscape of Eagle's Trace - and how lawn care is a task of the past.
"We are pleased to have such an environmentally friendly campus here," says Barry. "Eagle's Trace also supports local excursions. As a 'university town,' Houston has the arts and educational opportunities. And, of course, we enjoy being close to family."
To learn more about affordable, independent senior living at Eagle's Trace, request your free brochure to get the scoop on amenities, floor plans, and so much more.
Back