New Pickleball Court Opens at Eagle's Trace
By Jill Dutton
March 17, 2022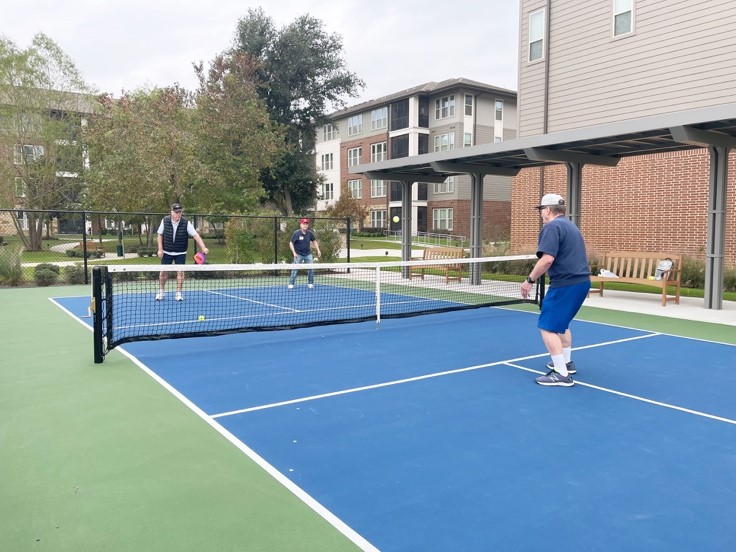 There's a craze growing throughout the U.S. for a game that combines elements of tennis, badminton, table tennis, and Wiffle ball. You might have guessed it - pickleball.
Despite the popularity, nearby pickleball courts aren't always easy to find. But at Eagle's Trace, an Erickson Senior Living community in Houston, Tex., residents don't have to look much farther than their front door to jump on this fitness trend.
New court opens
In response to the growing popularity of the sport, Eagle's Trace recently opened a new outdoor pickleball court in the community courtyard. At the opening, an experienced pickleball instructor offered informational sessions for any residents who weren't yet familiar with the sport. Interest was high, with around 50 residents attending.
"It was very exciting to have such a great turnout," says Jordan Crume, community resources coordinator at Eagle's Trace. "After the sessions, we asked them to rate themselves as a level one, two, or three player. That way, they could practice and get familiar with the sport with people of similar skill levels."
Groups were then formed and assigned set times to play.
Player and leader
Dick Hall, an Eagle's Trace resident since April 2021, moved in just in time for the opening of the court. He now helps lead the games scheduled for 8 a.m. on Tuesdays, Thursdays, and Saturdays.
When he heard about the pickleball court, Dick's curiosity was piqued: "I wanted to try it. I had played tennis before, but I hadn't played in a while and it looked like a good alternative."
They'll form tournaments at some point, says Dick, but for now, everyone is enjoying getting out there and learning how to play.
Since Houston summers can be sweltering, plans are already in the works to create an indoor pickleball court for residents to use.
One of many
The group of pickleball players is just one of the 100-plus resident-run clubs and activities at Eagle's Trace. There's truly something for everyone! Upon the rare occasion that something doesn't stir your interest, members of the resident life staff are always willing to help you get a new club up and running.
And with apartment homes in a variety of sizes and styles - all of them maintenance-free - you'll have more time to pursue hobbies and interests on campus. Each apartment home comes with access to a host of amenities and services, including a swimming pool and fully equipped fitness center.
Perks of pickleball
Invented in 1965, pickleball grew in popularity to the point where hotels, parks, and communities started building the game's specialty courts to accommodate locals' interest.
Seniors, in particular, were - and still are - drawn to the sport as a fun pastime for staying active. With the underhand serve, lightweight paddle, lower net, and smaller court, the game offers a social and less-strenuous workout.
Another great perk of the sport is the ability to play inside or outside.
Staying active
So, what exactly makes this game so unique and popular among Eagle's Trace residents?
"The court is smaller, and you're playing with something like a 'souped-up' table tennis paddle," explains Dick. "And the ball is a Wiffle ball, but smaller. The first thing you've got to get used to - if you've played tennis before - is the fact that the ball doesn't bounce as well."
Crume agrees, saying, "There's a big difference between tennis and pickleball - a lot of people are still getting used to that transition."
At first, the rules may sound confusing, Dick says, but adjusting to the somewhat unusual rules is part of what makes the game so fun. He adds, "You can play as singles, but it's better if you play in doubles. It's just a lot more fun."
Residents appreciate that pickleball helps them stay active, offers a different challenge, and increases balance, Crume says. Dick, a former runner, has found that to be true for him. He says that pickleball has improved his balance significantly, even when simply walking.
Dick sums up the attraction to the game: "Here at Eagle's Trace, residents want to stay active, interact with people, and do physical activities. Pickleball provides all of that!"
To learn more about affordable, independent senior living at Eagle's Trace, request your free brochure to get the scoop on amenities, floor plans, and so much more.
Back