Fresh Ingredients and Friendly Service Are Always on the Menu at Eagle's Trace
By Jill Dutton
August 26, 2022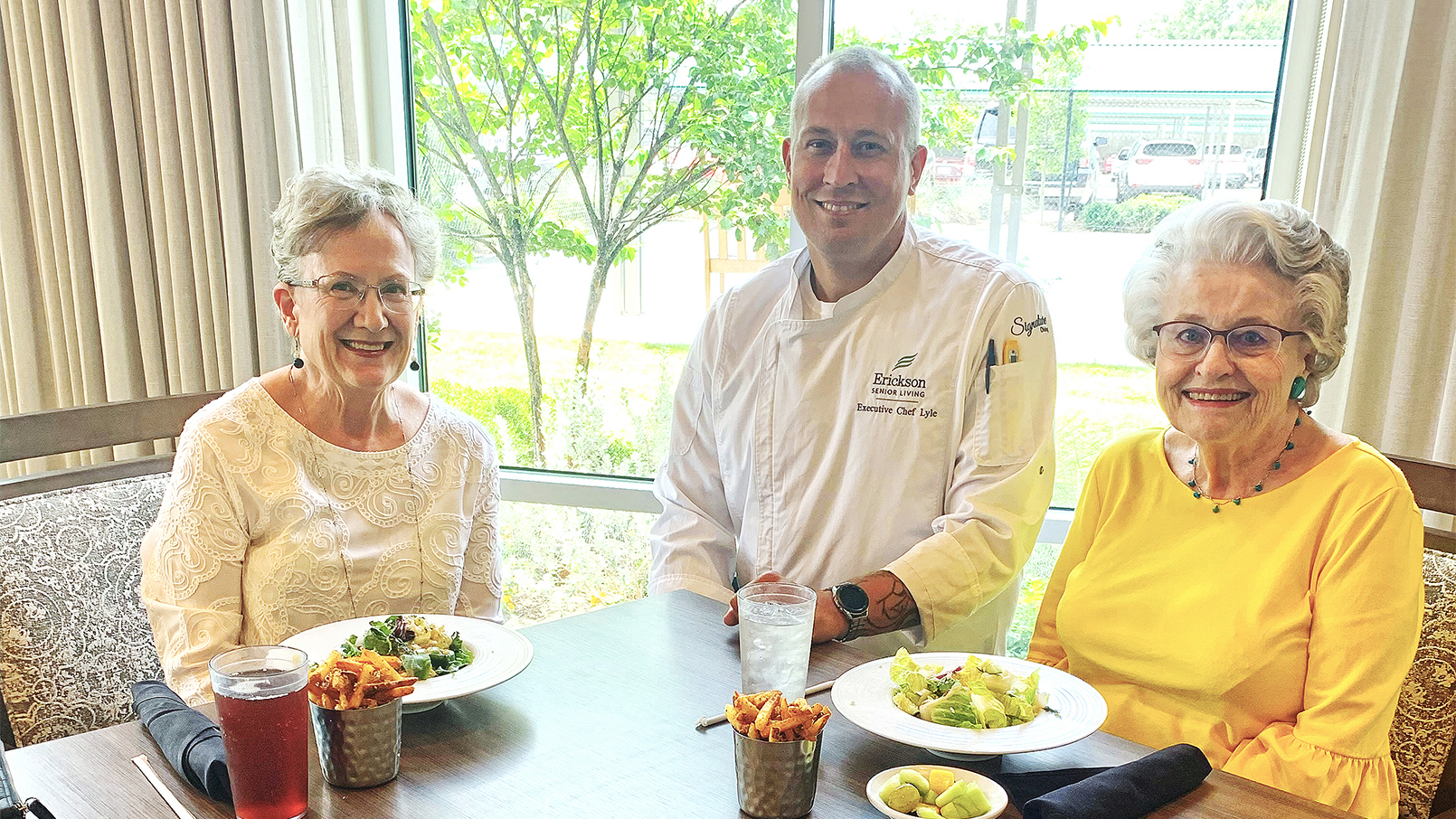 Joyce Jackson has lived at Eagle's Trace, an Erickson Senior Living community in West Houston, Tex., for 15 years - long enough to anticipate the most frequently asked question from friends who are eager to learn more about the community.
"The number one question I hear is, 'How's the food?'" says Joyce. "That's what people want to know." She's happy to respond with a resounding endorsement.
With six dining venues on campus, Eagle's Trace residents relish true restaurant experiences - available wherever and whenever they choose. And thanks to the Signature Dining program, culinary professionals are serving up made-to-order, flavorful meals, crafted with the freshest ingredients from local vendors.
"Each member of the dining team is passionate about making the resident experience here at Eagle's Trace the best it can be," says Director of Dining Services Michael Heilman.
Variety is key
The Garden Room and Stetson's restaurants are ideal choices for those wanting a sit-down dinner experience. With vegetarian, regional, and ethnic menu options - plus rotating weekly specials - there's something everyone can enjoy.
"We try to establish variety across all menus," says Heilman. "Recently, we have had some great home-run items, like hand-battered calamari and fried chicken. Also, we like to feature local favorites, like chili, brisket, ribs, and tacos."
Eagle's Roost Café and Oleander Lounge are perfect for lunch, dinner, or drinks paired with a light bite between meals.
The Waterloo Café, which recently opened in the Austin Square residence building, features a private dining room and lovely outdoor patio - an ambiance fit for refined al fresco meals.
"The Waterloo Café is a beautiful venue. It brings lots of vibrant lunch options to our campus," says Heilman. "It's a Texas original."
Enjoy a meal with friends
Besides variety, one of the greatest benefits of having multiple dining options to choose from on campus is convenience. A quality dining experience is just steps from every apartment home, making it easy for residents to share meals with friends.
Resident Betty McDuffie moved to Eagle's Trace around the same time as Joyce. "We've been hall neighbors for 15 years now. We meet up for a girls' lunch in the Eagle's Roost Café a few times a week," says Betty.
Joyce and Betty have their go-to dishes - among them are quesadillas, salmon, and filet mignon - but they're always eager to try new options. "Over the years, I've had delicious omelets and crab cakes," says Joyce.
Executive Chef Lyle Mathes likes to walk through the Garden Room and Eagle's Roost Café to check in on residents and their guests, listening to suggestions and taking requests.
"We consider seasonality, resident input, and new recipes when planning the menus," says Mathes. "Recent favorites have been the spinach dip and queso with ground beef. We also incorporate regional favorites, including Tex-Mex and Creole options, like homemade Spanish rice, charro beans, street tacos, shrimp étouffée, jambalaya, and gumbo."
Everything at your fingertips
Nutritional information for all entrées served is posted in the My Nutrition section of the My Erickson® app, which is accessible to residents on any smart device. Residents can also check meal balances and make reservations for the Garden Room and Stetson's.
Resident Sandi English utilizes My Erickson® regularly to preview menus and create a weekly meal plan. Making healthy choices is effortless when the ability to view ingredients, calories, sodium, and more is at residents' fingertips. "I like the grilled options," says Sandi. "It's nice to have variety across the different restaurants on campus."
Gluten-free, sugar-free, and low sugar selections, as well as vegetarian dishes, are staples on the menus at Eagle's Trace. "We consider special diets when we're planning our menus," says Mathes. "Gluten-free meals have gained in popularity. We also offer sugar-free desserts, like our Berry Napoleon, featuring whipped pastry cream and sugar-free pound cake."
Making every day special
At Eagle's Trace, eating a meal is one of the most enjoyable times of the day. Whether you prefer a delightful sit-down dinner with friends or a casual bite on the go, you'll find a dining style for every occasion.
To taste the flavorful meal options at Eagle's Trace for yourself, Sales Director Pamela Burgeson recommends reserving a spot at one of the community's informational luncheons.
"Our luncheons are a great way for guests to enjoy many of the same menu items our residents choose from daily," she says.
Invest in your future self at Eagle's Trace. From top-notch amenities to affordable, maintenance-free apartment homes, you are sure to live your retirement to the fullest. Request more information today!
Back