Enjoying Incredible Value at Eagle's Trace
By Jill Dutton
April 20, 2022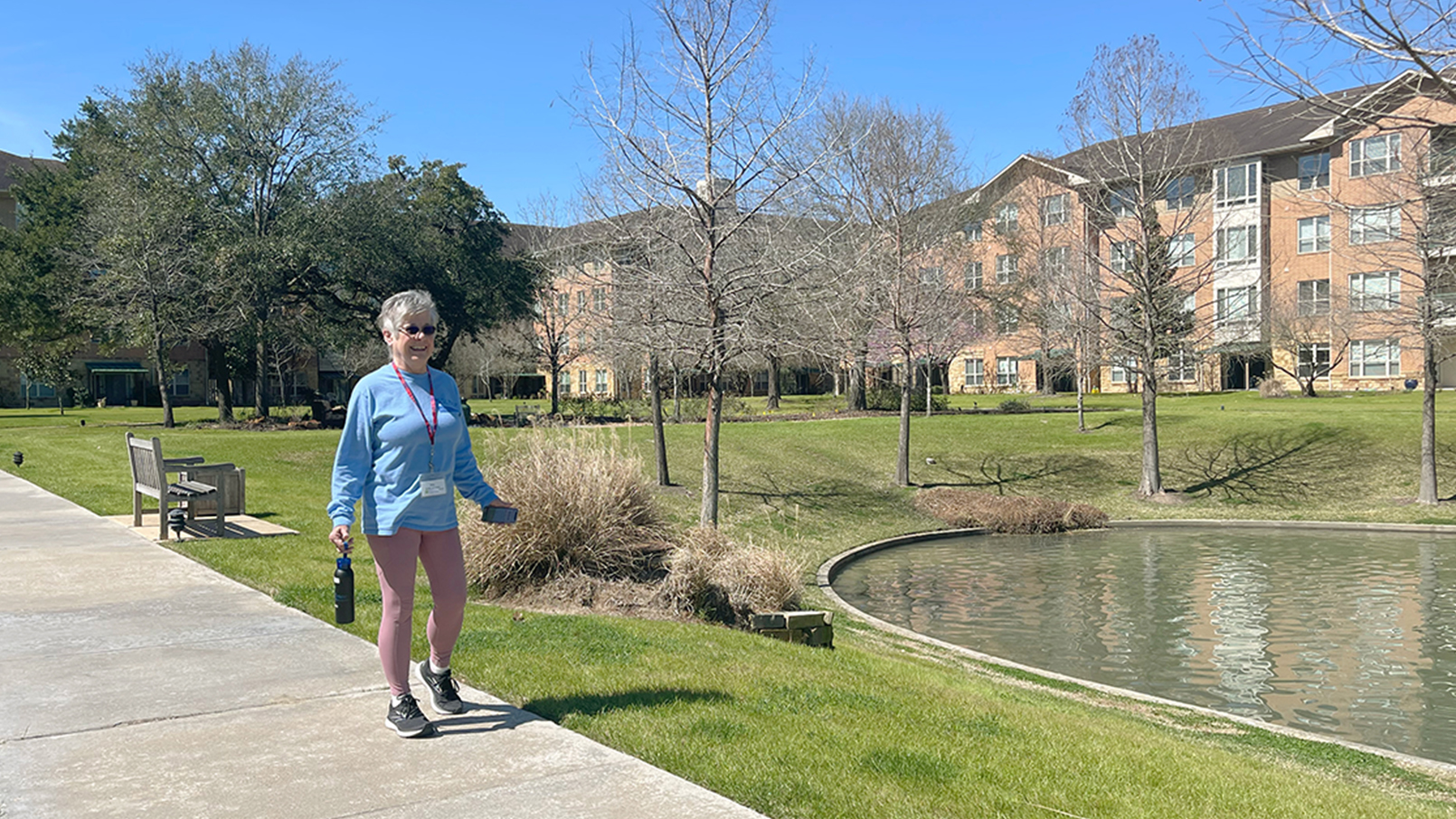 What does it cost to live in a retirement community? And how does it compare to the expense of owning and maintaining a house? Those are questions that many seniors have, so Sales Manager Kimberly Thies at Eagle's Trace, an Erickson Senior Living community in Houston, Tex., began hosting roundtable meetings to discuss them.
That's where Meg Scott-Johnson, who was researching a move for her and her husband Robert, began to compare her options. She wanted to make sure they were making a wise financial decision, considering it pertained to planning for an unseen future.
After careful consideration, Meg and Robert chose Eagle's Trace and moved in April 2021.
Investing in the future
"I learned the benefits of having all levels of care available on campus," says Meg, noting the value provided at continuing care retirement communities like Eagle's Trace that offer a continuum of care in one location. "That was a top priority - if not the highest priority - when we chose Eagle's Trace, and we're so glad we did."
"You're only paying for what you need, if you need it," she explains. "Someone may never need additional levels of care down the road. So why should they be paying the price for that care now?"
Meg was also impressed by the other financial benefits of moving to the community. She liked that the predictable monthly service package allowed her to plan for the long-term and covered all she could ever need on campus - maintenance, including appliance replacement and repair; scheduled transportation; 24/7 security; landscaping, and more.
She also appreciated the value of the array of amenities covered, such as access to a fully equipped fitness center and swimming pool. The package also covers flexible meal plan options at the community's on-site restaurants, which offer fresh, flavorful dishes that make it easy to eat healthy or satisfy a craving for something sweet or savory.
"I am writing fewer checks," Meg notes. "There's just the one check for the monthly service package, and that covers so much. Financially, it is much simpler."
Worry-free lifestyle
Another financial benefit of living in a continuing care retirement community, which Thies explains at her roundtable meetings, is the relinquishment of household chores and expenses.
"People think that because their house is paid off, that that's the end of expenses. Yet, there is always the unexpected in the horizon. Suddenly, you may need a new roof or a new washer and dryer. It's important to be aware of these unpredictable, additional costs - costs that, oftentimes, people don't save up for."
"If you own a house, there's always a to-do list. Then there are taxes and homeowner's insurance," Thies continues. "And when a hurricane comes, or if you just have an aging house, there's a whole new set of tasks to do - things need to be repaired or replaced, and it's up to you to find somebody that does a good job for a reasonable price. That all takes time and effort."
Here, maintenance is never a concern, and it doesn't get in the way of things you enjoy, she says. "By living at Eagle's Trace, you can focus your energy on something that's more important: pursuing hobbies and interests."
'The right decision'
"Research has found that a holistic approach to living - including engaging with others - helps people live longer, healthier, and happier lives," Thies notes.
With all the opportunities for socialization on campus, residents are engaging in clubs and activities with newfound friends. And with the peace of mind fostered by a 90% refundable entrance deposit, seniors can be secure in their decision, as per the Residence and Care Agreement.
Meg has found that to be very true. Robert moved to assisted living in Bayou Vista, the community's continuing care neighborhood, eight months after they moved in. "We didn't know it would be that fast. It was the right time because we didn't know what was coming down the pike medically," she says.
Meg continues, "It's worth the investment for the quality of life and the availability of levels of care. You don't know what is going to happen in life. The fact that we had made the decision to move when we did is a blessing - it was the right decision."
To learn more about affordable, independent senior living at Eagle's Trace, request your free brochure to get the scoop on amenities, floor plans, and so much more.
Back