Enjoying the Great Outdoors at Eagle's Trace
By Jill Dutton
July 6, 2023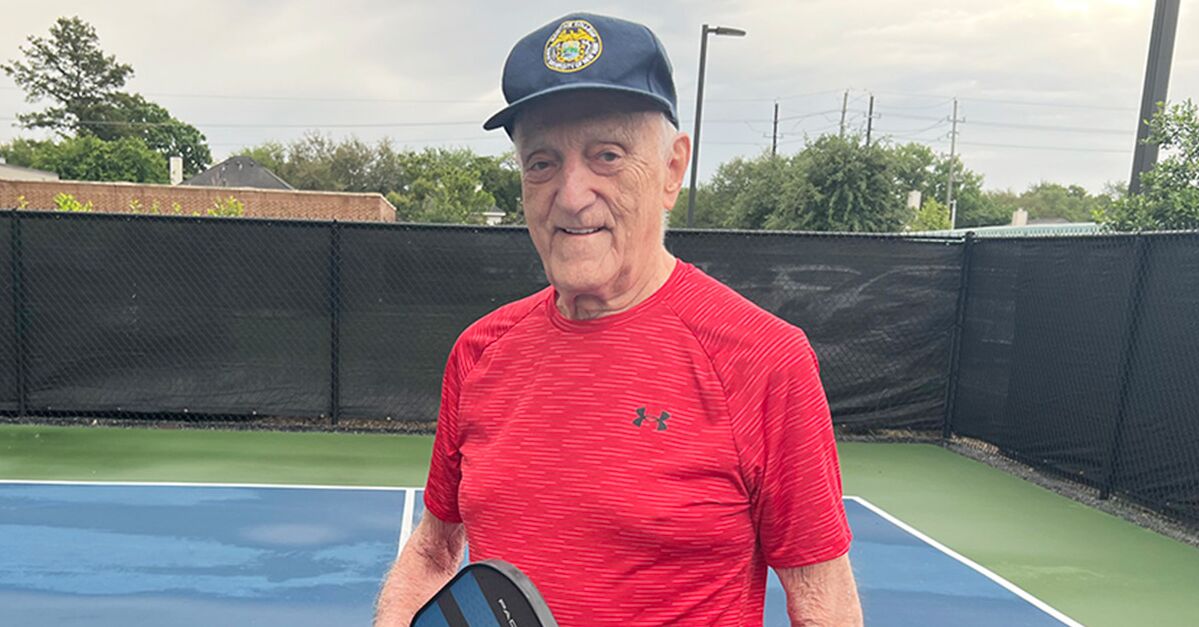 Avid pickleball player Richard Kidder believes that staying active, especially outdoors, is a key factor in his outstanding quality of life.
Since moving to Eagle's Trace, the Erickson Senior Living community in West Houston, Tex., a year ago, Richard and his wife Faye have found countless ways to exercise and socialize outdoors.
"I exercise a lot, and I don't want to stop because I'm afraid I'll get old," says Richard, with a chuckle. "I just turned 92 and I still play pickleball five days a week! Sports and staying active have always been important to us both."
Outdoor amenities abound
"Having an array of outdoor amenities is a key component to helping residents find fun and engaging activities to maximize their well-being," says Resident Life Director Kristen Kennedy.
Adults over 70 who spend time outdoors experience fewer sleep difficulties and improved mobility, according to research reported in the Journal of Aging and Health. Studies also show that going outside lowers blood pressure, reduces stress, and improves mood and focus.
Erickson Senior Living prides itself on offering safe, accessible outdoor environments that encourage residents to get active and socialize, enhancing their overall well-being. By taking advantage of these amenities, residents feel more energized and have greater focus and stamina.
"There is so much to do outside on our 72-acre campus!" Kennedy adds.
To soak up some sunshine, residents can stroll along the well-manicured walking paths and set up a picnic by the lake. Those with a competitive spirit appreciate the community's bocce ball games, putting green, and shuffle ball and pickleball courts.
Looking to entertain visiting family and friends? Dine alfresco at Stetsons Restaurant, which serves a variety of rotating, delectable dishes that are made-to-order by trained chefs.
Play ball!
Richard's foray into pickleball 15 years ago grew out of his lifelong passion for tennis, which he still plays.
Pickleball, quite like tennis in terms of play, wasn't nearly as popular when Richard took to the sport. Now, after developing his skills through years of practice, he boasts a robust and impressive record.  
"I've achieved 50 medals playing in competitions," says Richard, "and when a partner and I played in the Texas Senior Games, we went on to compete in three national competitions. We earned gold medals at all three events."
Needless to say, when the Kidders moved to Eagle's Trace, Richard was very happy to see pickleball's growing popularity. He joined the pickleball club, which meets frequently throughout the week.
Later, given his remarkable background in pickleball and a knack for coaching, Richard volunteered to teach his neighbors how to play.
"I teach people how to play so that everyone can feel comfortable playing with the club," he explains. "Plus, I want everyone to love the sport as much as I do!"
His active lifestyle doesn't just revolve around sports though. "When I'm not on the tennis or pickleball court, I'm usually walking our puppy April around campus," he says.
Canine companions appreciate the community's well-landscaped walkways and plush, open grassy areas just as much as their owners do.  
Investing in well-being
Erickson Senior Living has recently provided a multimillion-dollar investment, through its Well-Being Fund, to support the addition of enhanced health and well-being amenities and services to residents in its communities across the country.
At Eagle's Trace, funds were used to create a yoga platform and install a fountain for the lake.
"The platform is located at the Lakeside Wellness Garden," says Kennedy. "With views of the lake, sounds of the water foundation, and shade from the trees, it's the perfect setting to relax and meditate."
Thanks to concrete construction, the platform stays cool even in high summer for all the residents who participate in yoga and tai chi classes.
"Fostering mind-body connection, especially outdoors, is important to well-being," she adds. "It boosts your mood and overall happiness. Engaging with others though shared hobbies is definitely a plus too."
More outside your door
Thanks to resident-led efforts and investments in outdoor spaces, an increasing number of Eagle's Trace residents are finding ways to spend time outside, which is proving to be an integral part of their active, worry-free lifestyles.
"Being able to stay fit and active outdoors means a lot to the residents. I feel like I discovered an anti-aging secret here!" says Richard, who is looking forward to making the most of his retirement for years to come.
Invest in your future self at Eagle's Trace. From top-notch amenities to affordable, maintenance-free apartment homes, you are sure to live your retirement to the fullest. Request more information today!
Back