Eagle's Trace Residents Give Back to the Greater Community
By Jill Dutton
November 9, 2023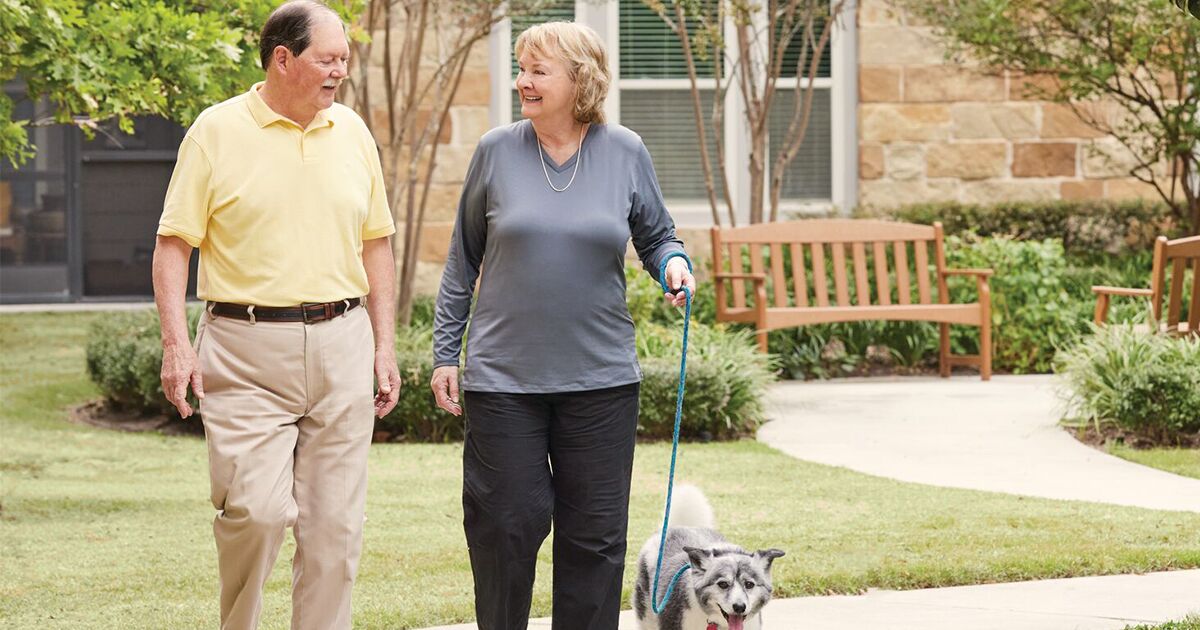 Since moving into a maintenance-free apartment home at Eagle's Trace, an Erickson Senior Living community in West Houston, Tex., John and Brenda Markle have used their free time to pursue a meaningful volunteer effort: prison ministry.
"Their appreciation of us--and what we're teaching--is evident," says John. "We benefit from the experience as much as the prisoners do."
Worry-free living
John and Brenda were among the first retirees to move into the new Austin Square residence building at Eagle's Trace two years ago. Like many of their neighbors, the couple is glad they waved goodbye to home maintenance and chores.
The community's monthly service package, which covers everything from the costs of heating and air conditioning to a chosen meal plan at on-site restaurants, has simplified their lives.
"We don't miss taking care of a house," says Brenda. "When we catch up with our former neighbors, they're always talking about having to repair some damage caused by the weather."
"I tell them that because we no longer have a house, all we do is enjoy the things that are most important to us," adds John.
Their prison ministry at the Wayne Scott Unit of the Texas Department of Criminal Justice, located just 45 minutes from Eagle's Trace, is one of those things.
A longtime passion
During a trip to Guatemala over a decade ago, John and his fellow missionaries visited prisons to share their faith. Inspired by his conversations with the inmates, John was eager to continue this ministry at home in Houston, Tex.
When he returned, he contacted Prison Fellowship--founded in 1976 with a mission to see lives and communities restored in and out of prison--for volunteer opportunities at a local men's prison.
Brenda followed suit. Five years ago, she began volunteering at Lucile Plane State Jail, a women's prison in Dayton, Tex. A retired psychotherapist, she put her years of knowledge and experience to work, educating prisoners on topics such as anger and forgiveness through therapy groups.
Soon after Brenda started her volunteer efforts, the couple was offered an opportunity to work together.
"The warden at Wayne Scott Unit wanted to start programs for the inmates there, so John and I toured the prison with the warden and came up with a Bible-based program. We started holding classes that address topics such as guilt and loneliness together," Brenda says.
She continues, "We share handouts every week and have group discussions at the end of each session. When they complete a class, they receive a certificate of completion. After nine months of classes, we hold a small graduation party. John will then write a letter to the parole board for each student describing the class to show they're working on improving themselves."
'Personal growth'
John and Brenda note that, since working together, they've grown personally as much as their students have.
"The first time they meet us, they're very quiet and listen intently," says John. "But by the completion of the class, they're really 'there' and present."
"It's rewarding," adds Brenda, who believes that her experiences at Eagle's Trace have contributed to her personal growth, as well. "For me, retirement is a new chapter of possibilities rather than an endpoint. There's freedom to pursue your interests here."
She continues, "There's a lot of socialization at Eagle's Trace. Had we stayed in our house, we wouldn't have got out as much or been around other people."
Brenda loves having an array of social events, activities, and volunteer opportunities to choose from--both on campus and nearby. At Eagle's Trace, she enjoys playing pickleball, taking French classes, and serving on the health and wellness committee.
John, who continues to work as a missionary, appreciates being able to travel without worrying about their apartment home.
"In fact, John is away on a mission trip right now!" says Brenda. "I feel totally safe by myself. Everyone is friendly, including the staff, and you get to know your neighbors. I'm well-cared for here."
The perfect place
Living at an Erickson Senior Living community empowers retirees to live their best lives. With a maintenance-free lifestyle and engaging clubs and activities to explore, Eagle's Trace is the perfect place to make the most of your retirement.
To learn more about affordable, independent senior living at Eagle's Trace, request your free brochure to get the scoop on amenities, floor plans, and so much more.
Back