Eagle's Trace Residents Find the Key to a Healthy, Happy Life
By Jill Dutton
October 27, 2022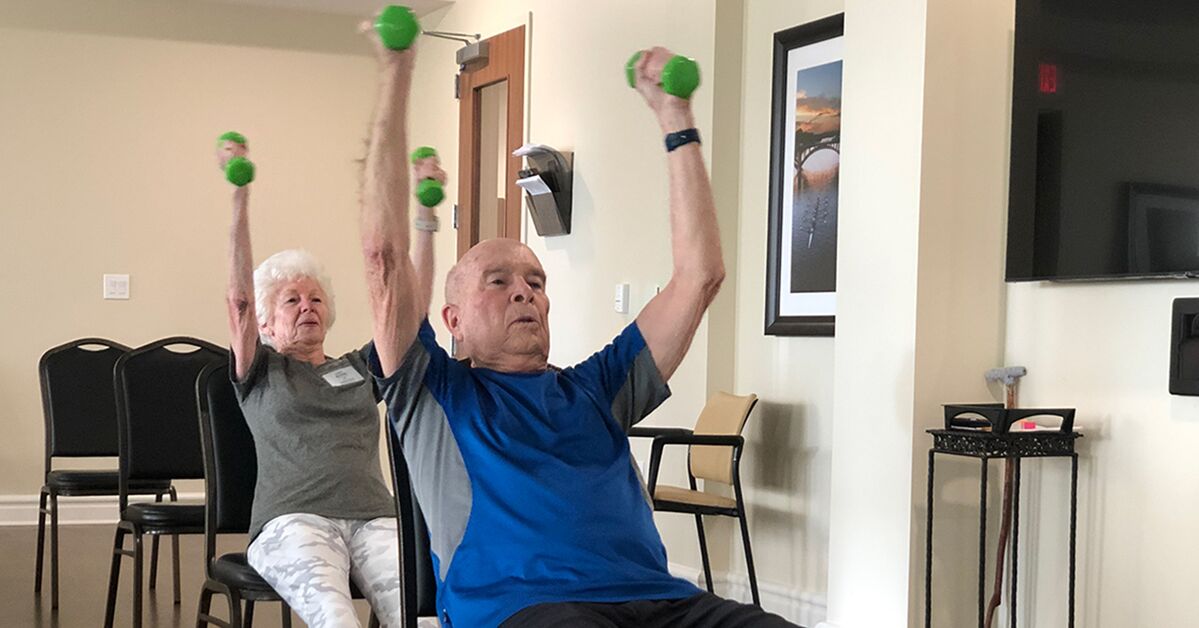 After Bob and Lucy Blome moved to Eagle's Trace, an Erickson Senior Living community in West Houston, Tex., finding activities that complemented their fitness-focused lifestyle was at the top of their to-do list.
Luckily, the active couple didn't have to look far to find classes and amenities that would support their physical, mental, and spiritual well-being.
"In the short time that we've lived here - just over six months - we've already tried almost every exercise class they offer at the fitness center," Lucy says. "We love to exercise!"
Lucy's favorite is Rhythm and Grooves, where "You move constantly to music for 45 minutes. And the instructor is great. She makes exercising fun," she says. Bob says he enjoys two classes: Morning Mobility, which involves 45 minutes of stretching, followed by Cardio Pump later in the day to get his heart rate going.
Exceeding expectations
Given the couple's dedication to fitness, you'd think it might be hard to meet their standards, but that is far from the case at Eagle's Trace.
"Before moving to Eagle's Trace, Bob and I had a membership at an exercise facility where we had a personal trainer for 14 years," Lucy says. "We came here with some trepidation thinking, 'Oh, it's not going to be as good as what we had,' but the wellness options here have exceeded our expectations."
Eagle's Trace - and Erickson Senior Living - recognized the positive impact that amenities and activities have on residents' satisfaction and overall well-being. As a result, earlier this year, Erickson Senior Living provided a multimillion-dollar investment, through its Well-Being Fund, to support the addition of enhanced health and well-being programs and services to residents.
Dedicated to well-being
Incorporating findings from the company's research partnership with Harvard University and the Benson Henry Institute (BHI) for Mind Body Medicine at Massachusetts General Hospital, these additions are designed to enhance the physical, emotional, and social well-being of residents.
In 2021, nearly 100 residents at four Erickson Senior Living communities participated in the Embrace Well-Being and Flourish study, which used the BHI's SMART (Stress Management and Resilience Training) curriculum to provide them with practical strategies for managing stress and improving resiliency.
Results of the study showed statistically significant changes, including increases in resilience, coping, and positive emotions, while decreases in distress and social isolation were seen.
"Through the Well-Being Fund, we are able to apply evidence-based research to further enhance the programs, amenities, and services available to better enable residents to achieve optimal health outcomes," notes Dr. Margaret Kimbell, vice president of community living for Erickson Senior Living.
Seeing the investment
Residents at all Erickson Senior Living communities now have greater access to tools and strategies that support resilience and overall health and well-being. Examples include Wellbeats, a new fitness app which allows residents to participate in on-demand and live exercise, yoga, and meditation classes from any location.
At Eagle's Trace, the fitness center is being updated with NuStep and Matrix elliptical machines, recumbent bikes, and treadmills, as well as Echelon bikes, rowers, and Reflect fitness mirrors. Enhanced indoor and outdoor amenities include meditation spaces, a refurbished putting green, a new pickleball court, and an enlarged dog park.
Jeanine Marak, fitness coordinator at Eagle's Trace, says that the investment in these updated amenities has already paid off.
"We've found that if residents strive to better their well-being, they gain more energy," says Marak. "When they participate in fitness classes or activities, they're socializing while endorphins are flowing, which improves mood and is good for brain health. There's lots of laughter, too. It's all thanks to being around people!"
'Fountain of youth'
Bob and Lucy agree that well-being increases from having a sense of community, as the friends they've made at Eagle's Trace have had a significant impact on their health and happiness.
"After being here several months, I've reached the conclusion that living at Eagle's Trace - with the combination of social activities, exercise, and eating well - will extend our lifespan," says Bob. "And for that, we're thankful."
Marak concurs. "I believe that well-being is truly the fountain of youth," she says. "I see residents blossom in so many ways. They're healthier, happier human beings here, and we hear them say so all the time."
Invest in your future self at Eagle's Trace. From top-notch amenities to affordable, maintenance-free apartment homes, you are sure to live your retirement to the fullest. Request more information today!
Back