Eagle's Trace Residents Customize Apartment Homes to Reflect Their Lifestyle
By Jill Dutton
April 19, 2023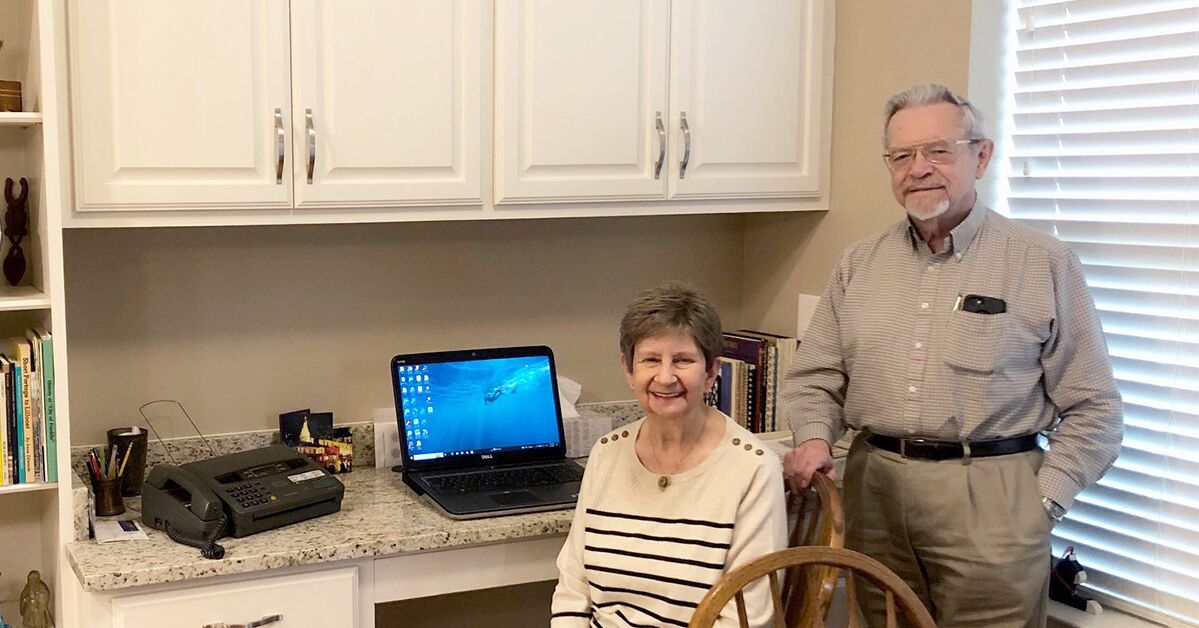 At Erickson Senior Living communities, residents appreciate the opportunity for a fresh start - and the ability to create beautiful spaces where they can live the carefree retirement they've always imagined.
Ken and Amber Wickwire found their fresh start at Eagle's Trace, an Erickson Senior Living community in West Houston, Tex., in late 2021. It was gratifying, Ken says, "Knowing we could have our apartment home designed perfectly to fit our lifestyle."
Better yet, the Wickwires learned that they could redesign and remodel their apartment home even before moving in. 
"When I listed all of the changes we wanted, Custom Interiors Coordinator Jessica Ceballos gave us the green light. The fact that she was available to help us plan everything was an added benefit," he says.
Help along the way
With any apartment home customization, the process begins with a consultation.
"When people move to a senior living community, they want a home that suits their new lifestyle," notes Ceballos. "After years of maintaining rarely used spaces, they appreciate the opportunity to design a living space that meets their current needs."
Ceballos meets with future residents, either in their desired apartment home or in her office, to discuss their goals for their new space.
"First, using the furniture that you'd like to bring with you, we work out an ideal floor plan. This helps us determine where there's extra space to play around with," explains Ceballos. "Whether it's adding specialty items, such as built-in bookcases or cabinets for storage space, or simply trying a new paint color, I'm here to help determine the best way to achieve those changes."
What suits you
Ken and Amber were drawn to the San Luis floor plan, which boasts two bedrooms as well as a den. The couple envisioned the second bedroom as a recreation room and the den as an office space.
"I knew I wanted cabinets in my office in the den, so I worked up a sketch of what my previous office looked like," says Ken. "Jessica and the preferred contractor that we worked with did a great job! The quality of workmanship is outstanding. The contractor even made some helpful modifications, such as adding a removable panel for computer wires that we didn't have before."
Ken notes that while having a separate work space for Amber wasn't on their list of priorities, they were pleasantly surprised when Ceballos found a workaround.
"Amber and I don't like to be in the same room when we're both working," jokes Ken, "so the option to have two separate work spaces was great!"
Amber's workspace, a built-in desk in the kitchen, is the perfect marriage of form and function.
Something new, something blue
Florida natives Fred and Joan Brofazi were also excited to learn that they could customize their Eagle's Trace apartment home before their 2022 move.
The Brofazis knew that they wanted space to spread out, so when a combination apartment home - created by merging three apartment homes into one - became available, they jumped at the opportunity.
"It's 2,200 square feet!" says Joan. "It was important for us to have additional space. Fred has mobility issues, so we needed the room for a lift chair."
Also important, especially to Joan, was decorating the primary bedroom in coordinating shades of her favorite color.
"I always wanted a blue bedroom!" she says.
After blue carpeting was installed, the walls were painted a dreamy light hue called "Icelandic Blue," and Joan replaced the flat globe light fixture above the bed with a unique chandelier that continues the monochromatic theme.
"I've always wanted a chandelier, but I didn't want to spend a lot of money on it," she says. "One day, I found a Swarovski crystal chandelier online. It has clear and long, dark blue crystals. It looks fabulous in the bedroom, and it really completes the look I was wanting!"
Once their apartment home customizations were complete, the Brofazis moved in with help from their daughter and son-in-law, who live in Houston.
'We have it all'
The Wickwires and the Brofazis agree that their personalized apartment homes are just the tip of the iceberg when it comes to what they enjoy about their new lifestyle at Eagle's Trace.
Well established in their new surroundings, Ken and Amber now take full advantage of the many amenities and activities that are available right outside their door.
"There's lots of walking areas. I play billiards with other residents, and we also enjoy a group that hosts simulated TED Talks, which is very interesting," says Ken. "Between our spacious apartment home, numerous amenities, and quality dining, we feel as if we have it all at Eagle's Trace!"
Invest in your future self at Eagle's Trace. From top-notch amenities to affordable, maintenance-free apartment homes, you are sure to live your retirement to the fullest. Request more information today!
Back