Eagle's Trace Expands to Meet Demand for Active, Vibrant Lifestyle
By Jill Dutton
August 9, 2023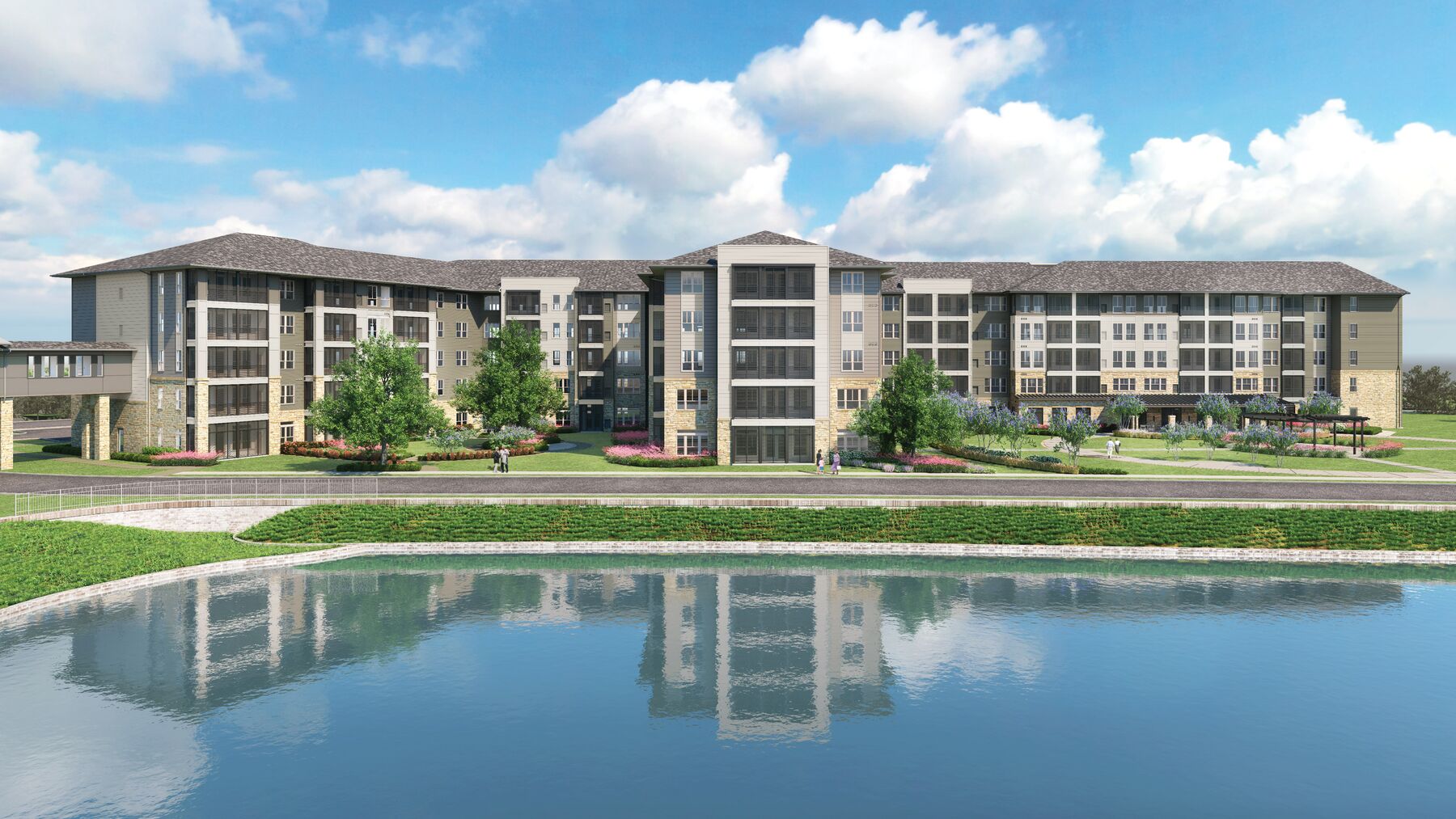 To meet the growing demand for carefree retirement living, Eagle's Trace, an Erickson Senior Living community in West Houston, Tex., recently opened two new residence buildings: Mockingbird Plaza and Cardinal Run.
"The Erickson Senior Living lifestyle continues to grow in popularity, and for good reason!" says Sales Director Pam Burgeson.
Since opening in 2005, Eagle's Trace has established itself as the area's premiere senior living community by offering maintenance-free apartment homes and an array of amenities and activities.
In addition to 144 bright, modern apartment homes, Mockingbird Plaza and Cardinal Run bring two new restaurants and a lakefront bar and lounge to the community.
Delicious dining
Cardinal Run and Mockingbird Plaza - as well as the new dining venues - were named after treasured Texas birds.
"Cardinals fly through Texas year-round," notes Burgeson. "They flutter around campus all the time!"
The Cookhouse, a brand-new exhibition dining concept, and 1927, whose name reflects the year the mockingbird became the Texas state bird, offer a variety of flavorful, nutritious dishes. Both are located on the first floor of Mockingbird Plaza.
"Residents are loving The Cookhouse, where they can look into the kitchen to see our chefs at work," says Michael Heilman, dining services director. "The menu features international dishes that rotate each week. Residents can dine on Thai and Italian options one week, then sample from a menu that includes Chinese and Indian cuisine the next."
1927 serves up fresh takes on regional classics, such as Tex-Mex and steaks.
Looking to sip on a cocktail and snack on some light fare with friends? Be sure to grab a table at The Perch, the community's new lakeside lounge.
Move-in ready
James and Susan Ephraim, who found the perfect apartment home for their lifestyle in Cardinal Run, have been eyeing Eagle's Trace for a few years.
"We decided that we didn't want to wait until later to move," Susan says. "We wanted the decision of where we would live in retirement to be our own, and not that of our kids. To learn more about what Eagle's Trace had to offer, we got on the priority list."
Priority list members get notified about new construction, gain right of first refusal on desired apartment homes before the general public, and can experience community life early through exclusive events.
"The more we saw, the more we liked Eagle's Trace," notes Susan. "We attended luncheons and welcome events, met other prospective residents, and got a feel for the lifestyle."
When construction on Mockingbird Plaza and Cardinal Run was announced, the couple wasted no time in choosing a floor plan. Their two-bedroom apartment home, complete with a lakefront view from their balcony, is exactly what they wanted.
"Once we get settled in here, we're going to join some clubs and make even more new friends," she says.
Convenience matters
Former priority list member Dian Saavedra is another new Cardinal Run resident.
Having lived in her house for 41 years, Dian took her time researching the retirement communities in her area. After joining the priority list, she attended informational and social events - but not for long.
"I quickly realized that Eagle's Trace was the best choice," Dian recalls. "I like the people I've met, and everyone, residents and staff included, are just so happy! It seems as if everyone feels fortunate to live and work at Eagle's Trace. I think the lifestyle offered is a great way to age."
The opportunity to choose a brand-new apartment home was important to Dian as well, as she wanted to secure a location with views of the lake.
"And, right outside my front door is one of the community's climate-controlled walkways, which connect all of the buildings on campus," she says. "I love the fact that you can get anywhere in the community without going outside in the rain."
Dian is still considering how many of the 135 clubs she'll join, but she knows that with interests in quilting, jewelry making, bird watching, and woodworking, she'll have a jam-packed calendar.
Small-town living
"Everyone is so excited about the community's expansion - existing and future residents alike," notes Burgeson. "The best part is, it doesn't matter where you live on campus. Everyone has access to the new amenities because Eagle's Trace is like a small town!"
With a beautifully landscaped campus, an array of activities and clubs on site, and new residence buildings and dining options, there's never been a better time to move to Eagle's Trace.
To learn more about affordable, independent senior living at Eagle's Trace, request your free brochure to get the scoop on amenities, floor plans, and so much more.
Back