Eagle's Trace is the choice for a smart move
By Sara Martin
February 11, 2021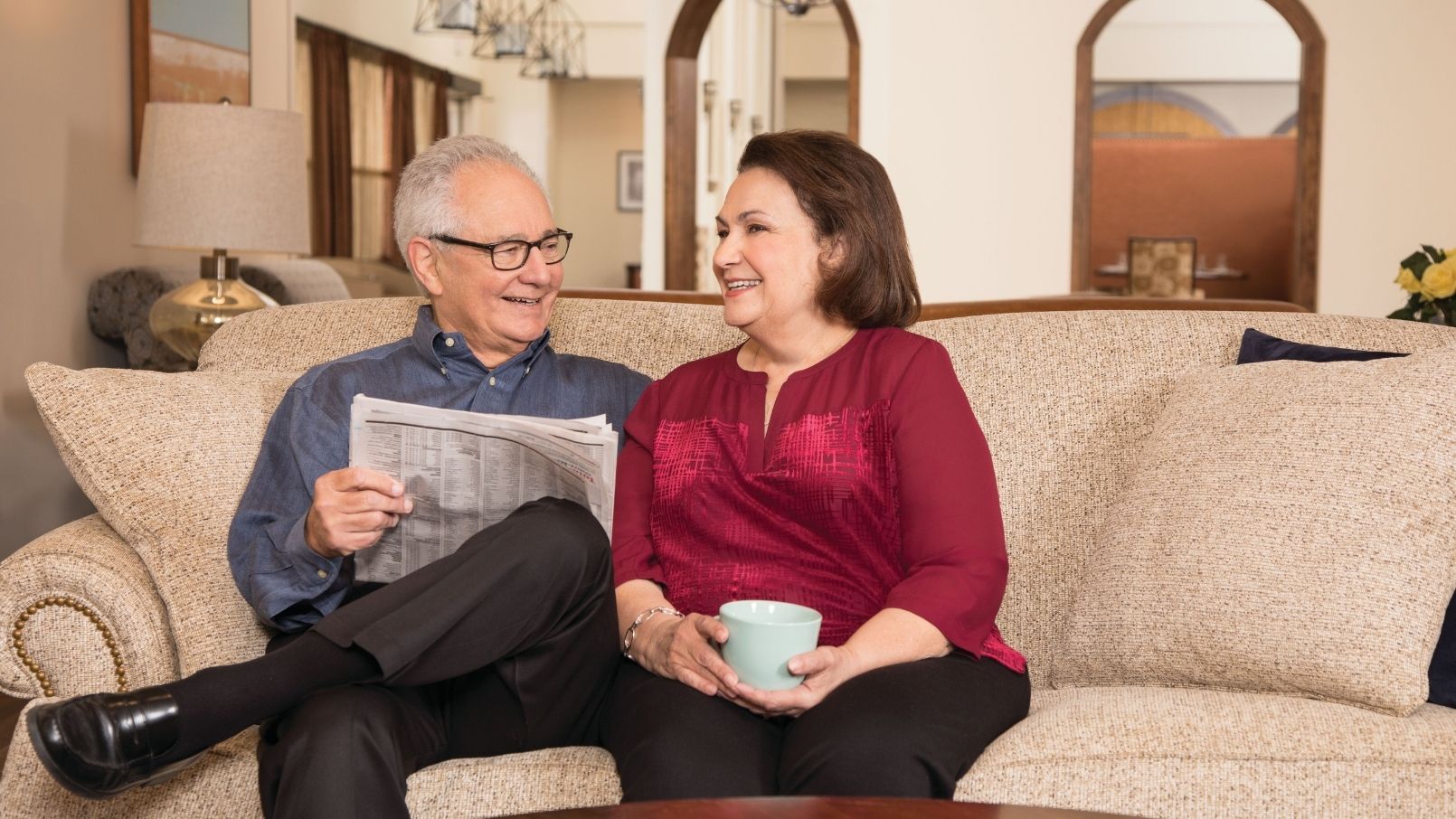 It's been four years since Henry and Louise Gabb moved to Eagle's Trace, the Erickson Living-managed community in West Houston, and the couple says the lifestyle is better than they anticipated.
"We've expanded our circle of friends, there are plenty of activities to keep us young, and Eagle's Trace is home to an amazing group of people," says Henry, who works as an independent wholesale broker for retail properties and recently finished a three-year term on the Resident Advisory Council at Eagle's Trace, two of those years as chairman of the council.
Henry and Louise also feel they made a smart financial decision in moving to Eagle's Trace.
"Eagle's Trace offers a great value for what we're receiving," says Henry, who specifically cites the maintenance-free lifestyle. The strength of the network of Erickson Living-managed properties and the home for life assurance were also key drivers in the economic benefits of choosing Eagle's Trace.
National network of managed communities
"The economy of scale offered by our size affords us the opportunity to reduce expenses for our residents," says Henry. "By testing and sharing ideas with other Erickson Living-managed properties, we develop innovations and best practices. Erickson Living and Eagle's Trace are setting the standard and the forward thinking that translate to stability and progress."
Set on 72 acres, Eagle's Trace is home to more than 960 residents who enjoy spacious, maintenance-free apartment homes, all with easy access to a host of amenities and services, including a swimming pool, fitness center, restaurants, convenient on-site medical center, CVS pharmacy, and bank. There are 135 resident-run clubs and activities to keep body, mind, and spirit thriving, plus the peace of mind that comes from having the full continuum of care offered on campus.
Sensible financial structure
The financial structure at Eagle's Trace has two components, an entrance deposit that's 90% refundable to residents or their heirs and a monthly service package that covers almost all regular living expenses, including utilities, flexible meal options, maintenance, fitness center and swimming pool, regularly scheduled transportation, 24-hour security and emergency response, and much more. Full details are in the Residence and Care Agreement.
"The first time we heard of Eagle's Trace was when our neighbors, Ed and Janelle Armstrong, reserved an apartment while the campus was still under construction," says Henry. 
As a fee-for-service community, Eagle's Trace residents only pay for advanced levels of care if and when they need them, unlike life care communities, which require residents to pay for health care services they may never use.
Peace of mind
Recently, the Gabb's refrigerator was giving them trouble.
"One email to general services and they ordered a new refrigerator at no cost to us," says Henry. "It's much better than trying to find a repairman. When we lived in our townhouse, we had a leak in the roof above our bedroom. It took several inspectors and repairmen over a year to find and fix the leak. Now, I don't worry about maintenance or repairs."
Long-term peace of mind is another benefit of the Eagle's Trace lifestyle.
As part of its home for life commitment, Eagle's Trace maintains a Resident Care Fund, designed specifically to assist eligible residents who outlive their resources. No one has ever been asked to leave the community because of a genuine inability to pay. Funds are raised through a combination of annual donations, legacy-giving campaigns, and the generous support of Erickson Living. 
"Eagle's Trace provides financial value and security to residents through a transparent sales process, predictable expenses, and the long-term benefits of our 90% refundable entrance deposit and Resident Care Fund," says Sales Director Pam Burgeson. "Our residents enjoy a quality lifestyle with exceptional service at a great value."
To learn more about the financial value of life at Eagle's Trace, visit https://www.ericksonliving.com/eagles-trace/pricing or call the sales office at 281-661-1403.
Back