Demand for the Worry-Free Lifestyle at Eagle's Trace Continues to Grow
By Jill Dutton
September 19, 2022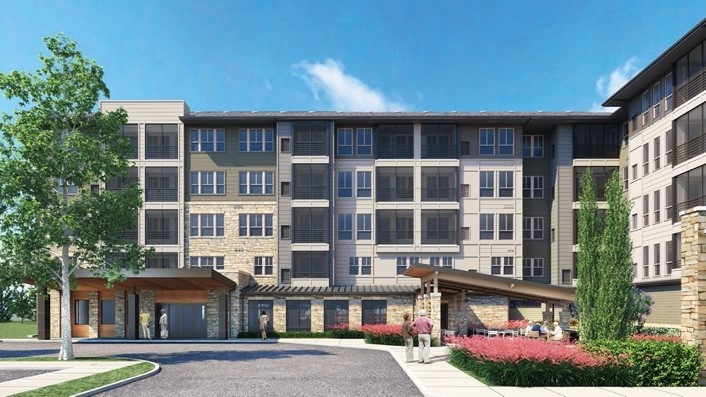 To meet the high demand for the lifestyle at Eagle's Trace, an Erickson Senior Living community in West Houston, Tex., two new residence buildings - Mockingbird Plaza and Cardinal Run - are currently under construction.
Pamela Burgeson, sales director at Eagle's Trace, says the booming real estate market and an uptick in retirements for people 65-plus are increasing demand. "Interest has continued to grow over the last number of years. For us to be able to meet the needs of the baby boomer generation - the largest senior population in history - we knew we needed to add on," says Burgeson.
And with both residence buildings having a projected opening date of summer 2023, savvy retirees are reserving their desired apartment homes now.
What's new?
Mockingbird Plaza and Cardinal Run uphold the third neighborhood's theme, Texas birds, to a tee. And as part of a larger community, future residents will not only gain access to what the neighborhood has to offer, but to the amenities, services, and clubs of the entire 72-acre campus.
Eagle's Trace is well-known for its beautifully landscaped walking trails (and climate-controlled walkways, for those hot and humid days), an 8.5-acre lake, a fitness and aquatic center, an on-site medical center staffed with trained professionals, and plenty of resident-led clubs to fill your social calendar.
At Mockingbird Plaza, residents will find a cocktail lounge called The Perch and two restaurants. Cookhouse, an exhibition dining venue, features an open kitchen where guests can watch talented chefs prepare their meals. Offering a more traditional dining experience, 1927 Restaurant provides a variety of entrée options - and pays tribute to the year that the mockingbird became the state bird of Texas.
Residents at both buildings will enjoy outside patio spaces, stunning lake views, and nine new floor plans to choose from. Future residents can also visit the neighborhood's card rooms, meeting rooms, and conference room.
Priority list perks
Construction on Mockingbird Plaza and Cardinal Run began at the end of 2021, and excitement has only continued to grow - for both future residents and staff - since then.
"We want people to discover the wonderful carefree lifestyle here!" says Burgeson. "By adding new apartment homes to our community, we know that this next generation will truly be able to live their lives to the fullest in retirement."
Burgeson notes that priority list members have already started to reserve apartment homes and embrace the worry-free lifestyle.
"We announced the buildings to our priority list members this past April. They get first right - the first opportunity - to choose their apartment home."
To join the priority list, a $1,000 deposit goes toward your new apartment home or is fully refundable, should you decide to change your priority status. A nonrefundable $150 application fee per person is also required. When someone joins the priority list, that day is listed as their priority date. When a preferred floor plan becomes available, the apartment home is offered to members based on their priority date.
Priority list members can visit the campus to enjoy top-notch dining, indulge in salon and spa services, meet current and prospective residents, and attend social events.
"Priority list membership is incredibly valuable," says Burgeson. "Prospective residents can familiarize themselves with the community, take advantage of the services here, and connect with others who have already made the decision to move. Most importantly, they position themselves to get exactly what they want."
A climbing demand
Given the current real estate market, Burgeson says she's seeing people's houses sell quickly. "But with rising interest rates, we may start seeing home prices drop. Now is the time to sell!"
Burgeson notes that Eagle's Trace offers priority list members ways to capitalize on today's market. "Our real estate professionals can suggest many different tools to use - whether it's lease-backs until their new apartment home is ready or temporary living arrangements." Priority list members can also contact the community's personal moving coordinator to ask for help with planning a moving timeline and coordinating with downsizing and packing services.
Even if you feel like you're not ready to move, joining the priority list allows you to dip your toes into the community's lifestyle and learn why demand is at an all-time high.
"The priority list is a first-step introduction to what Erickson Senior Living communities are all about," says Burgeson. "Plus, it's risk free! You can come stay on campus and have a little mini vacation here in one of our guest suites."
To learn more about affordable, independent senior living at Eagle's Trace, request your free brochure to get the scoop on amenities, floor plans, and so much more.
Back