Career Advancement Opportunities in Healthcare, Generous Benefits Available at Eagle's Trace
By Jill Dutton
June 14, 2023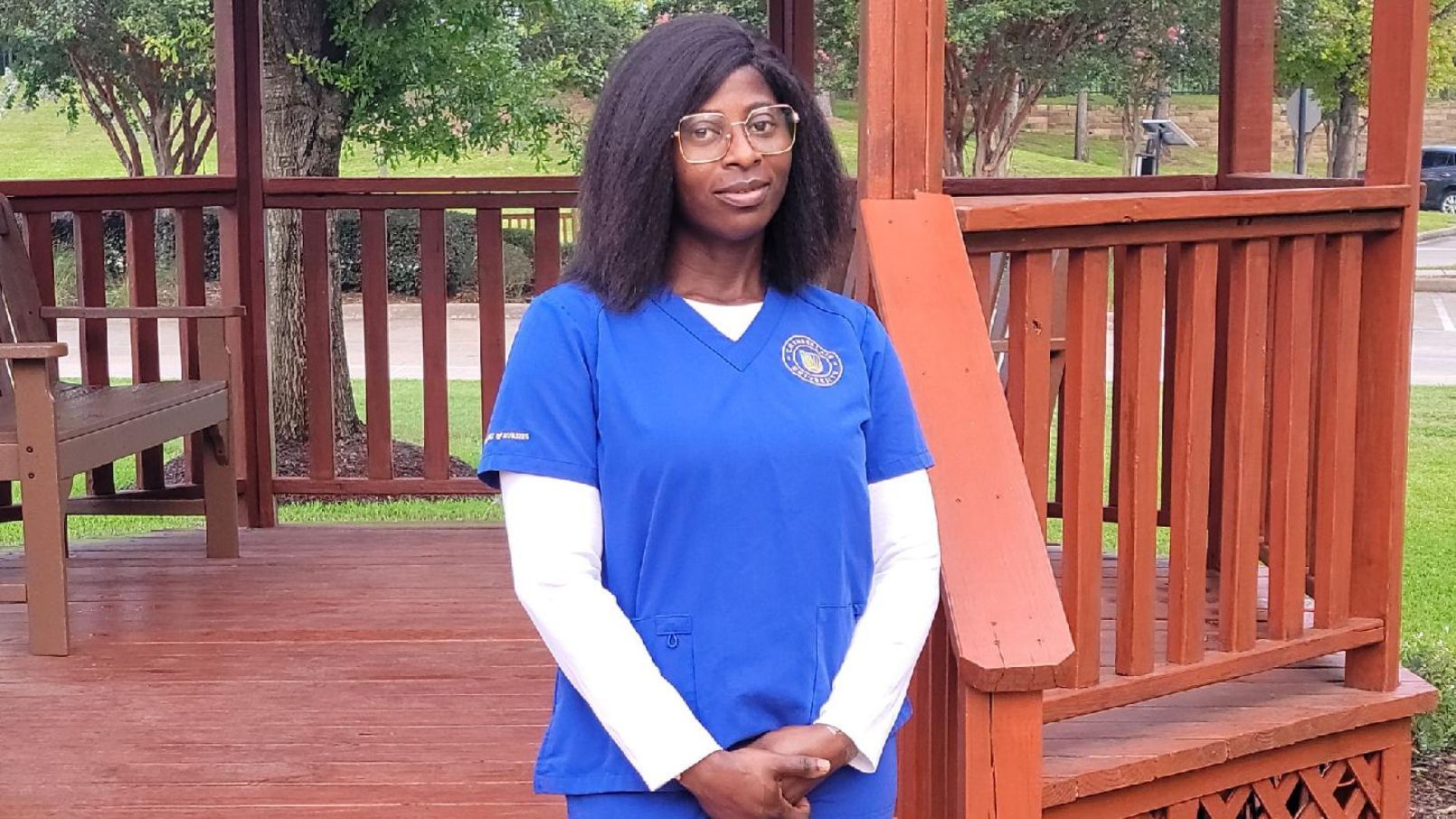 Tolani Ogundipe chose a career in the medical field because she's passionate about caring for others. When she discovered Eagle's Trace, an Erickson Senior Living-managed community in West Houston, Tex., she knew she'd found a home to express her caring nature while working with the residents.
"It is such a great environment at Eagle's Trace," Tolani says, "and a perfect place to exhibit my potential while doing what I love – and the staff and residents all feel like family."
The Erickson Senior Living Difference
Since 1983, the Erickson Senor Living network of communities has been devoted to one mission—helping people live better lives. The company is among the most respected names in senior living with a growing portfolio of retirement communities across the country. We see each day how those driven to make a difference and feel passionate about what they do thrive in an Erickson Senior Living career.
Vickie Antoine, Human Resources Director at Eagle's Trace, explains: "Seeing the career success achieved by healthcare team members has been special and a direct reflection of the limitless growth and advancement opportunities at Eagle's Trace. With career tracks in nursing, clinical management, resident care and more, Eagle's Trace is offering more than just a job…it's a meaningful career and professional growth opportunity in which we stress work-life balance."
Meaningful Career Opportunities
When people join the Eagle's Trace team, they gain more than a great job in a booming industry – they enjoy unparalleled access to an array of rich experiences, knowledge, and opportunities that will prove invaluable to their personal and professional growth. What is also rewarding for them is that, like Tolani, they get to impact lives for the better!
Generous Employee Benefits and Rewards
Eagle's Trace's comprehensive total rewards go far beyond an average benefit plan. In addition to multiple healthcare plans and choices, employees can take advantage of a full range of services that enable them to build their careers, have a healthy work-life balance, and plan for their future financial security. Additionally, those joining the health care team (e.g., RNs, LPNs, CNAs,) may qualify for a sign-on bonus; contact the community for specific details.
One benefit that stood out for Tolani, and has helped further her career at Eagle's Trace, is the tuition reimbursement program. 
Tolani started her career path at Eagle's Trace as a CNA. With the assistance of the tuition reimbursement program, Tolani has achieved her CMA, and is now in school for her BSM (Bachelor of Science and Medicine). With every accreditation, she expands her options in the healthcare field.
"Each step of the way, I've been encouraged and offered opportunities to excel in my field. I have one more semester until I graduate, and then I will transition to working as a nurse," Tolani says.
"The tuition reimbursement provided the benefit that allows me to further my career. Working here gave me the boost and the motivation to further my education."
In addition to tuition reimbursement, other benefits include 401K, generous paid time off, (including volunteer hours), Erickson Senior Living University class offerings, rapid advancement opportunities, on-site employee health and wellness centers, employee discount programs, and so much more.
"There are so many opportunities for growth at Eagle's Trace," Tolani says. "Alongside the growth I've experienced, I've watched so many staff members move up to higher positions. We're recognized for our accomplishments, and we're notified when there are opportunities for growth. It just depends on the individual to take the next steps."
Interested in healthcare or other exciting career opportunities at Eagle's Trace? Browse the Erickson Senior Living career website to search and apply for available positions. 
Back