Retire Your Worries at Devonshire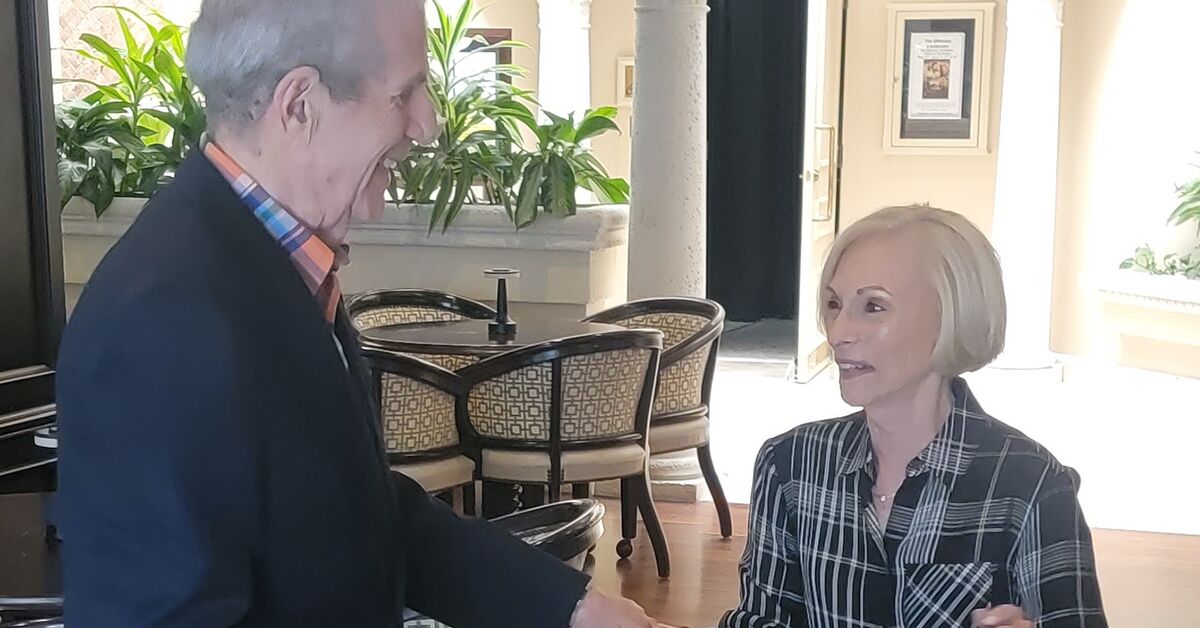 Before moving to Devonshire, the Erickson Senior Living community at PGA National in Palm Beach Gardens, Fla., with his wife Melanie, Dr. Mayer Liebman did his homework.
"I prepared a spreadsheet comparing the cost of living in our old house to the cost of living at Devonshire," he says. "What we found is that, at Devonshire, we'd enjoy many more amenities and surround ourselves with happy neighbors, all without spending more."
Devonshire's financial model, which includes a monthly service fee that covers everything from appliance repairs to gourmet meals, helps community members manage their budgets with ease.
"In our previous house, we paid country club dues, HOA fees, property taxes, and maintenance. None of these things are a concern anymore!" explains Mayer.
High value
Conducting their due diligence, Mayer and Melanie researched a number of retirement communities before choosing Devonshire.
"What we loved about Devonshire was the location, the size of the apartment homes, and all the people we met," says Mayer. "Everyone is so friendly and nice. The sales team was willing to answer any questions, and we were never rushed into making a decision."
Once the couple learned more about the community's amenities and financial model, they were sold.
"The amenities offered at Devonshire are far superior to any other place we looked at," says Melanie.
Living at Devonshire provides a high value, as community members enjoy membership at PGA National Resort and Spa and have access to a state-of-the-art fitness center, a newly renovated swimming pool, a full-sized croquet court, five restaurants, and beautiful walking trails.
Plus, the wide range of resident-run clubs and activities provides a wealth of opportunities to meet like-minded friends.
"Life is so enriching now," says Mayer. "We go out to dinner every night, and we always see and talk to people there. We visit the movie theater, attend lectures on campus, and take exercise classes. We even go and dance. We never did that before - dancing during the week!"
One predictable cost
Thanks to the monthly service fee, these wonderful amenities and activities come at no extra cost to community members.
In fact, the fee also covers the cost of basic cable television, maintenance and repairs, 24-hour security and emergency response, a meal plan for the community's premium restaurants, regularly scheduled transportation, housekeeping, valet parking, and concierge support.
"The monthly service fee makes life easier and helps us budget," says Mayer. "There is one cost for everything. It eliminates financial stress. When you live in a house, you have to worry about upkeep, water leaks, and air conditioners breaking. That's fine for a period of your life, but you come to a point when you don't want to deal with it anymore."
Peace of mind
At the heart of Devonshire's financial structure is the entrance fee, which secures the apartment home of your dreams. Choose from two unique options to meet your budget: a 90% refundable entrance fee* or a traditional entrance fee.
The industry-leading 90% refundable entrance fee also provides peace of mind for the future - if or when you leave the community, your investment will be returned to you or your beneficiaries.
"Many people worry about money and leaving a legacy, but at the same time, you shouldn't deprive yourself of living fully and being happy with where you are living," says Melanie. "At Devonshire, we can do it all! We don't have to stress about our financial future. Instead, we are enjoying ourselves and meeting wonderful people."
A secure future
Further strengthening Devonshire's appeal is the Life Care Commitment,** which is designed to protect community members from the rising costs of health care by guaranteeing access to higher levels of care at Chatsworth, the on-site continuing care neighborhood.
"It was important to us to live in a continuing care retirement community," says Melanie. "We didn't want to move again, if something happens to one of us. We toured Chatsworth, and it's gorgeous over there. We know that if our needs change, we have a place to go and someone will take care of us. We love it at Devonshire!"
"Moving to Devonshire was the best decision we ever made," agrees Mayer.
Invest in your future self at Devonshire. From top-notch amenities to affordable, maintenance-free apartment homes, you are sure to live your retirement to the fullest. Request more information today!
*As per the Residence and Care Agreement.
**Refer to the Residency Contract for full details and ancillary charges.
Back