Reaping Financial Rewards at Devonshire at PGA National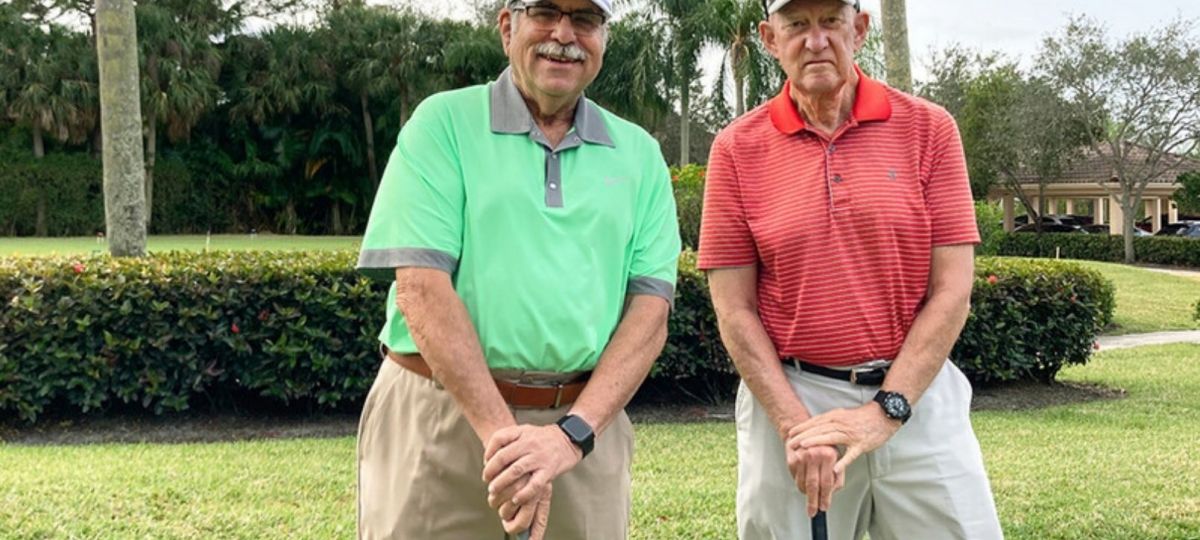 "Never in my life have I met friendlier people. They're living life to the fullest and doing more in their golden years, not less," says Phil Fishman.
Phil and his wife Myra are among the many community members at Devonshire, the Erickson Senior Living community at PGA National in Palm Beach Gardens, Fla., who enjoy numerous financial benefits because of the community's carefree lifestyle.
Devonshire provides a comprehensive monthly service fee, a host of top-notch services and amenities, and a life care commitment, allowing community members to balance their budgets with confidence.
Planning ahead
After moving from their home in Cherry Hill, N.J., in 1999, Phil and Myra spent 22 years living in Admirals Cove, Fla. The couple then moved to Devonshire last August.
"We knew it was time to plan for the future," says Phil. "It was important to us to be proactive, rather than having to make a decision under unfavorable circumstances. You never know what tomorrow brings. We were looking for stability, both long-term and day-to-day. We recognized Devonshire as a place where people come to really make the most of their lives."
Predictable costs
Sales Director Christine Hansen says that many people, like Phil, are impressed by the financial stability of Erickson Senior Living, a national leader in senior living and health and wellness. Based in Baltimore, Md., Erickson currently develops, operates, and manages 21 communities across 11 states - including Devonshire.
At the heart of Devonshire's financial structure is the convenient and predictable monthly service fee, which covers the cost of expenses that any homeowner might incur, such as property taxes, basic cable television, home and seasonal maintenance, and major repairs.
Thanks to the monthly service fee, Devonshire community members also enjoy a wide range of distinctive amenities, including 24-hour security and emergency response; convenient transportation; housekeeping; and access to the fitness center and pool, and valet parking.
It also includes flexible meal plan options at Devonshire's five premium restaurants, which offer more than 25 made-to-order entrées per day, making it easy to eat healthy or satisfy a craving for something sweet or savory.
'Much simpler life'
Originally from Pittsburgh, Pa., Bob Frasier and his wife Joan looked at several retirement communities before moving to Devonshire in 2013.
"We were surprised by how much simpler life was at Devonshire," says Bob. "Instead of writing multiple checks for the mortgage, lawn care, electricity, gas, water, and inevitable repair costs, we write one check each month." 
And regardless of what apartment home you choose, you'll reap the numerous benefits of the world-class amenities and services.
Community members gain membership privileges at the PGA National Resort and Spa, as well as access to a state-of-the-art fitness center, a newly renovated swimming pool, full-sized croquet court, and beautiful walking trails. There are also an array of resident-run clubs and activities, providing lots of opportunities to meet like-minded friends.
"We enjoy playing golf at PGA National, socializing with others at dinner, visiting the fitness center, and listening to live entertainment in the lounge," says Phil.
Peace of mind
Another aspect of Devonshire's financial structure is the life care commitment. Designed to protect community members from the rising costs of health care - while guaranteeing access to higher levels of care, if needed, at Chatsworth, the community's continuing care neighborhood - the life care commitment is not only a wise financial decision, but the priceless gift of peace of mind.
For Bob, discovering Devonshire's life care commitment was a real game changer.
"We did a fairly thorough analysis of the costs of owning and operating our house versus the cost of living at Devonshire," explains Bob. They were especially interested in gaining access to higher levels of care. He adds, "Joan was diagnosed with early-onset Alzheimer's disease, so it was likely that we would need that care. When the time came, it was such a blessing to have that care available for her."
Don't wait
"Living at Devonshire provides a high value for price paid," says Hansen. Thanks to Devonshire's stability, amenities, and predictability - plus the peace of mind that comes with continuing care - the sales office is busy each day.
"So many people are interested in this worry-free lifestyle," adds Hansen. "I encourage anyone wishing to learn more about our vibrant, financially secure community to schedule a pressure-free visit this summer."
Invest in your future self at Devonshire. From top-notch amenities to affordable, maintenance-free apartment homes, you are sure to live your retirement to the fullest. Request more information today!
Back