Phoebe Duff Makes the Most of Her Worry-Free Lifestyle at Devonshire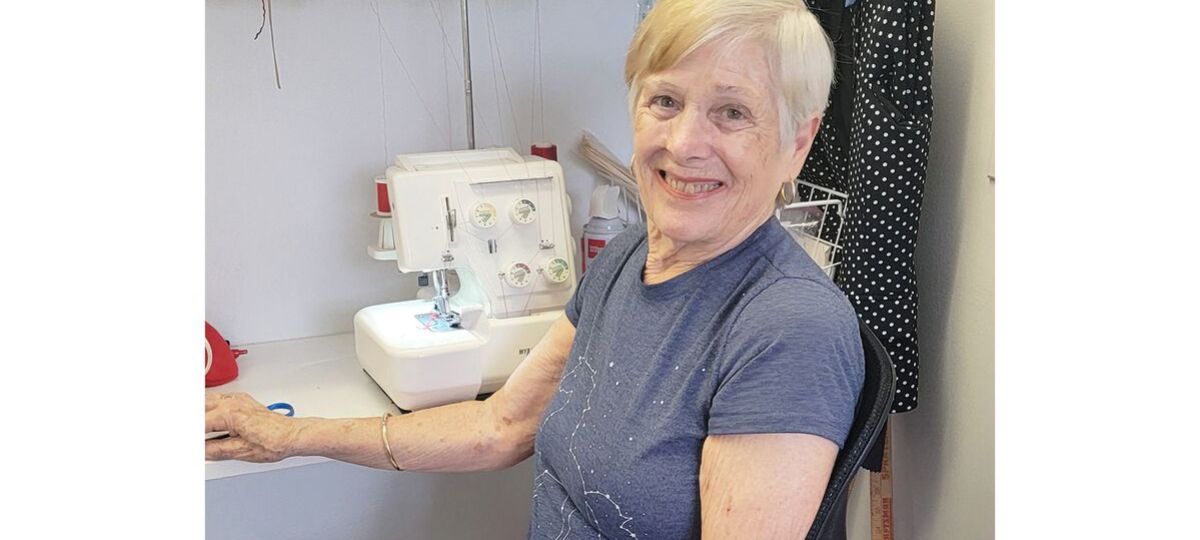 Since moving to Devonshire, the Erickson Senior Living community at PGA National Resort in Palm Beach Gardens, Fla., in 2016 with her husband William, Phoebe Duff spends her free time exercising with neighbors - when she's not designing and sewing clothing, that is.
"William suggested we start looking at retirement communities when our house became too much work," says Phoebe. "We were living in a large four-bedroom, four-bath home with a pool and a guest house. It was a lot of work to keep up with, and we knew it would eventually need upgrades and repairs."
Lots to love!
Conducting their due diligence, the couple looked at several retirement communities in the Palm Beach Gardens area.
"There are a number of reasons why we chose Devonshire," says Phoebe. "William and I liked that there are several restaurants on campus to choose from. I was excited that I would no longer need to cook, if I didn't want to."
The Duffs were also impressed by the community's twenty-three-year track record of no hurricane evacuations. Devonshire, located in a non-evacuation zone, was built with Florida's weather in mind, boasting top-grade, steel beam construction and hurricane-rated windows.
In addition, the couple was drawn to the many opportunities available to them, including trips to the ballet and the symphony at the Kravis Center for the Performing Arts, on-campus jazz concerts, classes at Palm Beach Community College, and membership privileges at PGA National Resort.
"But the most important aspect for me," notes Phoebe, "was the ability to work out, both at Devonshire and at PGA National Resort."
Healthy endeavors
For Phoebe, an exercise buff, the community's variety of options - including exercise classes and a state-of-the-art fitness center - couldn't be beat. "Exercise has always been a priority in my life, and I believe it is the reason why I'm so healthy at my age," she says.
In a typical week, Phoebe participates in aerobics, ballet, sculpt, and Pilates classes, and every Sunday, she walks five miles.
William takes advantage of the fitness offerings as well, attending tai chi classes at PGA National Resort and playing in tennis games.
"In addition to the health benefits, staying active makes us feel good and gives us energy for the other things we like to do," says Phoebe.
Designing treasures
For Phoebe, those "other things" include designing and making clothing for her five great-grandchildren. She loves this creative outlet so much, in fact, that she's transformed part of their apartment home into her own sewing and design studio.
"I sewed clothes for my kids, and then my grandkids," she says. "This is now the third generation I'm sewing clothing for!"
Phoebe notes that when they were raising their two children, Lisa and Timothy, shopping for clothing was a financial challenge at times. In the years that followed, the Duffs were blessed with five grandchildren. By that time, sewing for them was no longer based on need, but an expression of love.
"Our granddaughters had American Girl dolls, so I would make the dolls an outfit and then a matching one for each girl," says Phoebe. "Now, my young great-granddaughters have dolls too. For them, I sew Velcro down the back of each doll's clothing, which makes it easy to take on and off."
Not wanting her grandsons and great-grandsons to feel excluded, Phoebe also makes a variety of fleece clothing for them, including hats and pullover jackets.
"Everyone lives in cold climates - New Hampshire, Vermont, Seattle, and Colorado," she says. "Fleece is warm and cozy, and it's easy to sew. They wear a lot of the clothing I make outside, especially when they ski."
Strengthening connections
When asked what her favorite part about living at Devonshire is, she points to the community's welcoming environment.
"People are very friendly here!" she says. "When we first moved in, our neighbors showed us the ropes and invited us to have a drink. I've tried to pay that forward. When new people move in and are too shy to reach out, I'll call and offer to have dinner with them."
And with family scattered throughout the country, Phoebe and William also spend time connecting with their grandchildren and great-grandchildren over web calls. 
"We are planning a trip to Vermont in July - to see many of our family members in person," she says. "In the meantime, they enjoy peace of mind, knowing that we are so happy here. And we enjoy telling them how warm it is here while they bundle up for the winter!"
To learn more about affordable, independent senior living at Devonshire, request your free brochure to get the scoop on amenities, floor plans, and so much more.
Back