Out And About at Devonshire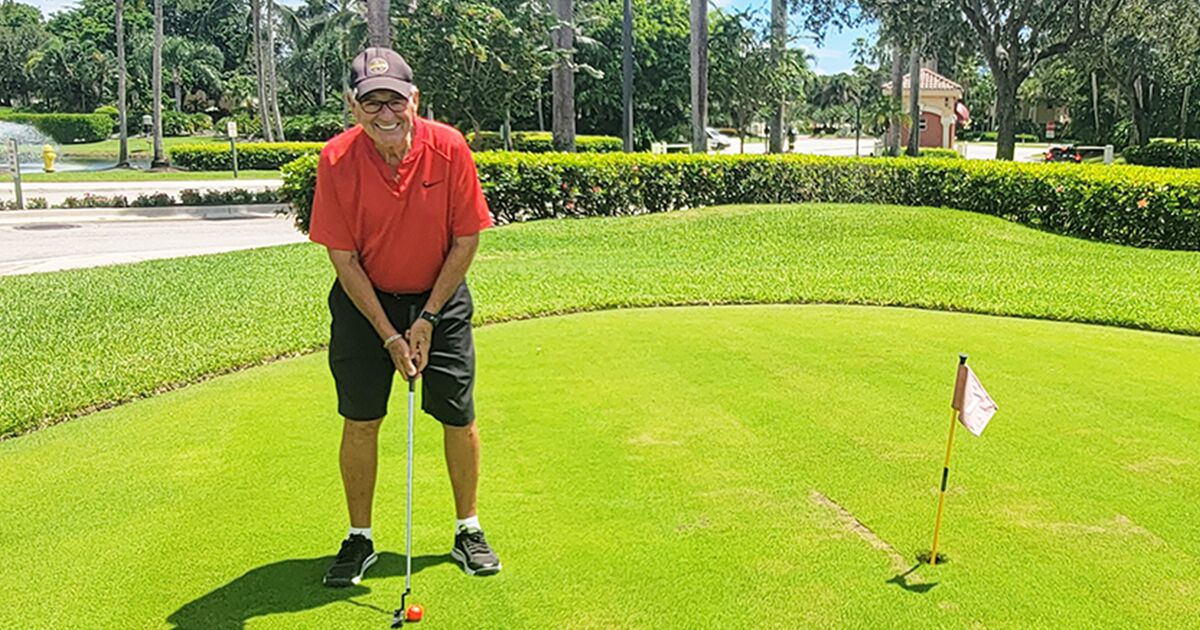 For Earl and Toni Goodman, a short move across the street to Devonshire, the Erickson Senior Living community at PGA National in Palm Beach Gardens, Fla., was just the change they needed to kick off a worry-free retirement lifestyle. 
"Now, we have membership at PGA National without paying any dues. We don't have to worry about a mortgage, real estate taxes, or property and homeowner associations. There's no longer a need for me to hire a pool guy, air-conditioning repairman, or landscaper," explains Earl. "They're all wonderful reasons to move across the street!"
Practicality aside, the ability to maintain their current relationships and make new friends--all while staying in the area they know and love--was a huge draw for the Goodmans. 
"We have the same friends that we've always had," says Earl. "But now, there are at least 20 more couples that we've become friends with. They're like family."
"Both of us have kept our off-campus interests--and developed new ones at Devonshire," adds Toni. "It's really the best of both worlds, and we like balancing the scale."
New opportunities
In June 2022, Earl and Toni decided that they were ready to right-size their living space. 
"We started thinking about where we wanted to live and whether we wanted to stay in our house," says Toni. "We came to the conclusion that there was no need to own such a large house. Plus, the market was hot. So, we thought about looking at Devonshire."
And once they did, they were sold. 
"I thought, 'God, this is fabulous!'" recalls Toni. "That September, we moved in."
Soon after settling into their apartment home, the couple joined numerous on-campus clubs and activities. 
"I never sang a note in my life, but I joined the Devonshire Choir," says Earl with a laugh. "I've never had more fun in my life."
"I enjoy walking outside, but it gets too hot and humid in the summer. Here at Devonshire, I walk two miles every morning without having to go outside, thanks to the climate-controlled walkways," notes Toni. "I say good morning to everyone I see, many of whom are doing the same thing. It's quite amazing how welcoming everyone is. I also take strength and Zumba classes here."
Do what you love
With Devonshire's range of top-notch amenities, the Goodmans are also able to pursue their favorite hobbies. 
"I've maintained my card games and luncheons at PGA National," says Toni. "But now I also play cards here." 
Earl, an avid golfer, gets his clubs out every Monday, Wednesday, and Friday to meet up with the same group of men he's always played with. 
"I also paint. I had a studio in our former house," he says. "Now, I have a wonderful spot in our apartment home where I continue to paint."
Off campus, the couple is just as active. Toni, who helped form an outreach committee at PGA National, loves giving back to the local community.
"We raise money for the underserved in the county and create volunteer opportunities," she says. "Recently, we collected donations and packed backpacks for a local school."
Community ties
Marty Bores, resident services manager at Devonshire, notes that having access to the area's organizations and entertainment venues benefits residents' overall well-being, as there's lots of ways to stay engaged. 
"Many Devonshire community members take advantage of opportunities within the greater Palm Beach area," he says. "There's no shortage of ways to get involved, on and off campus."
Toni adds, "It's convenient being able to shop at the same grocery store we always have. The most difficult thing is balancing eating out with friends because the food here is delicious! We have to make plans with friends outside of Devonshire in advance because our calendar fills up quickly."
'Life is wonderful'
Erickson Senior Living communities like Devonshire are redefining retirement living by offering residents an unparalleled lifestyle that combines convenience, opportunity, and the joy of being a part of a larger community.
"It's great, being able to stay involved both on and off Devonshire's campus," says Toni. "The only difficulty is fitting everything in!"
"We are thrilled with our decision to move across the street," says Earl. "Life is wonderful, and we are enjoying it all."
Invest in your future self at Devonshire. From top-notch amenities to affordable, maintenance-free apartment homes, you are sure to live your retirement to the fullest. Request more information today!
Back