Live Retirement to The Fullest at Devonshire - You've Earned It
By Kelly Shue
February 25, 2022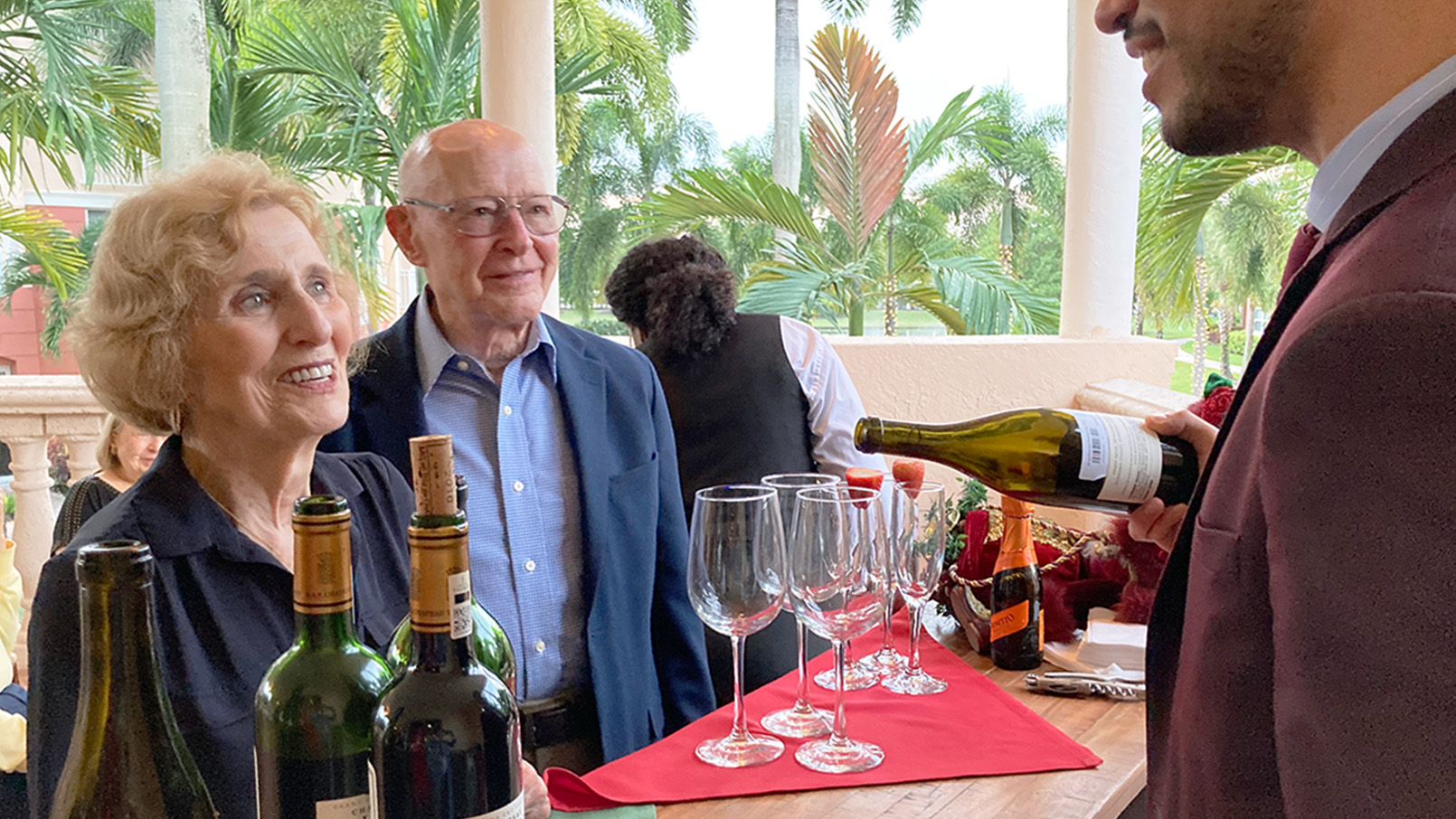 Lilly and Harold Felsen first visited Devonshire at PGA National, an Erickson Senior Living community in Palm Beach Gardens, Fla., in 2016 while helping a friend move from New York.
"At the time, Lilly and I were living in a single-family home in a 55-plus community," says Harold. "After visiting Devonshire, we thought, 'When we are ready, this would be a great place to live.'"
A year later, the couple determined that the time was right.
"We appreciated the advantages that Devonshire provides, like beautiful apartment homes, a maintenance-free lifestyle, and opportunities to engage in our favorite activities," says Harold.
Since that fateful decision, the Felsens are loving the freedom they've earned and are enthusiastically living their lives to the fullest - thanks to the financial security that Erickson Senior Living communities provide.
Wise decision
The couple recently celebrated their 65th wedding anniversary in their Devonshire apartment home, and they couldn't be happier.
"Our decision to move to Devonshire was one of the best we've made," says Lilly. "I tell people, 'Even if you say you're not ready to move, you probably already are.' It's so freeing to leave behind a big house and all the stuff. And it's exciting to start a wonderful new life full of activities and new friends."
"Each day, I see community members - like the Felsens - blossom thanks to Devonshire's financially secure and active lifestyle that provides opportunities for community members to learn, grow, socialize, and pursue their passions," says Executive Director Brad Andrus.
Diving in
The Felsens didn't hesitate to dive into the Devonshire lifestyle - in a variety of ways.
"We intentionally moved here while we were still healthy, so we could get the most out of the lifestyle," says Harold.
Every Monday, Wednesday, and Friday, the couple visits Devonshire's on-site fitness center for exercise classes. Lilly also attends yoga classes twice a week.
When they're not busy staying physically active, Lilly serves as the chair of the Resident Advisory Council's marketing committee and Harold serves as a member of the culinary committee.
"We love volunteering our time to the community that gives us so much," says Harold.
And because of how impressed he and Lilly are with Devonshire's offerings, Harold serves as the chair of Florida Life Care Resident's Association (FLiCRA), a statewide nonprofit association representing over 14,000 Florida residents living at continuing care retirement communities.
The Felsens also look forward to daily meetings with friends and neighbors, whether meeting for breakfast at the Verandah or enjoying a delicious dinner in one of Devonshire's five restaurants.
"The diversity of the community is one of the most beautiful things about Devonshire," says Lilly. "We appreciate the opportunities to sit and talk with our neighbors. It's nice to learn about all their different professions and experiences."
Sharing their gift
While embracing their new lives, the Felsens note that their move to Devonshire is also a gift to their daughter Laurie and her husband.
"There is a peace of mind that comes from knowing that, whatever the future holds, we will be well cared for," says Harold. "They gave us their stamp of approval."
At Devonshire, peace of mind includes no longer needing to worry about maintenance, repairs, and managing unpredictable finances.
Devonshire offers a wide variety of unique floor plans, ranging from one-bedroom to spacious two-bedroom designs - all of them maintenance-free - so you can spend more time enjoying the freedom to do what you love among a bustling community.
"We're grateful for the many benefits that come from the maintenance-free lifestyle," says Lilly. "If something needs attention or fixing, I just call the front desk and they quickly send someone up to fix it."
The monthly service package grants access to community amenities and covers expenses you may be paying for separately - like electric, water, cable, and weekly housekeeping - with one predictable bill, allowing you to balance your finances with confidence.
"They are happy seeing us so happy and well cared for," says Lilly. "And we are very happy living at Devonshire."
Invest in your future self at Devonshire. From top-notch amenities to affordable, maintenance-free apartment homes, you are sure to live your retirement to the fullest. Request more information today!
Back