Enjoying The Great Outdoors at Devonshire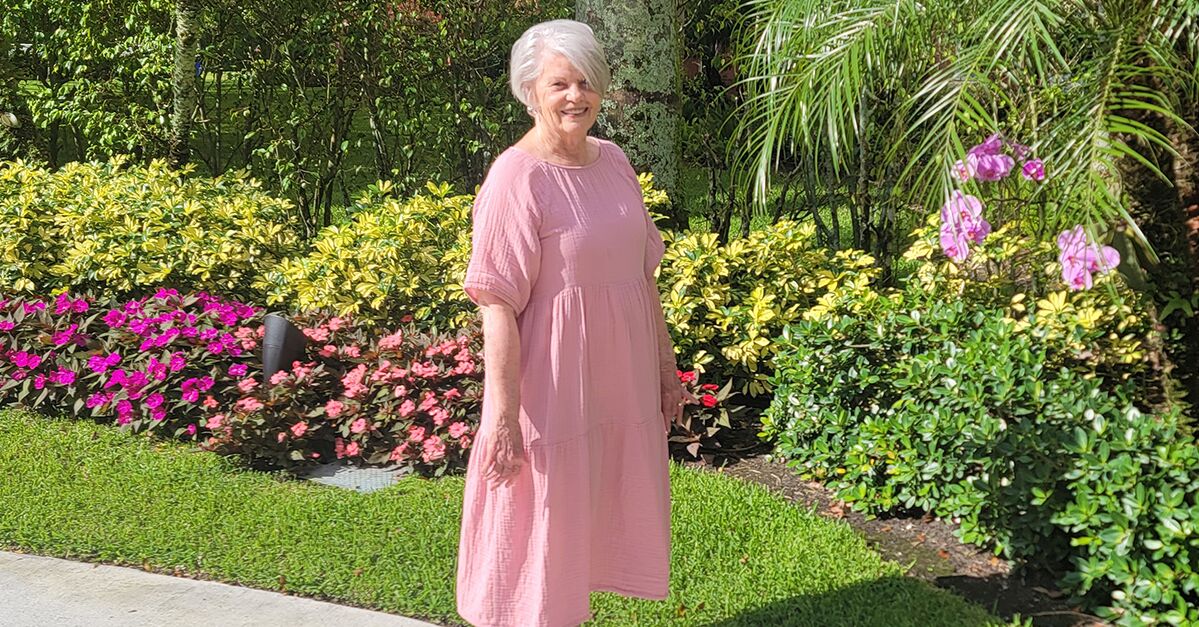 Devonshire, the Erickson Senior Living community at PGA National Resort in Palm Beach Gardens, Fla., boasts stunning outdoor spaces.
Flowering trees and plants, well-landscaped walking trails, an outdoor heated swimming pool, a putting green, and a full-sized croquet court can all be found right on campus.
"We're in such a beautiful area. Devonshire overlooks a preserve to the west and a lovely residential area to the east," says community member Nancy DeSantis. "Recently, when I went out to walk early in the morning, I saw 14 roseate spoonbills flying over the preserve, showing off their vibrant pink color."
At Devonshire, Nancy and her neighbors maximize their time spent outdoors by socializing with friends, participating in activities, and enjoying open-air concerts.
"But simply being outside with Mother Nature is my favorite activity!" she adds.
Outdoor amenities abound
"The health benefits of spending time outdoors are just icing on the cake for our active community members," says Fitness Specialist Remy Harwood.
Adults over 70 who spend time outdoors experience fewer sleep difficulties and improved mobility, according to research reported in the Journal of Aging and Health. Studies also show that going outside lowers blood pressure, reduces stress, and improves mood and focus.
Recognizing the importance of these findings, Erickson Senior Living prides itself on offering safe, accessible outdoor environments that encourage residents to get active and socialize, enhancing their overall well-being.
Poolside perks
Devonshire's outdoor pool, a real hot spot among community members, is the perfect place to cool off - or participate in the popular aquacise classes.
"The classes are popular because they are not limited to any fitness level. The exercises we do increase flexibility, improve heart and lung function, build strength, enhance coordination, and increase metabolism," says Harwood, who leads the aquacise classes.
"I enjoy walking in the pool," notes community member Inder Sethi. "The exercise has strengthened my golf and croquet game! And it's especially nice in the summer when it's too hot to engage in other sports."
In addition to serving as a means of staying physically fit, Devonshire's outdoor pool provides numerous opportunities for socialization and entertainment.
"Our pool area is a gathering spot for a variety of events," says Resident Services Manager Marty Bores. "Throughout the year, we host live entertainment, special themed dinners, and campuswide parties by the pool. It's a terrific place for enjoying time with friends in the fresh air."
Friendly competition
Those with a competitive spirit appreciate the community's professional croquet court - as well as PGA National Resort's golf courses, lap pools, and pickleball and tennis courts.
"Our croquet group attracts players of all abilities and provides a wonderful social outlet for many," says Bores.
All Devonshire community members enjoy membership at PGA National Resort, which recently underwent an extensive $100 million transformation and revitalization. This membership includes access to five championship, 18-hole golf courses and two new courses designed by Andy Staples.
"The best part of our PGA membership is the ability to play golf with no greens fees," adds Inder. "The courses are kept in excellent shape. In fact, a men's PGA Tournament is held at PGA National Resort every year. I have not come across any other continuing care retirement community offering such a variety for golf."
Pickleball players are grateful for the two new pickleball courts that were added to the PGA National Sports and Racquet Club - bringing the resort's total to six.
Community member Howard Kesslin frequents the resort's competition-level tennis courts.
"Tennis is one of my favorite outdoor activities," he says. "It helps me feel less stressed, and it's an excellent way to keep my body functioning well as I get older."
Investing in well-being
Recently, Erickson Senior Living provided a multimillion-dollar investment, through its Well-Being Fund, to support the addition of enhanced health and well-being amenities and services to residents in its communities across the country.
At Devonshire, funds were used to resurface the putting green, create a meditation room, and purchase a golf simulator.
"The Well-Being Fund is such a gift," says Bores. "I'm proud of the many ways our community invests in resources and unique activities for our residents."
"The best part is that we don't have to go far to enjoy Mother Nature and outdoor activities!" says Nancy.  
Invest in your future self at Devonshire. From top-notch amenities to affordable, maintenance-free apartment homes, you are sure to live your retirement to the fullest. Request more information today!
Back