Devonshire's Staff Members Share a Commitment to Care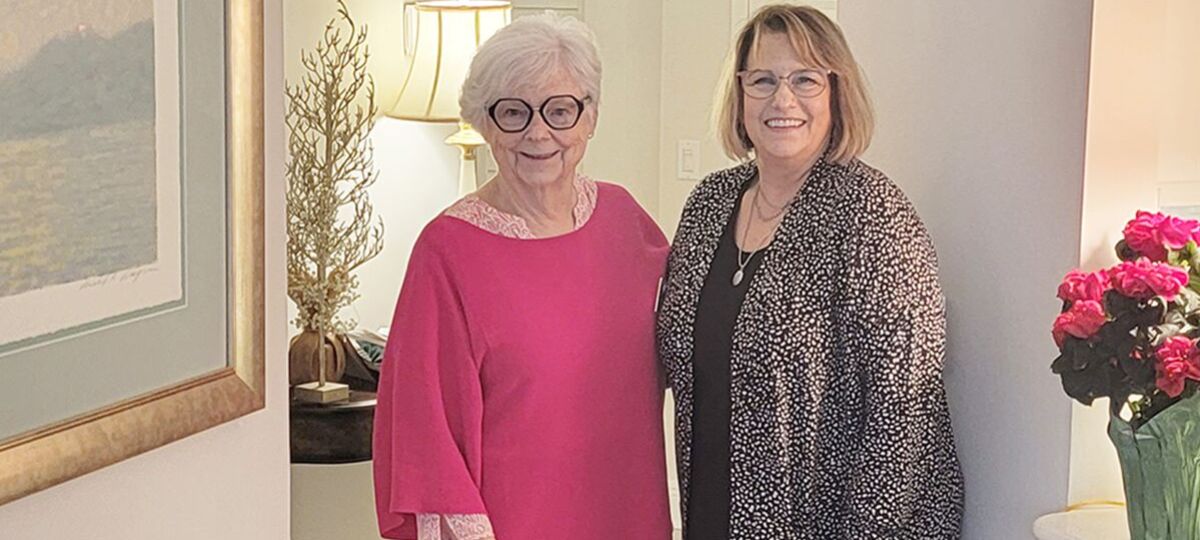 "I am so blessed to live at Devonshire," says Shirley Alley of the Erickson Senior Living community at PGA National in Palm Beach Gardens, Fla. "The staff is outstanding and cares for all my needs. I appreciate each and every one of them!"
By offering a vibrant retirement lifestyle and an unmatched workplace culture, Devonshire continues to grow in popularity - as both a home and an employer.
"Community members often share how much their lives have been enhanced through the relationships they've built with neighbors and staff," notes Sales Director Christine Hansen.
'Genuine interest'
For Shirley, strengthening those relationships has become part of her day-to-day life at Devonshire.
"Employees are always friendly, and they have a genuine interest in each of our lives," says Shirley. "In turn, we share family news and travel plans. They are a joy to talk to!"
In the time that Shirley has called Devonshire home, she has developed close friendships with many employees, but one in particular stands above the rest - Laurie Lovely, Custom Interiors coordinator.
"When I decided to replace the flooring in my apartment home, Laurie was a huge help," notes Shirley. "She was so patient, showing me different options and ordering samples to assist me with my decision."
Once Shirley chose her new flooring, Lovely scheduled the installation to be done while Shirley was away traveling.
"I left everything in her capable hands. When I returned, everything was done," she says. "I appreciate that she took care of everything while I was away. I am so pleased with my apartment home's new look."
Professional growth
Lovely, one of many people to recognize the community's commitment to professional and personal growth, chose to leave a career in retail furniture before joining Devonshire.
With a degree in interior design from the Rhode Island School of Design, Lovely previously furnished homes to reflect clients' unique tastes and preferences. During this time, she was invited to help design two model apartment homes at Devonshire.
"While I was working on the model apartment homes, the sales team suggested I consider applying for the Custom Interiors coordinator position," she recalls. "Deciding to 'go for it' was probably one of the best decisions I have ever made."
Her job satisfaction largely stems from the support she receives from coworkers and community members, she notes.
"I love the feeling of being a part of a great team, and our community members are so friendly," she says. "Everyone I work with is fantastic. The idea of being fully supported did not exist in my professional world. Now, my team offers full support, asking, 'What can I do to help?' That's the Erickson Senior Living way."
Alan Butler, CEO of Erickson Senior Living, agrees. Erickson and its national network of communities strive to hire the best talent in the industry who match the company's mission and values.
"Senior living should be considered a destination for career-driven people who possess a passion for serving others," notes Butler. "We continue to innovate and train our workforce because the services we offer to residents are only as good as the people who provide them. I am confident that we have the best in the business working for Erickson Senior Living."
Extending a helping hand
Community members Nancy DeSantis and Bob Frasier are also grateful for employees' positivity and dedication.
"One morning, I woke up and realized that my air conditioning unit wasn't cooling, so I called our work order hotline and left a message," says Bob. "Just two hours later, Mario, our air-conditioning expert, arrived and diagnosed the cause of the problem. In the span of four hours, everything was fixed."
Nancy has witnessed the same efficiency, noting that most maintenance problems reported are resolved in the same day.
"If your sink is draining slowly or the light in your refrigerator is not lit, all you need to do is place a call," says Nancy. "Your issue will be fixed a few hours later, which would rarely happen in a house! This is just one of the many ways that our excellent, courteous staff responds to our needs."
Intergenerational bonds
The strong intergenerational bonds cultivated between staff and community members not only make day-to-day life enjoyable, but they also position Devonshire as a community that truly cares.
"Our community members are living vibrant lives because our staff care about their well-being," says Hansen. "They do everything they can to make our community safe and engaging."
"The staff at Devonshire are the glue that holds our maintenance-free lifestyle together," adds Nancy. 
Invest in your future self at Devonshire. From top-notch amenities to affordable, maintenance-free apartment homes, you are sure to live your retirement to the fullest. Request more information today!
Back