Devonshire's New Custom Interiors Design Gallery Displays an Array of Options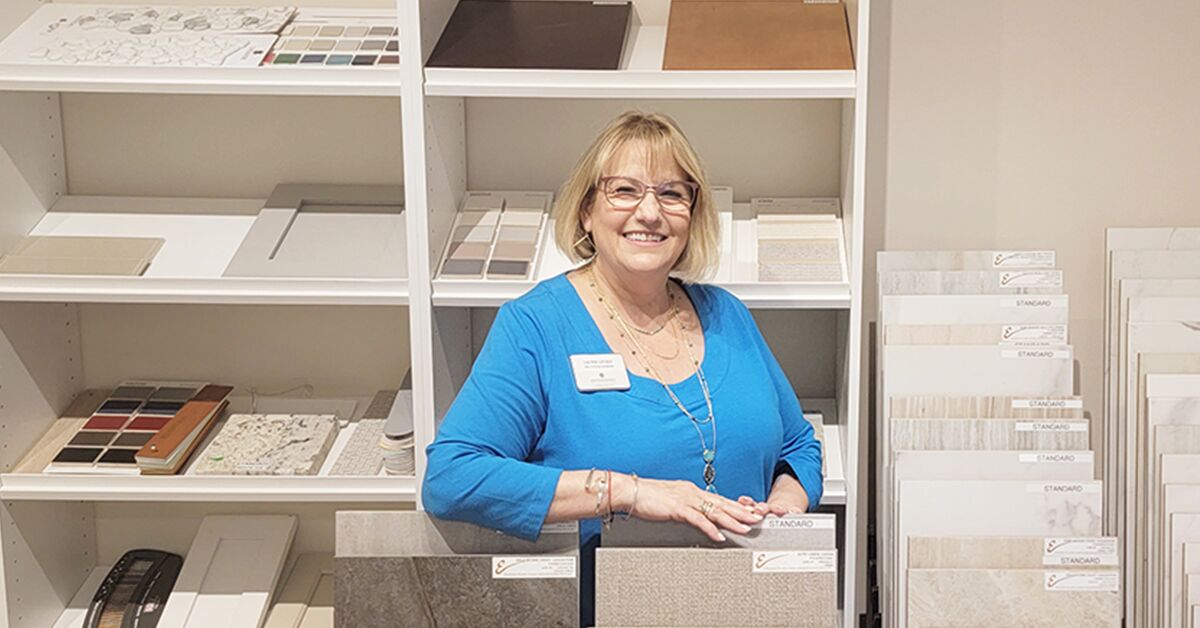 Following on the heels of PGA National's stunning, $100 million revitalization, Devonshire, the Erickson Senior Living community at PGA National in Palm Beach Gardens, Fla., recently announced its own renovations.
These changes include a complete refresh to the community's clubhouse and the opening of a new Custom Interiors design gallery.
At the gallery, Custom Interiors Coordinator Laurie Lovely, who earned a degree in interior design from the Rhode Island School of Design, works one-on-one with both current and future community members to design apartment homes that reflect their unique tastes and preferences.
Community members can choose from a wide range of options, including vinyl plank flooring, designer lighting, upgraded cabinetry and pantries, louvered shutters, quartz countertops, paint colors, crown molding, custom appliances, premium bath and kitchen fixtures, and more.
Earlier this summer, Lovely partnered with the community's sales team to host a grand opening of the design gallery for priority list members. After the reception, members toured the new gallery to preview the design choices available to them.
"This is an exciting time at Devonshire," says Sales Counselor Donna Schneider. "Investing in our resources, especially those that enhance our ability to meet community members' evolving needs, illustrates Devonshire's commitment to offering the very best in retirement living."
Recently, Lovely sat down with the Tribune to share some insider details about the community's new design gallery:
Q: The new design gallery is a great resource for both future and current community members. What can guests expect when visiting the gallery for the first time?
A: The design gallery is located in a beautifully furnished Devonshire apartment home, so that guests can peruse their options in a real-life setting. It's a tremendous benefit to see our available upgrades in person, displayed as they will look in your new home.
The gallery is home to a vast selection of upgrades, including cabinetry, tile, flooring, window treatments, and lighting. These options were carefully selected, based both on quality and the way they enhance the architectural design of our many floor plans.
Q: For someone new to the customization process who may not know where to start, what advice can you share?
A: First, it's important to acknowledge that it's not uncommon to feel overwhelmed when beginning the customization process. But I'm here to help! I am a true partner through the entire project, coordinating and planning each step of the way.
I typically suggest beginning in the kitchen by choosing a cabinet color. From there, we move to the countertops, hardware, and even surrounding rooms.  
The majority of the selections we offer are designed to work well together. So, once you pick a cabinet color, I am easily able to suggest options that coordinate with that first selection. The end result is personalized and beautiful throughout the home!
Q: Incoming community members are encouraged to visit the new design gallery. In what ways do you work with current Devonshire community members?
A: All of our customization options are available to every community member, regardless of how long they've lived at Devonshire. Like making design changes in a single-family house, our community members are invited to make changes in their Devonshire apartment homes.
For instance, after living at Devonshire for several years, some community members discover that new flooring will add to the feel or aesthetic of their home.
Sometimes, retirees focus solely on their move and decide to make changes after moving in. This route provides valuable time to "live in the space" before making customizations. Something you're not fond of now might grow on you!
All of the existing community members I've worked with are thrilled with their results. They often share their excitement with friends, inviting them to come see their updated apartment home.
Q: The unveiling of the new design gallery is just one of many updates recently introduced at Devonshire. In your opinion, what do these changes say about Erickson Senior Living's commitment to current and future community members?  
A: At Devonshire, we work together as a team to keep up with current market trends and design options. In doing so, we ensure that we are offering high-quality amenities and modern apartment homes.
For our community members, Devonshire is their chosen home, and we want it to remain inviting. Our renovated clubhouse encourages friends and family to visit and enjoy time in our attractive lounges, patios, and dining venues.
These continuous improvements keep the community looking fresh and relevant! I love them just as much as our existing and future community members do.
To learn more about affordable, independent senior living at Devonshire, request your free brochure to get the scoop on amenities, floor plans, and so much more.
 
 
Back