Devonshire's Clubhouse Slated to Get a Modern Makeover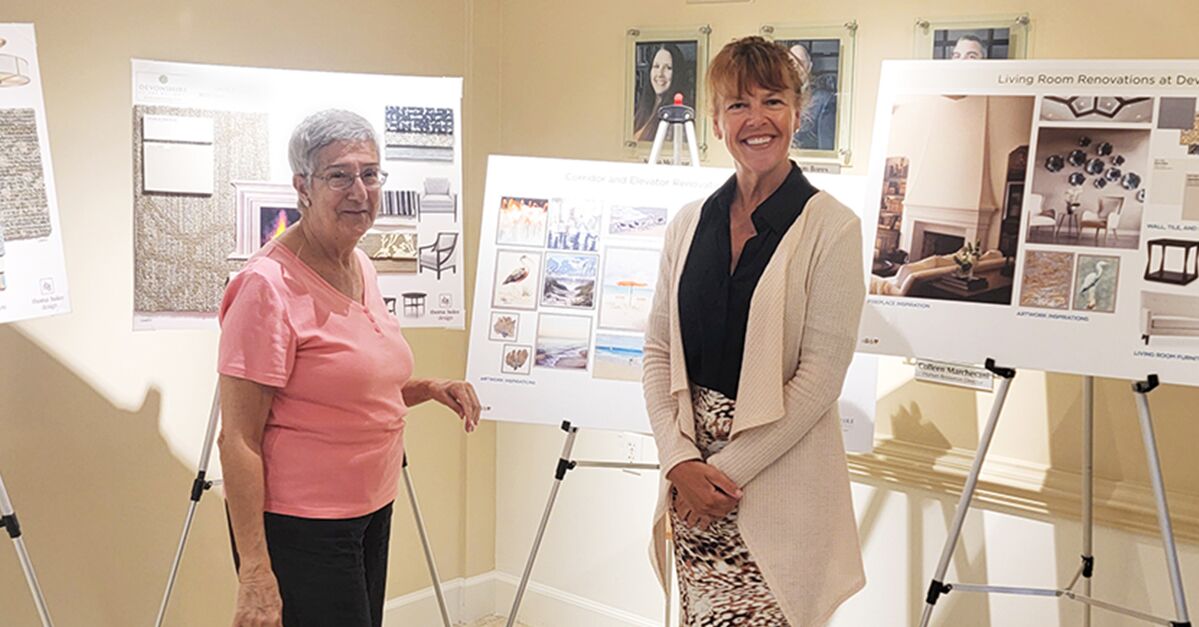 This summer, renovations will began on the first floor of the 65,000-square-foot clubhouse at Devonshire, an Erickson Senior Living community at PGA National in Palm Beach Gardens, Fla.
The highly anticipated updates encompass the community's grand front entrance, popular Churchill lounge area, and entrances to the five on-site restaurants.
"Our clubhouse is the bustling epicenter of community life," notes Sales Director Christine Hansen. "It's our hope that, through these exciting updates, our clubhouse will be even more enjoyable as a place where community members, staff, and guests connect with one another."
Modern Mediterranean flair - the revitalization's theme - will bring bright colors to the wallpaper, paint, art, and furniture.
"Despite these changes, Addison Mizner's original style of architecture and design will stay intact," she says. "It's integral to maintaining the Devonshire identity that everyone knows and loves!"
Perfect timing
"Nowadays, seniors are looking for enhanced amenities that support their well-being, so we understand how important it is to keep our community spaces fresh," says Hansen.
All renovations are headed by Thoma-Holec Design, an award-winning, internationally recognized interior design firm that was founded to create beautiful and purposeful environments for seniors.
"These planned updates ensure that Devonshire's spaces will rival that of any retirement community in West Palm Beach," she adds. "Erickson Senior Living invests in its communities to provide the best amenities and services for its residents."
And because the community's sales and marketing welcome center, which introduces prospective residents to what life at Devonshire is all about, is being renovated as well, Hansen and her team believe that these changes will help foster an even stronger first impression.
Stamp of approval
Existing community members are just as excited - if not more - for these renovations.
"It's a much-anticipated refresh," says Elena Portoles, president of the Resident Advisory Council. "We can't wait to see the final product!"
Community members appreciated the opportunity to provide input on the renovations and have been gratified to see their suggestions incorporated into the design plan.
Recently, community members previewed renderings of the clubhouse's new look, complete with artwork of local flora and fauna.
Display boards positioned throughout the clubhouse are updated regularly with descriptions to detail the project's progress.
"Management keeps us informed, every step of the way," says Elena. "When renovations were happening to our three residential buildings last year, boards were posted to illustrate the expected changes in our hallways."
Thanks to these updates, Elena and her neighbors are enjoying a worry-free, engaging lifestyle in a community that's dedicated to supporting their evolving wants and needs.
"It's wonderful to see progress being made," she adds. "First, renovations focused on areas for community members. Now, changes are being made so that when a family member or prospective resident steps into our clubhouse, they see how lovely it is to live here."
Sneak peeks
Eager to share Devonshire's fresh, new look, the sales and marketing team scheduled a variety of events throughout the summer for priority list members, who gain right of first refusal on desired apartment homes and exclusive perks.
"In May, priority list members toured our newly renovated Custom Interiors gallery," says Hansen. "The gallery showcases a wide range of design options that are available for every apartment home. Here, both current and new community members are welcome to meet with Custom Design Coordinator Laurie Lovely."
Visiting priority list members also got a sneak peek of what the updates would look like.
"The reveal was well-received," notes Hansen. "Lots of priority list members shared their appreciation and excitement for the planned updates."
In late June, priority list members were invited back to hear from the executive team about Devonshire's future and see the renovations in person.
"We believe it's important to keep our priority list members informed and included on the changes taking place at Devonshire - just as we do with community members," she adds. "The changes currently underway in our clubhouse are made with them in mind."
'An exciting time'
Soon after the clubhouse's updates are completed (slated for late 2023), Phase II renovations will be planned.
"This is an exciting time at Devonshire!" says Hansen. "We continually strive to offer the very best in senior living. I invite anyone interested in learning more to schedule an appointment at the sales center, take a tour of the community, and see the exciting updates in person."
To learn more about affordable, independent senior living at Devonshire, request your free brochure to get the scoop on amenities, floor plans, and so much more.
Back